Louisiana meets lower Dauphin at Downtown Mobile's newest spot, Debris Po Boys & Drinks.
Derby-inspired hats can be shown off at far more places than just the races.
Take a look back at the historic Arlington Fairgrounds through the lens of a 1925 photograph.
The story of Mobile's Visitation Monastery is one of devotion, resilience and sweet, sweet confection.
Christina Quick, wine director at Provision in Fairhope, takes the guesswork out of pairing and provides a little insight into wines you ought to try.
There's more than meets the eye in this historic photograph of pioneers at Camp Beckwith.
Hurricanes and quarantines led to three Montrose families discovering friendships in their own backyard.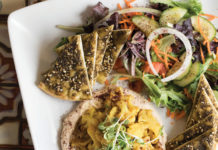 Settle in for a taste of the Mediterranean at Fairhope's Sage Lebanese Cuisine.
Take a look at some of the more interesting stories historian Tom McGehee has dug up through the years.
Sift through the fine details of a photograph from MAMGA's 1975 luncheon.