A Mobile family enjoys a dip at the turn of the last century
Five Gulf Shores business owners talk shop on the shores they call home.
Local book fanatics share their must-read summer selections.
The historic community of Africatown proves its future is as rich as its soil.
Four Mobile schoolgirls enjoy a day at the yacht club in 1910.
The Junior League of Mobile welcomed former first lady Laura Bush to their inaugural Community Luncheon.
Clara Schoen helps south Alabamians ditch the clutter, leaving space to appreciate what's important in life.
Hit the links in full color at the Lakewood Golf Club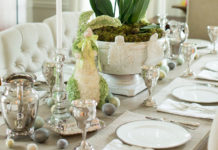 The Clement family gathers annually to celebrate Easter, a tradition they hope endures for generations to come.
Four local trainers share the ins and outs of their typical daily schedules and remind us that we all have what it takes to get healthy.