Boys enjoy a game of football in Spring Hill
What began as a leisurely bike ride through a Florida town has grown into a national charitable event — and one Fairhope woman was the brainchild of it all.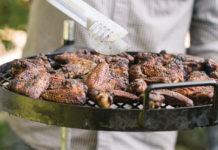 For one Oakleigh couple, there is more to fall get-togethers than just watching football.
Patti Callahan Henry has always been enamored by the concept of stories — telling them, hearing them, reading them and especially writing them. Growing up, she found libraries to...
Mobilian and baseball legend Satchel Paige comes to life
Studios inside one Midtown church offer artists more than just creative space.
Travel back to 1937 and see one of Mobile's shotgun house communities
The Holiday, a Mobile institution steeped in memories, opens under a new generation of owners.
In a world of ubiquitous screens, local experts advise parents on how to protect their children from the warped reality of a cyber world kids may not be equipped to handle.
Athletes are being drawn to the timeless and fast-paced sport of lacrosse.