A colorized image of Booker T. Washington on a fishing trip to Coden in 1905
1951's Miss America Yolande Betbeze cuts the ribbon on the year's Azalea Trail
Chelsea Lipford Wolf's master bathroom addition proves small spaces can pack big style.
Visionaries Sarah and Mike Stashak talk careers, family and Mobile's bright future.
Meg Johnson is spreading awareness and changing statistics in her corner of the world — one child at a time.
Professional photographer and Sophiella Gallery owner Kim Kelly shares tips for starting your own art collection.
Mobile Bay readers share the stories behind their favorite ornaments.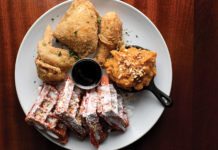 Downtown Mobile's hottest new restaurant serves up Southern staples with a little extra flair.
 Mobile's second shell-paved route, Bay Shell Road, once had a reputation for being the "most famous of all Alabama driveways," according to a 1912 article published in "Municipal Journal."...
Embracing the old traditions of fermented sourdough bread brings health — and warm hearts — to one local household.