His aproned 6-foot-2-inch frame hovers over the stark-white island, his graying temples crowned with a camo hat. "I'm an apron kind of guy," Bo Hamilton, owner and head chef of Ox Kitchen says. "It makes it look like you are in charge, even if you're not." But it's clear who is at the helm tonight.
They say the kitchen is the heart of the home, so it's apropos this is where the Hamiltons choose to open up about their lives, including the genesis of the Bancroft Street restaurant. Also unsurprising is that this is where the family spends the majority of their time. Wife Molly takes a seat at the counter, sipping wine and joining the conversation while keeping an eye on the children. A playroom added right off the kitchen in the 1970s ranch-style home is the perfect space for daughter Reynolds, 1, and son Mills, 4, to "pretend cook."
Undaunted by the activity swirling around him, not the least of which is the family's hungry-eyed dog, Madison, Bo meticulously studies pages of handwritten notes inside an aging leather-bound notebook, a possession he's had a decade or more. "I'm kind of a nerd about it," he laughs, pointing here and there to prep lists and menu ideas. Like most journals, some details remain top-secret. But the amalgamation of his scrawled jottings is something Bo is excited to share.
"Almost all of the restaurant's recipes were started, or at least worked on, in our little cabin in Jackson Hole," Bo says as he finishes prepping ingredients, a Fairhope Causeway beer on hand. For five years the family lived in the Wyoming resort-valley town, the place Bo fell in love with while working as a cook at a dude ranch during college. "I worked on Ox for a long time, and as I now know," the Auburn-native says reflectively, "a lot of the recipes I created and the cooking I was doing at the time were a result of me longing for the food of the South. There is still no comparison to good Mobile Bay-style Southern food."
"He just loves good food," says Molly, a labor and delivery nurse, as she sets out serving bowls and dishes, most from Mississippi's McCartys pottery. "You know it's McCartys because of the black, winding line that represents the Mississippi River," the Oxford, Mississippi, native says, turning her attention to the playroom. (The city of Oxford was the inspiration behind the restaurant's name.)
Bo's affinity for food might be one reason the chef has no qualms about leaving one kitchen and coming home to the other. But there's more to the story. "Cooking is my therapy," Bo admits. Molly chimes, "He enjoys it so much. I'll usually start cooking, and he will wind up finishing it."
Atop the family's refrigerator stands a row of well-loved cookbooks. Bo's favorite is Frank Stitt's "Southern Table." Serving comfort food with a side of unpretentious conversation is about as Southern as one can get. But, if you ask Bo's opinion, "What really makes the South — and Fairhope — different to us is the people, and that's what getting together is all about. The food doesn't have to be perfect; the people always make up for it."
Late Summer Salad
Because Mobile Bay is graced with such a mild fall, we can get summer veggies fresh until Christmas! Peas are less bitter if they are blanched in boiling water for 3 – 4 minutes and cooled.

SALAD:
2 cups summer peas, pink eyes or similar
2 cups sweet corn, freshly removed from the cob
2 large zucchini, sliced about 1/8-inch and grilled with olive oil, salt and pepper
4 cups heirloom, cherry or grape tomatoes, halved
1 cup crumbled feta cheese
1/2 cup cooked bacon, crumbled
1 tablespoon fresh thyme
DRESSING:
2 tablespoons wine vinegar
1 tablespoon Dijon mustard
4 tablespoons olive oil
salt and pepper, to taste
Toss salad ingredients in a large bowl. In a separate bowl, whisk dressing ingredients. Add dressing to salad when ready to serve.
Gulf Shrimp & Corn Chowder
I like to buy our seafood from Billy's Seafood in Bon Secour. I also suggest having brews from Fairhope Brewery on hand.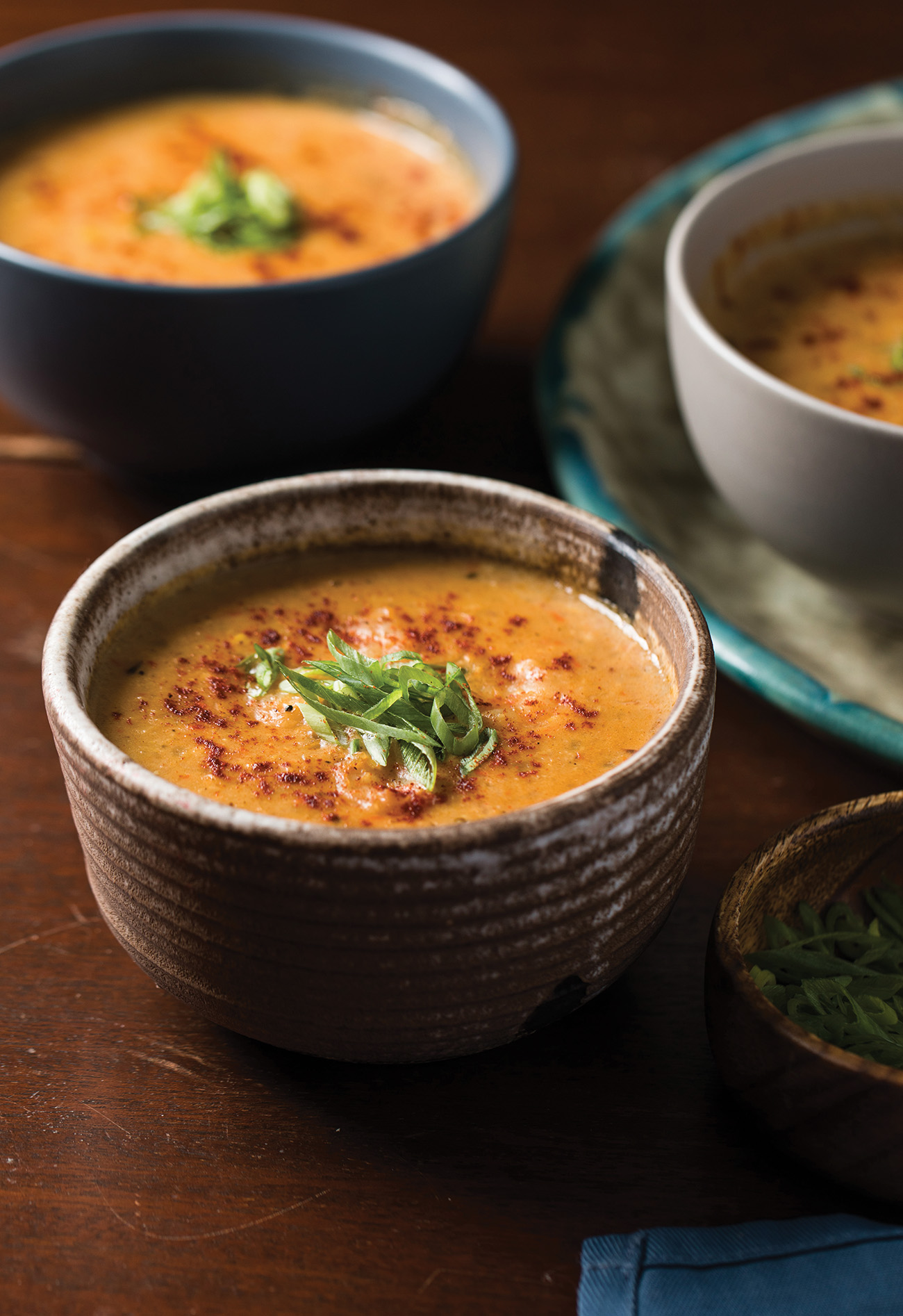 2 tablespoons butter
4 slices raw bacon, chopped
2 1/2 cups onion, diced
2 cups celery, diced
1 cup leeks, diced
1 cup red bell pepper, diced
1/2 cup garlic puree
1/2 cup green onion, chopped; separate white ends from green ends
1 cup all-purpose flour
4 cups chicken stock
1 1/2 cups seafood stock
2 1/2 cups water
4 1/2 cups fresh sweet corn (cut from 4 ears)
4 large red potatoes, skin on, diced
2 sprigs fresh thyme
2 bay leaves
2 tablespoons Old Bay Seasoning
salt and pepper, to taste
1 tablespoon smoked paprika, plus pinch for garnish
2 cups heavy cream
3 pounds fresh shrimp, peeled and deveined
1. In a large pot, add butter and bacon. Cook until bacon is brown, and then add vegetables, including the white part of the green onion, cooking until veggies are soft and translucent. Add flour.
2. Combine chicken and seafood stocks in a container. Add 1 cup at a time to the bacon and vegetable pot, stirring with each added cup until smooth.
3. Cook until thickened, thinning with water as needed.
4. Add corn, potatoes, thyme, bay leaf, Old Bay and paprika. Cook on medium-low for 1 hour, then add salt and pepper, to taste.
5. Add cream and cook for 10 minutes. Turn off heat, add shrimp and cook for 5 minutes.
6. Garnish with tops of green onion and paprika. Serve. 
Ox Smoked Wings
We use a white BBQ sauce that is also a top secret recipe, but a simple one follows. This recipe was perfected on our front porch while we lived in Jackson Hole, although fall was a little cooler and sometimes snowy there!
5 pounds wings, cut or whole
2 tablespoons kosher salt
2 tablespoons fresh ground black pepper
2 tablespoons Cajun or Creole seasoning, no salt added
Frank's RedHot Buffalo Wings Sauce, to taste
1. Lay wings out and dry as well as possible — dry chicken equals crispy chicken skin. Toss chicken with seasonings.
2. Put wings in a smoker at 250 degrees, and smoke for 1 1/2 hours.
3. Remove wings from heat and toss with buffalo sauce.
White Sauce
1 cup mayonnaise
2 tablespoons cider vinegar
1 teaspoon Dijon mustard
1 teaspoon salt
2 tablespoons black pepper
1. Whisk all ingredients thoroughly. Serve with wings.
Mississippi Sausage Plate
This is one of my favorite things to eat any time of year, but it really is perfect for the fall and college football. My wife Molly turned me on to this simple appetizer at Taylor Grocery, one of our favorite places in Oxford, and it has been on our table ever since. Pickled okra from any supermarket is great with this as well.
2 pounds classic pork boudin
2 pounds smoked sausage
8 ounces sharp yellow cheddar
8 ounces white cheddar
8 ounces Creole mustard
8 ounces pickles
1 ounce Cajun or blackening seasoning, for garnish
1. Slice meats and cheeses and serve on a platter with pickles. Garnish as desired.
Ox Brussels
These are great by themselves and can be made with wheat free soy for a gluten free version. (Ponzu sauce is a Japanese condiment.)
2 tablespoon soy sauce
2 tablespoons cider vinegar
1 tablespoon lime juice
1/2 tablespoon lemon juice
1 tablespoon orange juice
4-5 pounds medium-sized Brussels sprouts
4 slices cooked bacon, crumbled
Ponzu sauce, to taste
1 teaspoon red pepper flakes
1. Mix first 5 ingredients in bowl with a whisk.
2. Cut stem end off Brussels sprouts. Quarter each one.
3. Heat oil to 350 degrees. Drop sprouts in oil until lightly browned and the stem end is softened. Remove from oil and let rest for 1 to 2 minutes on drying rack or a tray lined with paper towels.
4. Sprinkle sprouts with bacon and red pepper flakes. Add Ponzu sauce. Toss and serve. Serves 10
Okra, Grilled or Fried

Serve these next to each other on a nice platter for a beautiful contrast of colors. They are great drizzled with a little ranch dressing or by themselves.

2 pounds fresh medium-to-small-sized okra, washed, dried, stems removed and split from stem to end
Grilled Okra
olive oil, to cover okra
salt and pepper, to taste
1. In a large bowl, combine half the cut okra with olive oil, salt and pepper.
2. On a hot grill, cook okra on both sides for 2 to 3 minutes or until soft.  
Fried Okra
canola or peanut oil
2 eggs
2 cups all-purpose flour
1 tablespoon Cajun seasoning
1 tablespoon black pepper
2 tablespoons salt
1. Fill large insulated pot 1/3 full with oil. Heat to 350 degrees.
2. In a medium bowl, whisk 2 eggs. In another medium bowl, mix dry ingredients.
3. Add remaining cut okra to egg wash and then to flour mix, coating completely.
4. Add coated okra to hot oil, slowly and carefully, and cook until golden brown.
5. Lay cooked okra on towel or drying rack to drain. 
Fall Apple Fritters
These are also good with apple butter, for dipping, or vanilla ice cream. This dessert is perfect for fall and is one of the few things both our kids will eat!
2 teaspoons baking powder
2 cups cake flour
1 teaspoon cinnamon
1/2 teaspoon nutmeg
1/2 teaspoon salt
1/2 cup granulated sugar
1 teaspoon vanilla extract
4 tablespoons butter, melted
1 cup 2 percent milk
1 teaspoon orange zest
2 cups diced apples
powdered sugar, for dusting
1. Mix wet and dry ingredients separately and then fold together. Refrigerate mixture for 1 hour.
2. Heat oil in pot or fryer to 350 degrees. Scoop 1 ounce portions, and safely place in hot oil. Cook for 5 to 7 minutes.
3. Place on cooling rack or a plate lined with paper towels. Lightly dust with powdered sugar.