On the first Friday of every December, residents of North Reed Avenue know exactly where they'll be: their annual progressive dinner party. At this highly anticipated gathering, guests eat, drink and make merry at four different venues without ever leaving the comfort of their street. It's like squeezing a season's worth of holiday fun into one night and a quarter of a mile.
Planning for the shindig is casual. Neighbors up and down the avenue are invited, and responsibilities are doled out to volunteers. Everyone contributes something, whether it's a table full of desserts or a bottle of wine.
First things first: the kids are rounded up and sent to a neighbor's house, left under the watchful eyes of several babysitters. Unlike most of the neighborhood get-togethers, this one is adults only. The opening stop of the night is cocktail hour, where spirits are aplenty. After about 45 minutes, the gang moves along on foot to the second home. There they find an array of appetizers, including favorites such as crawfish pies from the Junior League's "Bay Tables" cookbook. Next comes the main course; last year it was jambalaya and French bread. Dessert is served at the final venue. Because stomachs have been stretched to the limit, sweets are often collected in goody bags to be taken home and eaten later.
Don't think dessert means that the festivities are over — the celebration continues well into the wee hours of the morning. The night ends with an impromptu after-party involving games and dancing. The best part? After all that eating and drinking, according to Amanda Squires, no one has to drive. You can just waddle your jolly self on home.
ABOVE Partiers take to the streets, leaving cocktail hour and heading for the appetizers.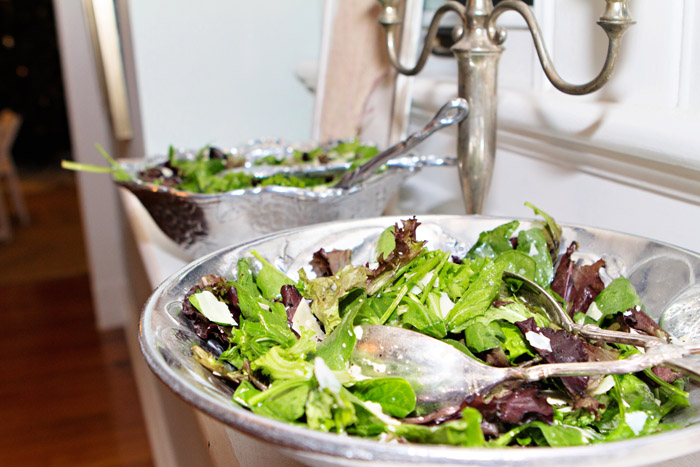 ABOVE Residents help each other out by bringing along various parts of the meal, such as a salad to round out the main course.
 
ABOVE The dinner party is a great way to meet newcomers and make friends.
 
Tips for creating a progressive dinner party in your area
Find a solid, core group of people who are eager to get involved with the event.
Limit the journey to four houses. Five courses are too difficult to organize.
Hosts and hostesses, choose food items that can be prepared ahead of time so you can partake in all of the other courses too.
Have a punctual friend ensure that everyone moves along in a timely manner.
Keep things casual, and always remember what's most important: to have a good time!
---
text by Haley Potts • photos by Ashley Rowe