On the face of it alone, there's a lot to love about the Dan de Lion Lodge: the long, shaded gravel drive that connects it to Venetia Road; its seven acres of oaks and palmettos on a cove of Dog River; its central stone fireplace and the warm conversation it invites. But the history of the place, like a broken-in winter coat, adds the perfect, comforting final layer.
"Everybody loves a good story," says homeowner Marbury Buckhaults from a fireside couch. She wears the role of hostess with ease and smiling grace, and for a few minutes it seems that nothing else in the world matters beyond this parcel of land on the river.
When it comes to the Dan de Lion Lodge, Marbury has plenty of stories to tell; she and her family of six moved in when she was in elementary school. Walking through the home, she pauses at a doorway and rubs her fingers over the etchings on the doorframe — a growth chart carved with her initials and those of her family members. It was a "blessed" childhood, Marbury explains — a Peter Pan existence with free reign of the surrounding woods, safe waters in which to ski and sail, neighbors who never locked their doors. The Dan de Lion is a blessing that Marbury wanted to share with the world, so she and her siblings, Ogden and Beth, opened up the lodge to guests in 2019, beginning yet another chapter in the home's colorful, 103-year-old history.
A Fabled Legacy
"What is history but fable agreed upon?" Napoleon Bonaparte once queried. It's an appropriate question when applied to Dog River, a place whose history is built upon hearsay and French exploration. Even the origins of its name ("Riviere du Chien" in French) is up for speculation. Some believe it was so named for the wild dogs belonging to the Native Americans in the area. Others claim the river and its creeks cut the shape of a dog on a map. Still others repeat tales of alligators at the river's mouth that "barked like dogs."
Other stories hold more truth, though it's hard to tell exactly how much. It's believed that Mobile founder Pierre Le Moyne d'Iberville established a tanning industry on the river, from which he shipped animal skins to France. It's also been said that the bricks of Fort Morgan were made at Dog River, and that James Copeland, of the notorious Copeland Gang, confessed that he would hide his loot at the river and return for it later, sometimes dressed as a woman.
It's only appropriate, then, that so much of the history of the Dan de Lion Lodge is similarly shrouded in lore. According to Marbury, details are scant.
"In 1918, a man named Daniel Bethuel Fisher came from Missouri to open up a nightclub in Mobile," she says, noting that the oldest parts of the home were built that year. "That was during Alabama's Prohibition era, so he was operating a speakeasy."
The best account of the lodge's earliest days comes from Venetia McClure (for whom Venetia Road is named). In a presentation for the Mobile Historical Society on May 13, 1942, McClure recounted, "About 25 years ago Mr. Dan Fisher came to Mobile from St. Louis. He bought some land on Dog River and built a place and named it 'Dan de Lion Lodge.' It was a forerunner of our modern night clubs. One day, I was invited there to have lunch with a group of friends. After lunch, Mr. Fisher came out on the lawn where we were and said, 'This is the garden spot of Mobile, but the Mobile people don't know it.' I wish Mr. Fisher could be here today to see how Mobile people have caught his vision at Dog River as being the 'Garden Spot of Mobile.'"
Marbury points to the wall of a bedroom, where metal brackets flank the door. A wooden beam slid through the brackets would have barricaded the room shut from the inside, a hint at the lodge's hush-hush past.
"Can you imagine what was going on back here?" she asks. "Gambling? We don't know. But it's fun to speculate."
What we do know is that Fisher did enjoy a nice pun, as evidenced by the lodge's eponymous name. Aside from the flowery mental image it conjures, its French slant might be a nod to the Riviere du Chien's early European history. It was the river, after all, that likely fueled his boozy operation; rum runners found Dog River and its creeks to be very accommodating to the illegal import of liquor, and the Dan de Lion Lodge would have been a convenient port of call. Prominent Mobilians visiting the speakeasy might have protected the nightclub in order to protect their own reputations, so it's hardly surprising that newspapers from the time fail to mention the lodge's existence.
And if that wasn't enough history, the building even became a refuge from the Nazis during World War II. In the 1940s, owners Emily Van Antwerp Cooke and her husband George Adams Cooke opened up the home to German relatives. To accommodate the new houseguests, a wing of four bedrooms was constructed, and in 1966, when the Buckhaults family purchased the home, Marbury and her siblings inhabited this whole section. At almost 50 years old, the Dan de Lion welcomed a new family and began a new chapter.
From Homeowner to Hostess
Marbury walks through the home she's known her entire life, pointing out the thoughtful traces of her family's past in every corner. Her parents, Katherine and Elbert Deaton (an Air Force pilot), lived in Japan immediately after their wedding, which accounts for many of the artifacts throughout the home: an antique hibachi, trunks traced with Japanese script, trinkets from the Far East.
"My mother traveled everywhere," Marbury says. "As you can see, a lot of the pictures on the wall are artwork that she picked up from her travels."
Outside the home's walls, a large grass lawn is surrounded by azalea bushes, oaks and pines. A wooden boardwalk leads visitors over a tidal pond to the water's edge, where a dock offers sunset views and the occasional glimpse of a manatee.
"That's one thing my parents both loved, they loved the natural beauty of it," Marbury says. "And they really tried to maintain that. They had a wonderful groundskeeper, Willie, and he still works with us. He and my mother had the funniest relationship. She would try to get him not to make things really cultivated-looking, and he was always sneaking in and trying to straighten things out a little bit."
When her mother Katherine passed away in 2018, Marbury and her brother and sister had a decision to make: What to do with the Dan de Lion Lodge? Among the siblings was the fear that, if they were to sell it, "somebody would just buy it and build a large house on it," she says. "But you know … I'm not ready for them to tear down the ol' Dan de Lion just yet.
"We just wanted to keep it in the family," she continues. "We've always celebrated the big holidays here — Thanksgiving, Christmas, Mardi Gras. So we wanted to keep that tradition going. Also, we all agreed that opening the home up to guests would be so like my mother. She was always very gracious. One of our family members said my mother's hospitality was gracious but not fussy."
When preparing to open the home to guests, Marbury says the goal was to toe the line between authenticity and comfort. Her husband Dave, her siblings and their spouses all bring different skills to the table, making the renovation process a true team effort.
"When we were renovating, we really wanted to retain the house's historic charm, but there were certain creature comforts that we needed to upgrade," Marbury explains. "So we did that, but we tried to keep it pretty much exactly the way it was. A lot of the furniture is the same — furniture collected from all over the world." And furniture collected from not so far away, too; in one bedroom can be found two wooden twin-sized beds, purchased from the Grand Hotel during a hotel renovation.
"My mother was very good at getting every ounce of productivity out of everything," Marbury says, laughing.
In May 2019, the Dan de Lion Lodge officially opened its doors to guests, beginning the next chapter of its multilayered history.
"A soon as we opened it up, it was very popular," Marbury says, noting that even COVID-19 couldn't slow down bookings from Airbnb and Vrbo. Cancelled reservations, mostly associated with local events, were quickly replaced by bookings from families looking to get away from it all. Able to sleep 12, the Dan de Lion has become a family escape, similar to how it did during World War II.
"Everybody comments on the warm feeling here, and I just know it's my mother's spirit," Marbury says. "Mother was always such a gracious host. She hosted our friends from wherever, because we all liked to travel, too. So people would just come through, and her door was always open. She loved different cultures. She loved learning from people. She felt like everybody was made in God's image, so they were all important."
A house as old as the Dan de Lion is ripe for discoveries, for its owners and guests alike. During restoration, Marbury discovered the Siebt family growth chart (the escaped German family) notched into the same doorframe as her own family's. Guests will be amused to find hurricane water marks on the doorframe as well, a testament to the "steel magnolia" that was Marbury's mother; she refused to evacuate for hurricanes.
The past is always present at the Dan de Lion and at Dog River in general. In Venetia McClure's 1942 presentation for the Mobile Historical Society, she asked, "What will future historians write of our generation of Dog River homeowners? The cultivation of azaleas, camellia, cape jasmine, hydrangeas and the planting of avenues of live oaks. I hope some writer will write that for those who lived all the year round at Dog River, there was an ever-increasing joy in the beauties of nature."
Ever-increasing. Maybe that's the best word to describe the legacy of the Dan de Lion Lodge. Marbury says the decision to open its doors has been as fun as it is rewarding.
"It's been a great experience, and it's not like work at all," she says. The guests, she continues, have all been wonderful stewards of the home, perhaps sensing its age and importance.
"Some of them call me and just say, 'Can you tell me the history of this house?'" Marbury says, clearly pleased. "Like I said, everybody loves a story."
Toasted Pecans
"Nothing says 'Merry Christmas, y'all' like warm toasted pecans in silver dishes all around," Marbury says.
1/2 cup butter
1 quart pecans
salt to taste
1. In a heavy, black skillet, melt butter. Add pecans and cook until warm and well coated with butter.
2. Spread onto a large baking sheet and toast for 10 to 15 minutes in oven at 325 degrees. Place on paper towels with newspaper under them. While hot, salt, turn and salt again. Makes 1 quart
Pimento Cheese
This recipe is from the soon-to-be released cookbook "Southern Grit" by Top Chef winner (and niece of the Buckhaultses) Kelsey Barnard Clark. The book is a collection of recipes featuring some of Clark's Dog River roots.
1 cup freshly grated extra-sharp cheddar cheese
1/2 cup freshly grated smoked Gouda
1/2 cup jarred pimiento peppers
1/4 cup sour cream
1/4 mayonnaise
1/2 teaspoon Old Bay Seasoning
1/4 teaspoon smoked paprika
salt, to taste
freshly ground black pepper, to taste
1. In a mixing bowl, stir together the cheddar, Gouda, pimientos, sour cream, mayonnaise, Old Bay Seasoning, and smoked paprika with a wooden spoon until completely incorporated. Season with salt and pepper.
2. Serve chilled or at room temperature. Keep refrigerated in an airtight container for up to 1 week. Makes 4 – 6 servings
Dave's Tomato Basil Omelet with Feta & Mozzarella Cheese
1 tablespoon olive oil
1/2 cup cherry tomatoes, halved crosswise
Creole seasoning, to taste
black pepper, to taste
1/4 cup white wine
2 sprigs fresh basil, roughly chopped
2 large free-range eggs
pinch of all-purpose Greek seasoning
1 tablespoon butter
1/4 cup grated mozzarella cheese
1/4 cup feta cheese
salt and pepper, to taste
1. Add olive oil to a small frying pan on high heat. Carefully add the tomatoes, cut-side down. Season liberally with Creole seasoning and black pepper and fry until tomatoes begin to soften and bottoms are fairly well charred.
2. Add white wine and reduce heat. Add basil, cover and simmer, stirring occasionally until tomatoes are cooked to a stew-like consistency, about 3 to 4 minutes. Set aside.
3. Crack eggs into a mixing bowl. Add Greek seasoning and beat with a whisk until fully combined.
4. Warm a nonstick or highly polished omelet pan at medium-high heat, until a drop of water dances on the surface. Add butter, moving the pan to keep the butter from burning. Just before butter is fully melted, carefully pour in the eggs. As the eggs begin to thicken on the bottom, use a rubber spatula to pull the thickened egg to the center of the pan. When most of the egg is cooked, tilt the pan and lift the edges of the omelet to allow the uncooked egg to flow to the bottom. Keep it moving to avoid sticking and burning.
5. When the omelet is cooked but not brown on the bottom, flip it (or use a spatula to turn it). Reduce heat and quickly add a layer of mozzarella and a layer of the tomato mix. Sprinkle liberally with feta.
6. When the omelet begins to curl and is golden brown on the bottom, slide it halfway out of the pan and onto a plate. Use the pan to fold the remaining half of the omelet. Salt and pepper to taste. Serve immediately. Makes 1
Holiday Gin & Tonic
"Our family always enjoys a good gin & tonic," Zeke says. "This one has a nice Christmas twist."
1 ounce sloe gin
1 ounce gin
1 ounce cranberry shrub*, optional
4 dashes orange bitters
1/2 tablespoon lemon juice
1 1/2 ounces clementine juice
3 – 4 ounces good quality tonic water
sugar-frosted rosemary sprig, optional
1. Put both the gins, cranberry shrub, bitters, lemon juice and clementine juice in a mixing glass with a handful of ice. Stir to chill.
2. Distribute liquid evenly among all glasses (filled with ice) and top up with tonic water, to taste. Garnish with a rosemary sprig dipped in simple syrup and sprinkled with sugar. Serves 2
* Purchase cranberry shrub online or substitute grenadine for a little flavor and color.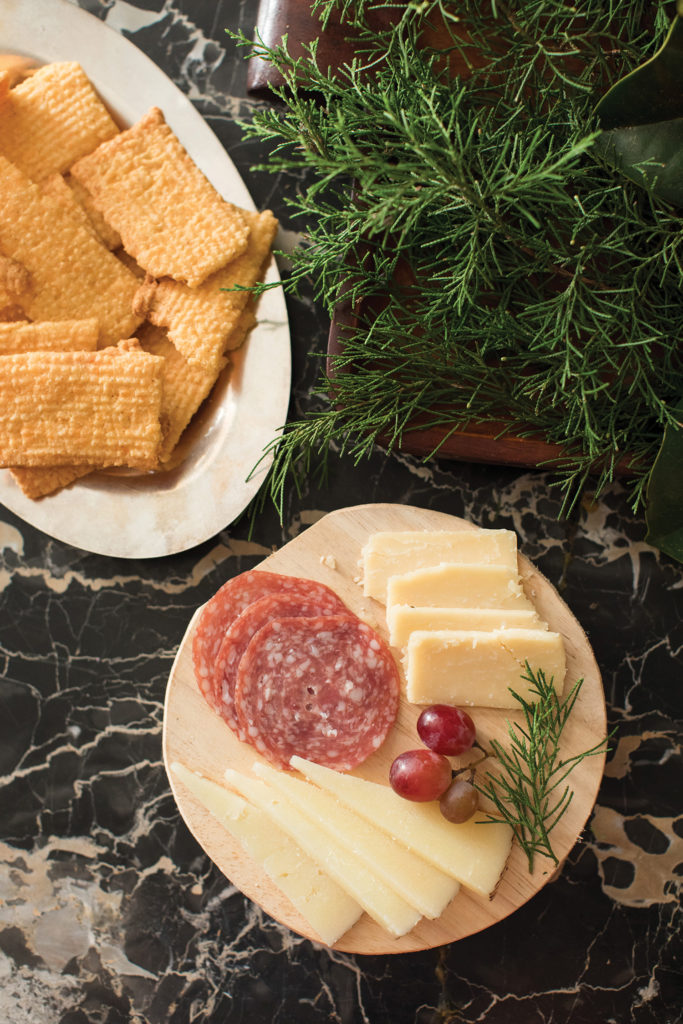 Christmas Cheese Straws
"These were baked with love every Christmas by our mother and passed out in Christmas tins to family and friends," Marbury says.
1 10-ounce stick Cracker Barrel extra sharp cheese
1/2 cup butter
1 cup flour
1/2 teaspoon cayenne pepper
1/4 teaspoon salt
1. Bring ingredients to room temperature. Grate cheese and mix with butter until well blended.
2. Add other ingredients and mix with hands. (If using a food processor, put flour, butter, pepper and salt in bottom container. Add grated cheese and mix until blended).
3. Put the dough in a cheese straw press and make desired shapes. Cook in oven at 325 degrees for 18 to 20 minutes, until golden brown and crispy. Sprinkle with salt. Serves 12
Special Occasion Grandmama Cake
The time for sensible eating is not when this treat is on the menu.
3 Baker's German Chocolate Baking bars
4 1/2 tablespoons water
3 tablespoons confectioners' sugar
3 eggs, separating yolks and whites
2 cups heavy whipping cream, divided
crushed pecans
Ladyfinger biscuits*
1. Combine chocolate, water and confectioners' sugar in double boiler and heat until chocolate is melted. Add 3 beaten egg yolks and let cool.
2. Fold in 1 1/2 cups freshly whipped heavy whipping cream. Add stiffly beaten egg whites.
3. Pour into bowl lined with Ladyfingers. Let stand in refrigerator overnight. When ready to serve, turn onto platter and whip the remaining whipping cream to ice. Spread icing on cake and sprinkle with crushed pecans. Makes 1 cake
*Marbury buys Ladyfinger biscuits at Publix