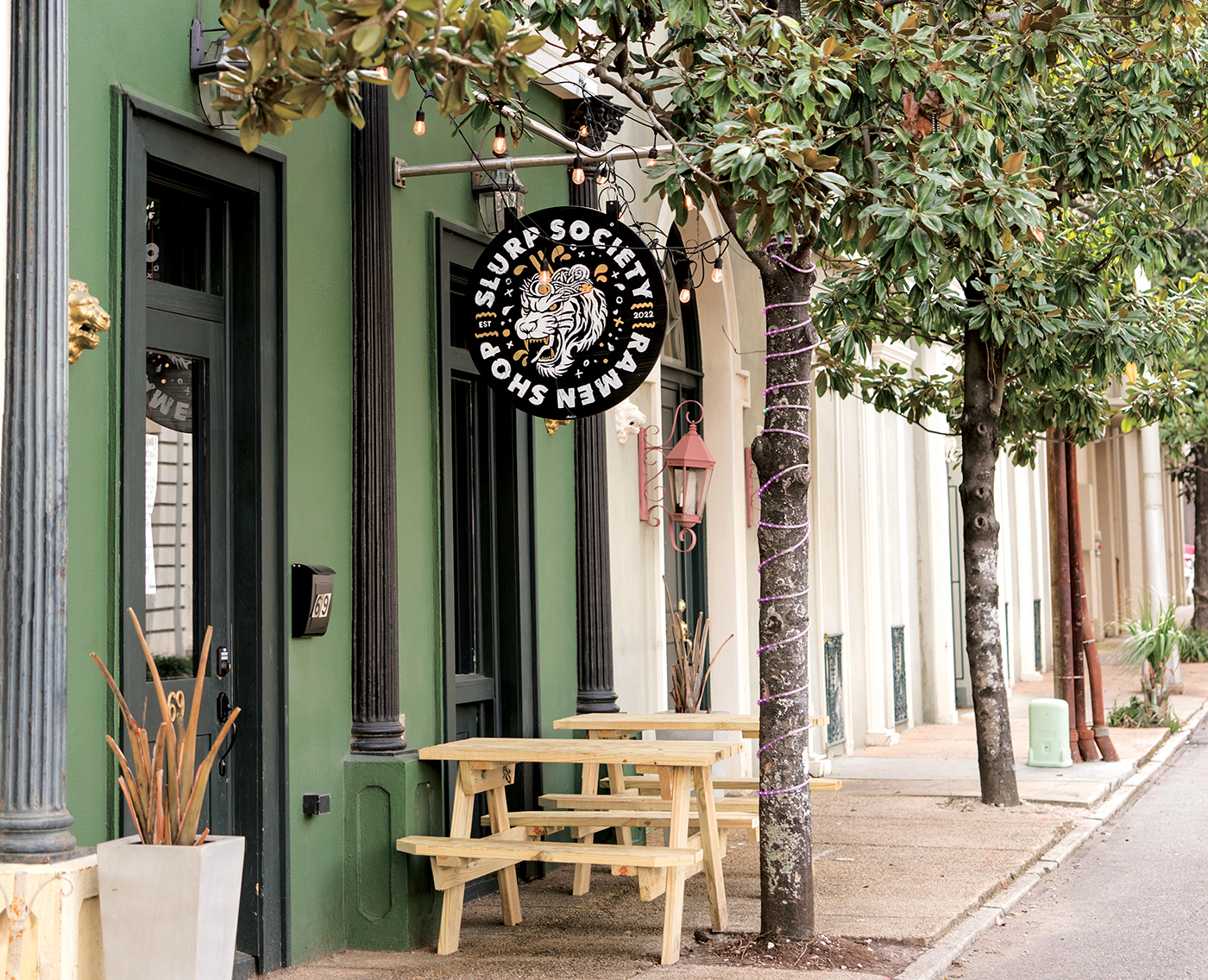 "I've got to open a ramen shop." With experience in several local kitchens, including Noja, the Battle House Hotel, Von's Bistro and his first restaurant, Cereal Killer, Chef Wade Price has encountered all manner of palates and cuisines. Still, ramen was on his mind.
"I've wanted to do a ramen shop my entire career," says Price. "That was always the goal from when I got in the industry. In culinary school, I bought the Momofuku cookbook. Momofuku is David Chang's famous ramen shop in New York. When I read it, it blew my mind. I was obsessed with ramen."
Last November, Price and business partner Winston Evans realized that obsession in brick and mortar, opening Slurp Society Ramen Shop. The eatery, located at the former Von's Bistro location on St. Michael Street, serves a unique role in the Mobile culinary scene. "There was a hole in the market," says Price, who plays the dual role of owner and chef. "There's not a ramen shop in Mobile."
Slurp Society's laid-back approach to a punk-rock style draws from the role of ramen in Japanese culture. "Ramen is the only food in Japan that doesn't have any rules," says Price. "It's the food of rebels." An interior wall and outside sign are emblazoned with their Japanese tiger tattoo-inspired logo, created by New Hand Signs. Energetic music mixes with the conversation at tables filled with patrons drooling over a menu of "munchies" and "noods."
The Slurp O.G. is a classic and the restaurant's bestseller. More adventurous bowls include the Spicy Red Miso, complete with a kick, and the Dirty Dan Dan, a broth-less ramen featuring ground pork and tasso ham. The Japanese fried chicken wings or crispy brussels sprouts appetizers alone are worth a visit. And then there's the bao: fluffy buns with various fillings and toppings. Good luck ordering just one.
Touting made-from-scratch dishes, locally sourced ingredients whenever possible and slow-cooked homemade broth, the menu is packed with flavor that's hard to forget. For years, Price thought of ramen. Now, with Slurp Society, he has ensured that everyone in Mobile does, too.
Left: Chicken Kaarage Bao, Right: J.F.C., Yuzu Marg, Dirty Dan Dan and Spicy Red Miso
On the Menu
J.F.C.
This Japanese fried chicken glazed in orange pepper sauce is such an unforgettable appetizer that you might not want to share.
Spicy red miso
Spicy red miso tare and jalapenos mix with homemade broth to give this ramen bowl a spicy edge.
Dirty Dan Dan
Ground pork, tasso ham, pickled sweet chilis and sesame chili oil top Dan Dan noodles for a hearty bowl bursting with flavor.
Yuzu Marg
Yuzu, an East Asian citrus fruit, replaces limes in this margarita, creating an instant cocktail hour staple you won't find anywhere else.
Slurp Society Ramen Shop • 69 St. Michael Street • 303-8400 • slurpsociety.co
Hours: 11 a.m. – 3 p.m.; 5 – 9 p.m. Tues – Sat. closed Sun – Mon