Like other hotels in Mobile, the St. Andrew flourished during severe housing shortages during World War II.
Kick off the new year with a trip to MobTown Nutrition for a loaded tea or shake.
Historian Tom McGehee explores the history of the Ketchum fountain that was recently removed from Bienville Square for restoration.
Walk with Mashama Bailey, acclaimed chef and co-owner of Savannah's The Grey restaurant, on her journey to authorhood ahead of her visit to the Port City.
Music helped Jake Peavy navigate the stresses of Major League Baseball – now he's hoping it can lift downtown Mobile.
Sticks & Stacks Craft Eatery makes this popular downtown dog park a dining destination.
Local historian Tom McGehee gives the full story behind the explosion that took place at Mobile Electric Lighting Company in February 1919.
Louisiana meets lower Dauphin at Downtown Mobile's newest spot, Debris Po Boys & Drinks.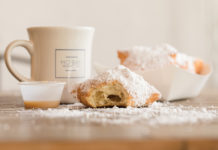 Cozy up with coffee, fried dough and a pile of powdered sugar at Mo'Bay Beignet.