Turn back time with this photograph of early Fairhope Avenue
In the South, where minding your manners matters and folks appreciate the art of conversation, one phrase is the key to graciously ending a call.
Exterior Designer Catherine Arensberg walks us through the process of creating Kokedamas for your home or outdoor garden.
The Chin Family's story spans from China to Mobile, where they became integral community members and business owners
Executive Chef Adam Stephens elevates bistro classics, serving farm-grown produce with a Gulf Coast twist.
Bay-area gardeners share what's happening in their patch of dirt this month.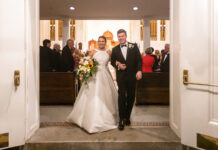 Phillippi and Jacob were united in marriage at Christ Church Episcopal Cathedral on November 5, 2022.
Katie Lynn and William were united in marriage at Spanish Fort United Methodist Church on July 23, 2022.
Monica and Nhan were united in marriage at St. Monica Catholic Church on October 15, 2022.
Claire and Patrick were united in marriage at Cathedral-Basilica of the Immaculate Conception on May 5, 2022.