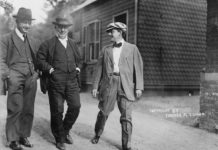 What do you know about the Mobilian who worked with Thomas Edison?
What caused a bay boat to explode at Point Clear in the summer of 1871?
When did Alcoa operate in Mobile?
What is Mobile's beer brewing history?
Did Mobile really have a nutria rodeo?
What is the history of Hartwell Field, and was it Mobile's first baseball park?
Who was the Catholic bishop credited with keeping hurricanes from striking Mobile?
How long has downtown Mobile had parking meters?
Did the city of Mobile enact a law against women wearing high-heeled shoes?
What's the history of the building on Broad Street that once housed the Red Cross?