Enjoy Elizabeth Damrich's refreshing summer mocktail or give it a twist with your favorite bubbly.
For the water-loving Cookseys, Dog River is the place of past memories, future plans and seafood boils in between.
In honor of our September Arts Issue, we have crafted a list of 17 masterpieces created by local mixologists.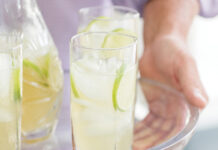 This refreshing Texas-style cocktail recipe can be easily multiplied to make by the batch. Salud!
Gin and St. Germain headline this easy cocktail recipe, perfect for celebrating St. Patrick's Day.
All the chocolaty goodness of a MoonPie in one cool cocktail. Laissez les bons temps rouler!
Treat your sweet to the Gimme S'more Cocktail, a decadent sip created by POST bar manager and bartender Tyler Sayers.
This Holiday Gin & Tonic puts a festive Christmas spin on the traditional cocktail.
Kick off the holiday season with this festive bubbly cocktail. If you don't empty the Champagne bottle, just save in the fridge for morning mimosas.
As you make your way to the bottom of the glass, the splendid sweetness of the cocktail will inevitably beg you to imbibe one more.