This year calls for a large glass of bubbly with a festive kick. No holiday gathering required — this sparkling tipple is perfect for enjoying in front of the tree with your main squeeze or a gaggle of kiddos in jammies.
As you make your way to the bottom of the glass, the splendid sweetness of the cocktail will inevitably beg you to imbibe one more.
Trust us - you'll want to double, or triple, this fizzy recipe.
This tall glass of fall is served over ice but warms the spirit. Store-bought ingredients give layers of flavor in a flash.
The perfect summer spritzer for the dog days upon us
It's time for summer entertaining, and these fruity cocktails are a surefire way to get the party hopping. Each one is made by the batch with unique ingredients and fun infusions of flavor.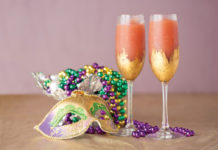 Slushy and spirited, these frosty libations make the perfect eye-opening early morning cocktails.