Trust us - you'll want to double, or triple, this fizzy recipe.
This tall glass of fall is served over ice but warms the spirit. Store-bought ingredients give layers of flavor in a flash.
The perfect summer spritzer for the dog days upon us
It's time for summer entertaining, and these fruity cocktails are a surefire way to get the party hopping. Each one is made by the batch with unique ingredients and fun infusions of flavor.
A splash of king-cake-flavored vodka makes this lush indulgence extra festive.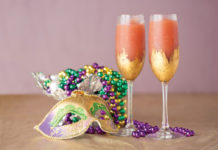 Slushy and spirited, these frosty libations make the perfect eye-opening early morning cocktails.