Exterior Designer Catherine Arensberg walks us through the process of creating Kokedamas for your home or outdoor garden.
Strawberries and onions might make an unlikely pairing in a recipe, but in the garden, they are meant to be (planted) together.
Bay-area gardeners share what's happening in their patch of dirt this month.
A deep dive into the origins of Mobile's famous azaleas, and the hybridizer who was devoted to their perfection.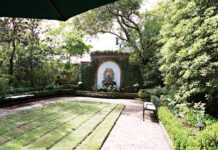 Take a walk with Todd Lasseigne, executive director of Bellingrath Gardens and Home, through some of Mobile's most stunning gardens.
Is this low maintenance grass alternative for you?