Tag: Mobile Bay Bride 2017
Dani and Sean will tie the knot in Fairhope on May 26, 2018.
Allyson and Benton will tie the knot in Fairhope on March 24, 2018.
Brittny and Alex will tie the knot on October 28 at Historic Malbis.
Sheena and Ari will tie the knot at Heron Lakes Country Club on October 20, 2017.
Diamonds are no longer a girl's only BFF. Discover the nontraditional options for the ring that will grace your finger for decades to come.
Plan your honeymoon in a snap with these tips from local experts.
Ashley and Jacob will tie the knot at The Ezell House on November 11, 2017.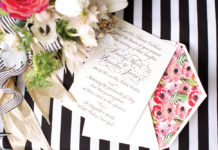 Modern and feminine fashion design (think Kate Spade) inspires a glamorous, city-chic wedding with plenty of pops of pinks, bold stripes and shimmery gold.
Katie and Matt will tie the knot at The Steeple on December 16, 2017.
With all the planning that's involved in the months leading up to your dream wedding, it's easy to forget that with the exchange of the vows comes a whole new set of challenges. With this list, put the finishing touches on that perfect celebration.