Tag: University of South Alabama
Turn back time with this photograph of a Mardi Gras float that served as an advertisement for a local ice and fuel business.
Wood salvager and craftsman Adam Scardamalia reclaims the natural beauty of trees.
The Sundance award-winning documentary releasing to international audiences this October captures Africatown's complicated history and hope for the future.
Meet Cynthia Tucker, University of South Alabama's journalist-in-residence, and get her summer reading recommendations for the curious mind.
Sandy beach strolls, rigorous marshy treks, tours of local history — no matter what you're looking for, this guide will help you plan your next adventure, right in our own neck of the woods.
At the Dauphin Island Sea Lab, the collaboration between scientists, students and the public is the culmination of a lofty vision put in place 50 years ago.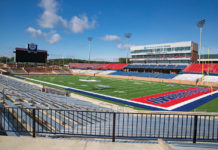 University of South Alabama Athletic Director Joel Erdmann walks us through the ultimate DIY project: Hancock Whitney Stadium. Here is his step-by-step guide on how to build your own football field.