1. Smoky Pomegranate Mocktail
Ovarian cancer "thriver" Lexi Mestas serves up this delicious mocktail made with zero proof tequila and topped with pomegranate arils and dried rose petals. Featured September 2021
6 ounces pomegranate juice
6 ounces Ritual Zero Proof Tequila, or traditional tequila of your choice
3 ounces fresh lime juice
3 ounces simple syrup
3 teaspoons rose water
1/2 cup ice
4 large cocktail ice cubes
3 teaspoons edible dried rose petals
3 teaspoons pomegranate seeds
1. In the base of a cocktail shaker, combine pomegranate juice, tequila, lime juice, simple syrup and rose water with ice. Shake vigorously for 2 to 3 minutes.
2. In four glasses, each with a large cocktail ice cube, pour the cocktail in equal portions.
3. Top with edible dried rose petals and pomegranate seeds. Serve immediately. Makes 4
---
2. Cucumber Gin Martini
Try this fresh cocktail from Fairhope's hostess extraordinaire Beverly Smith. Featured June 2021
3 cucumber slices
1 sprig of mint
2 ounces Hendrick's gin
1 tablespoon agave juice
1 teaspoon lime juice
ribbon of cucumber, for garnish
Muddle cucumber slices and mint. Add to a martini shaker with ice, gin, agave and lime juice. Shake vigorously and strain into a martini glass. Garnish with a ribbon of cucumber. Makes 1 cocktail
---
3. Bacon-Stuffed Deviled Eggs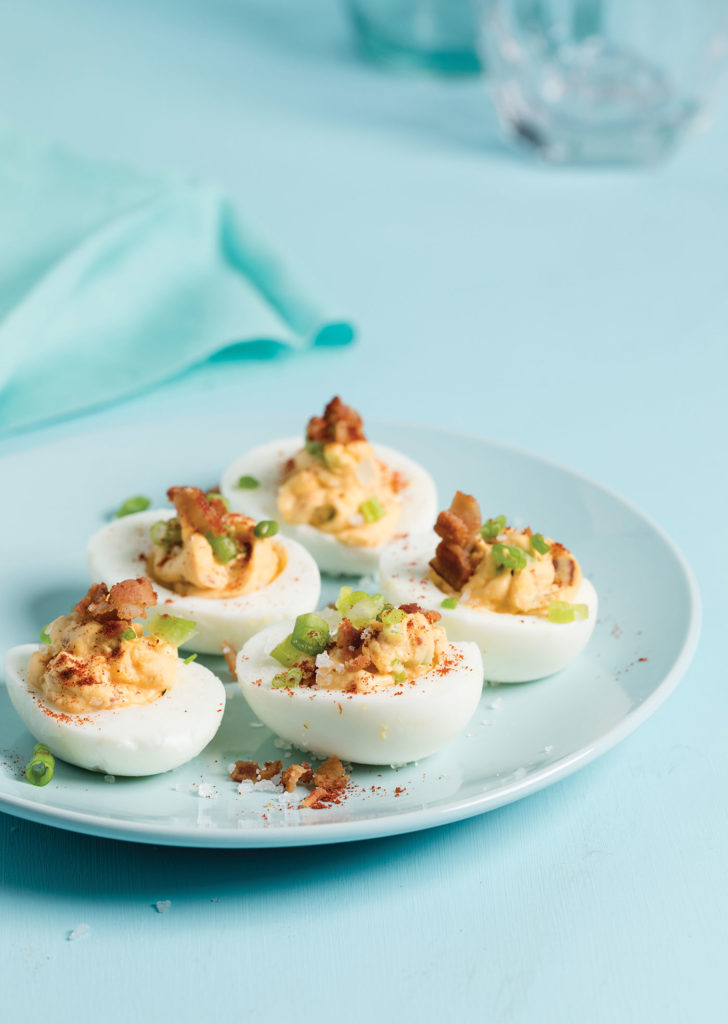 The addition of bacon can turn a despised appetizer into a fail-proof party treat. Recipe by Eleanor Inge Baker. Featured March 2021
12 eggs
5 – 6 pieces crisply fried bacon, chopped
3 – 4 green onions, chopped, green parts only
3 – 4 heavy-handed shakes Crystal Hot Sauce
3 – 4 heaping tablespoons Hellman's Real Mayo
2 – 3 tablespoons Zatarain's Creole mustard
garlic salt and freshly ground pepper, to taste
paprika, to taste
1. Add eggs to a large pot and fill with cold water to cover by an inch. Bring to a boil and cook for 5 minutes. Remove from boiling water and place in a bowl of cold water until eggs are completely cool. Place in refrigerator overnight.
2. Slice eggs in half and scoop out yolk into a bowl. Place egg whites on a deviled egg plate.
3. Set aside 1 tablespoon each of bacon and green onions for garnish. Mash egg yolks, remaining bacon and green onions, hot sauce, mayo and mustard with a fork until mixed well. Add garlic salt and pepper to taste.
4. Scoop stuffing into a zip-top bag. Cut corner off bag and use to pipe stuffing into egg whites.
5. Garnish plated eggs with reserved onion and bacon. Sprinkle with paprika immediately before serving.
---
4. Pickled Shrimp
This recipe by Mrs. O.H. Delchamps, Jr. was first published in the Junior League of Mobile's Recipe Jubilee. It later appeared in our September 1989 issue and was republished in our 50th Anniversary Issue in February 2021
3 pounds fresh shrimp in shells
3/4 cup celery tops
1/2 cup mixed pickling spices *
1 tablespoon salt
2 1/2 cups sliced onion
10 bay leaves
Pickling marinade
Cover shrimp with boiling water, add celery tops, spices and salt. Cover and simmer for five minutes. Drain, peel and de-vein shrimp under cold water. Alternate cleaned shrimp, onions and bay leaves in a shallow baking dish. Serves 6
*Pickling spices can be found at grocery stores, but in a pinch it can be made with whole mustard, allspice and coriander seeds, cloves and plenty of bay leaves.
Pickling Marinade
2 cups salad oil
1 cup white vinegar
4 tablespoons capers with juice
3 teaspoons celery seed
2 teaspoons salt
Few drops Tabasco
Combine ingredients, mix well, pour over shrimp and cover. Chill at least twenty-four hours, spooning marinade over shrimp occasionally. Keeps about a week in refrigerator. May be served as hors d'oeuvres or salad.
---
5. Yaya's Crab Claws
Elizabeth Damrich's mother-in-law, Suzanne Damrich, passed down this easy, make-ahead crab claw recipe. It is high on Mediterranean flavors and goes down easy with a refreshing cocktail. Featured June 2021
3/4 cup olive oil
1/4 cup white balsamic vinegar
1 small package dry Italian salad dressing mix (0.7 ounces)
1/2 teaspoon ground oregano
1 tablespoon lemon juice
1 teaspoon finely minced garlic
1/4 cup dried parsley flakes
1/2 cup grated Parmesan cheese
1 tablespoon vermouth
1 tablespoon Worcestershire sauce
1 pound crab claws, cooked and shelled
Whisk olive oil and vinegar into salad dressing mix. Add remaining marinade ingredients and stir to combine. Gently fold crab claws into marinade. Transfer to a large plastic container with lid and refrigerate several hours or overnight, turning several times to allow marinade to coat well. Serves 6
---
6. Party Ham Sandwiches
Tierney Moore's sliders always go fast! Brown sugar and horseradish provide a surprisingly sweet kick. Featured March 2021
1 (12-count) package King's Hawaiian Rolls
3 tablespoons creamy horseradish sauce, divided
3/4-pound thinly sliced Black Forest ham
8 slices white American cheese
6 tablespoons butter
2 tablespoons brown sugar
1 tablespoon Worcestershire sauce
1 tablespoon poppy seeds
1. Preheat oven to 350 degrees.
2. Split each dinner roll. Spread a small amount of creamy horseradish sauce on the bottom of each roll. Layer ham and cheese, then replace top of roll. Arrange the sandwiches in a 9-by-13-inch pan.
3. In a small saucepan, combine butter, brown sugar, remaining 1 tablespoon horseradish sauce, Worcestershire and poppy seeds. Bring to a boil and pour over sandwiches.
4. Bake for 20 – 30 minutes, or until the tops are brown and crispy. Serves 6
---
7. Balsamic Pork & Peach Skewers with Pecan Butter
Local Georgia football fan Brant Richerson shares this favorite tailgate recipe. Featured October 2021
2 tablespoons pecans
1 tablespoon maple syrup
5 tablespoons butter, room temperature
1/2 cup balsamic vinegar
1 lemon, juiced
3 garlic cloves, minced
2 tablespoons olive oil
1 teaspoon kosher salt
1/4 teaspoon red pepper flakes
1 (1- to 1 1/2-pound) pork loin, cut into 1-inch cubes
2 to 3 large peaches, sliced 1/2-inch thick
2 tablespoons mint, chopped
1. Make the compound butter. Put pecans in a food processor and blend until they're the consistency of dust. Add the maple syrup and the butter. Pulse until it all comes together. Dump the butter mixture onto plastic wrap and form into a log. Wrap it and refrigerate for at least one hour.
2. Whisk the balsamic vinegar, lemon juice, garlic, olive oil, salt and red pepper flakes together in a large bowl. Add the pork and the peaches and press down so they're covered in the liquid. Cover and marinate in the refrigerator for at least one hour.
3. Heat a grill pan or grill to medium-high. Alternately thread the pork and peaches onto the skewers. Each skewer should have roughly three pieces of pork and three peaches. Grill the skewers for about 3 minutes on each side or until pork is cooked.
4. Cut the butter into small pieces and place all over the warm pork and peaches. The heat will melt the butter over the top. Garnish with the chopped mint. Serves 6 – 8
---
8. Oysters en Brochette
Foodie Brooke Grehan fries up perfectly crisp bivalves and explores the connections between Mobile's food culture and that of New Orleans. Featured February 2021
4 – 8 cups peanut oil (depending on fryer size)
2 (12-ounce) boxes Zatarain's Fish-Fri
1/4 cup Tony Chachere's Creole Seasoning
3 eggs, lightly beaten
1/2 cup milk
2 quarts oysters, drained
1 pound bacon, partially cooked in microwave, then cut into square pieces
wooden skewers
1. Fill fryer with peanut oil. Heat to 375 – 400 degrees.
2. Combine fish fry and Tony Chachere's in a bowl.
3. In a separate bowl, mix eggs and milk to create eggwash. Dip oysters in eggwash and place oysters and bacon on skewers. Note: Use wooden skewers, and make sure they are short enough to fit lengthwise in the fryer. Dredge skewers in the fish fry mixture.
4. Place skewers into the fryer. Cook for 2 – 3 minutes, until golden. (Brooke suggests frying only 2 skewers at a time.)
5. Drain on paper towels. Makes approximately 12 – 15 skewers, depending on the size of the oysters
---
9. Lemon Ricotta Pancakes
On our quest to find the perfect pancake recipes, this scrumptious concoction from Amanda Gibson of Lemon Baby Co. rose to the top. Featured December 2021
2 cups all-purpose flour
1/2 teaspoon baking soda
1 tablespoon baking powder
2 tablespoons granulated sugar
1/8 teaspoon salt
1 teaspoon vanilla extract
1 cup whole milk
2 large eggs
1/2 cup full-fat ricotta cheese
zest from 1 lemon
2 tablespoons lemon juice
1/2 cup blueberries
1. In a large bowl, whisk together the flour, baking soda, baking powder, sugar and salt. Set aside.
2. In a smaller bowl, whisk together the vanilla extract, milk, eggs, ricotta cheese, lemon zest and lemon juice until smooth.
3. Gradually add the wet ingredients to the dry mixture and gently whisk until incorporated.
4. Heat skillet or griddle on medium high; grease with butter. Pour 1/2 cup batter onto hot griddle, place 3 – 4 blueberries on top of pancake, and cook for 3 minutes, until the edges start to firm up and bubbles appear on surface.
5. Flip the pancakes and cook for another 1 to 2 minutes on the other side. Repeat with remaining batter. Serve hot with blueberry compote (see below). Serves 4
Blueberry Compote
2 cups blueberries
zest and juice of one lemon
1/4 cup granulated sugar
1 teaspoon vanilla extract
Make the compote first by combining blueberries, lemon zest and juice, and sugar in a small saucepan and heat on medium until about half of the blueberries burst and sauce thickens slightly. Turn off heat, add vanilla and stir. Let cool while you make the pancakes.
---
10. Sweet Potato Cake with Caramel Icing
Local potatoes enrich a bundt cake with flavor and sweetness, promising the perfect balance at the end of Mobilian Victoria Stimpson's meals. Featured February 2021
4 (8-ounce) sweet potatoes
2 3/4 cups all purpose flour
2 teaspoons ground cinnamon
1 1/4 teaspoons ground ginger
1 teaspoon baking powder
1 teaspoon baking soda
1/2 teaspoon salt
2 cups sugar
1 cup vegetable oil
4 eggs
1 teaspoon vanilla
1. Cook sweet potatoes in the microwave, for 16 minutes, turning once at 8 minutes. Cool, peel and mash.
2. Preheat oven to 325 degrees. Spray Bundt pan with nonstick cooking spray.
3. Sift all dry ingredients (except sugar). Measure out 2 cups of sweet potatoes, combine with sugar and oil and beat until smooth.
4. Add eggs, 2 at a time. Add sifted ingredients and beat until blended. Stir in vanilla and pour into Bundt pan.
5. Bake for 1 hour and 5 minutes. Cool in pan on a rack. When completely cool, turn out and drizzle generously with caramel icing. Serves 12 – 16
Caramel Icing
1 cup powdered sugar
3/4 cup packed dark brown sugar
1/2 cup whipping cream
1/4 cup butter
1/4 teaspoon vanilla
Sift powdered sugar into a large bowl. Stir brown sugar, whipping cream and butter over medium low heat until melted. Turn up the heat and bring to a boil for 3 minutes, stirring occasionally. Remove from heat and add vanilla. Pour over powdered sugar and whisk for one minute. Let cool, stirring every once and a while for 15 minutes. Spoon lavishly over cake.