– Gulf Oysters –
Oysters en Brochette
Brooke Grehan fries up perfectly crisp bivalves and explores the connections between Mobile's food culture and that of New Orleans.
The Oysters en Brochette recipe," explains foodie Brooke Grehan, "is actually not my own creation, but is a take off of New Orleans radio host Tom Fitzmorris, who does a daily talk show about New Orleans food and restaurants." Brooke uses Fitzmorris' popular website, nomenu.com, for recipe ideas and great New Orleans restaurant recommendations.
New Orleans transplant, Brooke Grehan, loves to gather with friends to watch Saints football. Oysters en Brochette, featuring crispy oysters skewered with slices of bacon, is a favorite, as well as BBQ shrimp. He cooks these standbys every time his children come to town, but this talented home cook never misses a chance to enjoy the local restaurant scene either, which he admits has dramatically improved since moving to Mobile thirteen years ago.
"New Orleans has the classic fine restaurants like Antoine's and Commander's Palace and many others. But Mobile and the Eastern Shore have plenty of great seafood places that we hit regularly, as well as other favorites we have found such as Via Emilia, Osman's and the Wash House," he adds.
"Of course," says Brooke, " I always go back to the oysters and I am still looking for the best fried oyster po'boy in town." Not a bad assignment.
Ingredients
4 – 8 cups peanut oil (depending on fryer size)
2 (12-ounce) boxes Zatarain's Fish-Fri
1/4 cup Tony Chachere's Creole Seasoning
3 eggs, lightly beaten
1/2 cup milk
2 quarts oysters, drained
1 pound bacon, partially cooked in microwave, then cut into square pieces
wooden skewers
1. Fill fryer with peanut oil. Heat to 375 – 400 degrees.
2. Combine fish fry and Tony Chachere's in a bowl.
3. In a separate bowl, mix eggs and milk to create eggwash. Dip oysters in eggwash and place oysters and bacon on skewers. Note: Use wooden skewers, and make sure they are short enough to fit lengthwise in the fryer. Dredge skewers in the fish fry mixture.
4. Place skewers into the fryer. Cook for 2 – 3 minutes, until golden. (Brooke suggests frying only 2 skewers at a time.)
5. Drain on paper towels. Makes approximately 12 – 15 skewers, depending on the size of the oysters
Leave it to the Experts
Wintzell's Oyster House | 605 Dauphin Street, Mobile
With excellent service and a one-of-a-kind atmosphere, this original downtown location consistently serves the freshest, well-prepared southern fried oysters and has done so for more than 75 years. A fried oyster dinner plate is under $20.
Original Oyster House | 3733 Battleship Parkway, Spanish Fort
When the word "oyster" is in the name of the restaurant, you can bet that their fried oysters will always be fresh and good. The marshland view is always interesting and adds pleasant ambiance. The restaurant has been open since 1983.
Half Shell Oyster House | 3654 Airport Blvd., Mobile
Breaded with seasoned corn flour, oysters here fry up to a perfect golden brown.
Bluegill Restaurant | 3775 Battleship Parkway, Spanish Fort
This "great local dive" has been an authentic piece of the Causeway's history since 1958. Fried and char-grilled oysters are a fave.
Kraver's Seafood Restaurant | 2368 Leroy Stevens Road, Mobile | 25965 State Highway 181, Daphne
Fried oysters are over-the-top at this family-friendly seafood spot. Locations on the both sides of the Bay makes it perfectly convenient, too!
Felix's Fish Camp | 1530 Battleship Parkway, Spanish Fort
Located on scenic Mobile Bay, near the USS Alabama, Felix's is the well-known choice for fresh seafood and fried oysters. Many of the recipes are old Mobile favorites.
Boudreaux's Cajun Grill | 29249 US Highway 98, Daphne
The fried oyster plate comes with crispy fries and coleslaw at this Creole, Cajun and Acadian inspired restaurant in Daphne. This family-run restaurant, with an appealing outdoor deck, is nestled invitingly along Mobile Bay on the Eastern Shore in Daphne. Fresh seafood right on the bay with excellent service is hard to beat!
– Fresh Shrimp –
Pickled Shrimp
A love of seafood runs deep in the family behind the former Southern Fish and Oyster, and Tripp Atkins argues it does in all of us who live beside the Bay, as well.
Former owner of "Southern Fish and Oyster Company", Tripp Atkins, waxes nostalgically as he shares memories.
"I was the fourth generation to sit within the realms of the fabled "Southern Fish and Oyster Company," he says.
"As a young boy, I spent much of my time on the dock outside along the Mobile River fishing, collecting driftwood and watching the barges go by."
"When you own a seafood business," he continues, "you must not be afraid to get dirty. Your hands are in and on everything— tugging on shrimp whiskers to check freshness or examining the gills of a fresh catch to confirm that perfect shade of scarlet."
Being positioned along the bay and the Gulf, natives like Tripp can attest to fond memories of being on some sort of watercraft, cruising the delta, speck fishing in January along the Deer River or gigging flounder during the heat of July. Tripp cherishes these water-laden memories.
He shares, "As south Alabamians, we recognize our seasons not by weather patterns, but as they relate to our seafood bounty, harvests and outdoor activities. These seasonal catches clearly dictate our dishes and steer, not only what local chefs serve, but also what we serve when eating and entertaining. Recipes passed on from previous generations showcase our very lives— our memories, our livelihoods and kitchens. Everyone has a marinated shrimp recipe, their spin on gumbo, and an opinion on whether to boil or steam crabs (boil clearly!)."
Tripp adds, "We, in this area, will always have that connection to the waterfront and, if we're wise, cherish what it provides both nutritionally and spiritually." Seafood, it seems, runs deep in all our veins.
Ingredients
3 pounds fresh shrimp in shells
3/4 cup celery tops
1/2 cup mixed pickling spices *
1 tablespoon salt
2 1/2 cups sliced onion
10 bay leaves
Pickling marinade
Cover shrimp with boiling water, add celery tops, spices and salt. Cover and simmer for five minutes. Drain, peel and de-vein shrimp under cold water. Alternate cleaned shrimp, onions and bay leaves in a shallow baking dish. Serves 6
*Pickling spices can be found at grocery stores, but in a pinch it can be made with whole mustard, allspice and coriander seeds, cloves and plenty of bay leaves.
Pickling Marinade
2 cups salad oil
1 cup white vinegar
4 tablespoons capers with juice
3 teaspoons celery seed
2 teaspoons salt
Few drops Tabasco
Combine ingredients, mix well, pour over shrimp and cover. Chill at least twenty-four hours, spooning marinade over shrimp occasionally. Keeps about a week in refrigerator. May be served as hors d'oeuvres or salad.
Seafood in Season
While flash-freezing on boats and at the dock allows us to enjoy incredibly fresh seafood year-round, this handy list will help you choose the best of all that swims, at just the right time.
Amberjack
AUG-APRIL

Black Drum
NOV – APRIL

Blue Crab
YEAR ROUND

Softshell Blue Crab
MAY – AUG

Cobia
MAR -AUG

Flounder
MAY – NOV

Grouper
JULY – FEB
King Mackerel
MAY – NOV

Mahi-Mahi
MAY – NOV

Mullet
MAR – DEC

Oysters
OCT – APRIL

Pompano
MAR – OCT

Red Drum
YEAR ROUND
Red Snapper
JUN – AUG

Sheepshead
NOV – APRIL

Shrimp
JUN – FEB

Spanish Mackerel
MAR – OCT

Triggerfish
MAR – JULY

Tuna
APRIL – AUG

Wahoo
APRIL – NOV
– Leafy Greens –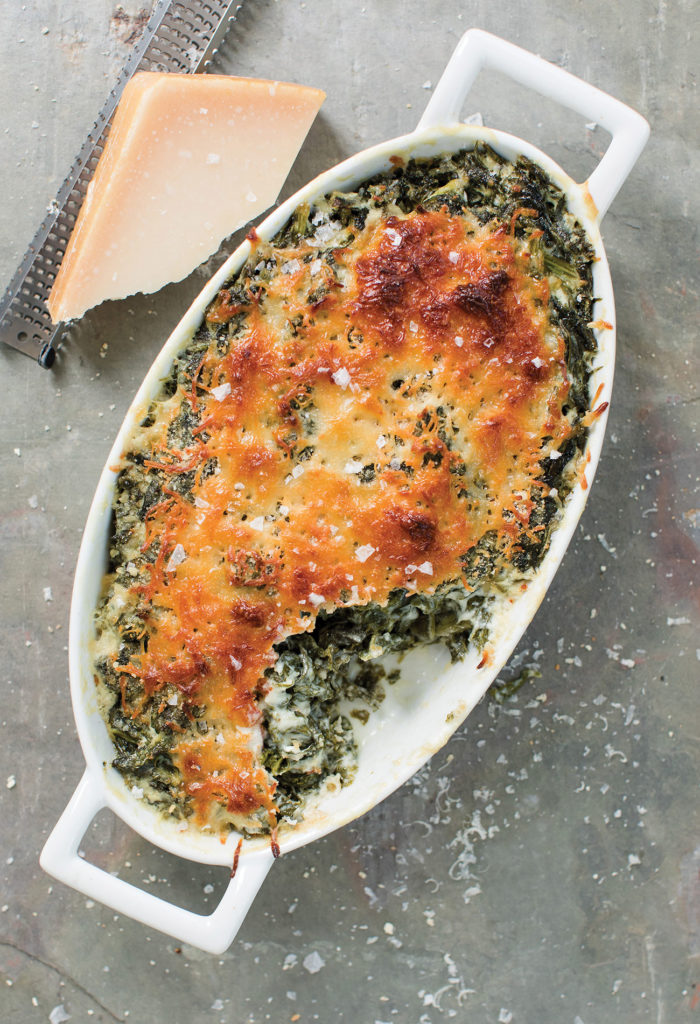 Creamy Greens Casserole
Food writer and recipe collector Sallye Irvine seeks to keep recipes from being lost to time.
When wordweaver, food enthusiast and recipe creator/gatherer, Sallye Irvine, steps into the kitchen, prepare to be dazzled on many fronts. As a former MB magazine writer for over twelve years, Sallye knows all about cooking, creating recipes and preserving food traditions.
When she first moved to Mobile as a young bride, the New Orleans native discovered "similarities in the cuisines of these two food cultures, but subtle differences, as well. The local staples of fried crab claws, pickled shrimp and West Indies salad were all new to me. In New Orleans, we ate our crab claws marinated, enjoyed boiled shrimp and our crab salad was made with mayonnaise. All delicious!"
She believes that nothing compares to learning about cooking alongside a parent or grandparent. With love added as an ingredient, these hands-on experiences create fun family rituals and marvelous memories. However, if the recipes are not recorded in some way, they can be lost over time. As many home cooks find themselves using, "a pinch here or a dash there", Sallye finds that preserving the exact recipes with precise measurements can ensure the recipe's success for future generations.
Folks generally fall into two categories, she explains—those who happily share and those who prefer to keep their recipes secret. "Those are the recipes that are often lost to time. Sharing simply allows everyone to enjoy more good food, keeping wonderful recipes from disappearing altogether."
Ingredients
2 pounds greens of your choice
1/2 cup water
salt and pepper
1 cup chicken or vegetable broth
1 cup half-and-half
4 tablespoons butter
1/4 cup flour
1/2 cup grated Parmesan cheese
1/2 cup ricotta cheese
2 – 3 tablespoons dry bread crumbs
1/2 – 1 cup shredded mozzarella cheese
1. Preheat oven to 375 degrees. Cut away any tough stems and thick center ribs from the greens. Discard. Rinse greens in several changes of water. Shake off excess water. Chop greens into approximately 1/2-inch pieces.
2. Cook the greens in a large skillet over medium heat, adding them by handfuls and stirring them down as they wilt. Add water, stir well, then cover the skillet and braise for 10-15 minutes, or until tender. Pour off any remaining liquid and season the greens to taste with salt and pepper. Transfer to a mixing bowl and set aside.
3. Meanwhile, in a saucepan over low heat, cook broth and half-and-half just until bubbles form around the edges of the pan, approximately 4-5 minutes.
4. In the large skillet used for the greens, melt butter over low heat. Add flour and cook, stirring for about one minute. Add hot broth/half-and-half mixture all at once and stir over medium heat until the sauce is smooth and thickened, about 5 minutes. Whisk in Parmesan cheese and ricotta cheese. Stir braised greens into cheese mixture and pour into a greased 1 1/2-quart to 2-quart baking dish, or casserole. Sprinkle with bread crumbs and top with mozzarella cheese. Bake approximately 30 minutes, or until the sauce is bubbling and the cheese is melted and lightly browned. Serve immediately. Serves about 8
Growing Greens in Silverhill
Since 2013, Silverhill farmer Will Mastin has been farming varieties of greens hydroponically— without soil in nutrient-rich water. "Chefs want lettuces that have a pretty appearance as well as taste good," he shares. "We try to grow what the chefs want— crunchy, curly leaves that look good and have great flavor. We are always trying new varieties— those that are heat-tolerant, best disease resistant and look pretty on the plate."
Will and his partners at Local Appetite Growers, as their farm is known, grow green and red lettuces, oakleaf, butterleaf and other heirloom lettuces in attempts to please.
"There is a new lettuce we are trying called Deer Tongue. Its leaves have a pointy shape like a deer's tongue. We are also trying new varieties of kale as it becomes more and more popular."
There are advantages to growing crops hydroponically. Less handling and time in the cooler means better nutrition for consumers and efforts are made to harvest quickly and get fresher produce to market.
Local Appetite also cultivates carrots, radishes, tomatoes and peppers in organic raised beds. Although most of his customers are wooed at farmers' markets, grocery stores and restaurants, due to the pandemic, Will has begun internet sales and home delivery in Baldwin County. Local Appetite is helping hydroponic farming come into its own, developing and growing tasty crops that are more nutrient-rich for the next generation.
– Speckled Trout –
Trout Romez Stew
Home cook and caterer Romie Perez knows how to make local seafood shine
Caterer Romie Perez, calls himself a "home-schooled cook."
"My mama, Alyce Hicks Perez, raised eleven children and put three home-cooked meals on the table every day," Romie shares. "Daddy gave her a budget of $40 every two weeks and, back then, $40 would fill up our Ford station wagon. I used to watch her cook and help her from when I was a young boy. She never followed recipes. 'You have to taste food as you cook,' she'd say. 'If it doesn't taste good, add more seasoning." Young Romie became quite an accomplished cook following his mama's guidelines.
With two uncles who were early restaurateurs in the 30's and 40's-("Uncle Julius was founder of 'The Tiny Diner' on Holcombe Avenue,")it is no wonder that recipe creator, Romie, has a love and real talent for creating and preparing delicious recipes using local seafood and produce.
Romie's delicious Trout Romez recipe came about when his wife became tired of eating fried speckled trout. "I came up with a chowder type dish and my wife liked it," says Romie. "I had a great fishing mentor, G.B.Taylor, who taught me how to catch trout and about how to cater food, so it is in his honor that I dedicate this recipe."
All of Romie's trout recipes use fish caught in local waters-Mobile Bay, Fowl River, Mississippi Sound. He has created a seafood gumbo that is a crowd
favorite that he sells from his catering food truck, "Bacon My Day."
"Nothing matters more to me than the taste of a dish-something that offers a variety of flavors in one bite," he says. "People, these days, want recipes that are simple and quick-but patience in the kitchen, is highly underrated. Good food takes time!"
Ingredients
2 tablespoons olive oil
3 medium onions, chopped
1 medium bell pepper, diced
6 celery stalks, chopped
1 tablespoon minced garlic
1 16-ounce can petit diced tomatoes
1 10.5-ounce can cream of shrimp soup
1 8-ounce can tomato sauce
1 1/2 quarts water
2 teaspoons salt, or to taste
1 teaspoon black pepper, or to taste
1 teaspoon lemon pepper seasoning
1 tablespoon garlic powder
6 bay leaves
1/2 teaspoon Italian seasoning
1 teaspoon creole seasoning, like Tony Chachere's
Cornstarch
6 large speckled trout filets (approximately 2 pounds), cut into 1/2" chunks
5 cups cooked rice, for serving
1. Heat olive oil in a large skillet. Add in onions, bell pepper, celery and garlic. Saute for several minutes, until soft.
2. In an 8 quart pot, stir together tomatoes, soup, tomato sauce and water. Add sautéed vegetables and stir in seasonings. Simmer 30 minutes.
3. Thicken with a little cornstarch to your liking. Add trout and simmer for an additional 20-30 minutes or until fish is just "falling apart." Serve over cooked rice.
In Search of Specks
Captain Richard Rutland is a native Mobilian and has been fishing the waters of Mobile Bay for over fifteen years. After leaving the area for a stint in the Navy, Richard returned to Mobile and pursued his dream of becoming a charter captain.
"I am strictly a recreational fisherman," Captain Richard says. "I take folks out on charters every day. Trout fishing is really in a good place right now. Trout is the most popular seafood in Alabama. Most of my customers want to catch speckled trout," he adds, "but we also fish for white trout, redfish and triple-tail."
An optimistic fisherman, Richard will take charters all over the local waters from Mobile Bay to the rivers of the delta, depending on the time of year and where the fish go. He is dedicated to making his guided fishing trips fun, as well as successful. He is very much into educating the public about how to fish safely and strongly supports the preservation of all species of fish. He works with several local organizations to that end.
"Speckled trout is healthy food and great table fare," the captain says. "The future is bright, but you gotta know where to catch em and that's where I come in!"
– Vidalia Onions –
Vidalia Onion Cornbread
You can make this cornbread in muffin tins or nonstick baking dish, but Brewster far prefers the trusty, time-honored, cast-iron skillet.
Camille Brewster, a mortgage banker in Mobile, believes that the wide variety of foods that we love in our area is what makes us unique.
"Cornbread has always been a staple in our house," she says. "I probably make cornbread once a week. I think of cornbread as a blank canvas that can become anything you want that day. You can add jalapenos, kernel corn, ground sausage or sweet Vidalia onions, as in this recipe. This variation hits so many flavor notes— the sour cream, sharp cheddar cheese and dill create a richer, tastier bread."
Camille uses this recipe for many special times around the table.
"It's great with the traditional New Year's Day meal and as a tasty addition with grilled chicken and pasta dishes," she says.
Camille certainly appreciates the legacy of family recipes. "We can take our great-grandmother's dressing and make it our own, adding new flavors without losing that flood of smells and memories that come with the first bite."
Even though she might change up her cornbread recipes from time to time or from occasion to occasion, some things, she shares, will never change— like that seasoned cast iron skillet that she bakes it in!
Ingredients
2 teaspoons vegetable oil
1/4 cup butter
1 large Vidalia onion, chopped
1 (8-ounce) package of cornbread/muffin mix (Jiffy)
1 egg, beaten
1/3 cup whole milk
1 cup sour cream
1 cup grated sharp cheddar cheese
1/4 teaspoon dried dill, optional
1. Preheat oven to 450 degrees. Grease a seasoned, 10-inch cast-iron skillet with two teaspoons vegetable oil. Keep warm in oven.
2. Meanwhile, melt butter in a saucepan. Cook onion about 5 minutes, until tender and starting to turn golden brown on edges. Remove from heat. Drain onion on paper towels, if desired.
3. In mixing bowl, combine onion, cornbread mix, egg, milk, sour cream, 1/2 cup of the cheese and dill (if using).  Pour into the heated cast-iron skillet and top with remaining 1/2 cup cheese.
4. Bake for about 30 minutes, or until a toothpick inserted in center of cornbread comes out clean. Serves 6-8
Caring for Cast Iron
Chef Jeremiah Matthews of Southwood Kitchen, in Daphne, grew up in a family that used cast iron pans to prepare food. And today that is often his choice when preparing his own outstanding dishes. He still uses those old pans and dutch ovens because they "were made to last and to cook over different types of heat, not just stoves." He shares that once they are seasoned, and if taken care of, cast iron becomes almost fool-proof. The most important thing to remember with cast iron, according to Jeremiah, is that they need care when cleaning and cooking. His pro tips:
Season well
To season a pan, first heat it until it is nearly smoking. Then apply a thin layer of oil— preferably grapeseed oil or lard. " I try to avoid olive oil due to its low smoking point and it can get sticky when it breaks down." Allow the pan to cool, then wipe out again and store in the oven, where it lives when not in use.
Start Hot
Always begin cooking with a hot pan to keep food from sticking.
Avoid Acid
Cooking acidic foods like tomatoes in cast iron can affect flavor and strip the seasoning.
Take care
When finished cooking, clean the pan immediately while it is still hot. You can clean it with a mild dish soap, but I prefer not to. Just wipe it out, dry completely and apply a thin coat of oil or lard and return it to the oven.
Tough Stuff
If something is stubbornly sticking, use a wooden spoon or kosher salt and a paper towel to remove it.
Not All Are Created Equal
My favorite brand of pan is Smithey, out of Charleston, South Carolina. Their ultra polished surface seasons very well. I can cook bacon in a Smithey and roll right onto an omelet and it won't stick.
– Sweet Potatoes –
Sweet Potato Cake
Local tubers enrich a bundt cake with flavor and sweetness, promising the perfect balance at the end of Mobilian Victoria Stimpson's meals.
Life is all about balance. Victoria Stimpson knows this well. As an avid runner— even marathoner—she is constantly balancing hard work and play, healthy foods and decadent treats. This bundt cake made with sweet and nutritious sweet potatoes tows that line perfectly.
Victoria, who has five daughters, enjoys cooking and especially loves to make desserts. She balances that love of sweets with healthy meals, sometimes vegetarian, for her family. As an adventurous cook, she often finds healthful recipes online to add to her roster of tried-and-true dishes from her personal collection.
She is quick, however, to credit others for many of her dishes. "This sweet potato cake recipe was given to me by a friend, and I still make it for special occasions. The caramel icing is wonderful on other cakes, too."
Victoria first shared this recipe with MB in August 2009 when she prepared the perfect pre-marathon meal, but there's no need to wait for such lofty endeavors to make this cake full of the deep south's favorite tuber.
A native crop to the Americas, sweet potatoes are often confused with African yams, although the two are merely distant cousins. While these days many home cooks relegate the orange tuber to the Thanksgiving table, they add moisture and sweetness to myriad baked goods. With B vitamins, Vitamin C and D, Calcium, Iron, Magnesium, Phosphorus, Potassium, Thiamin, Zinc and plenty of antioxidants, we are going to overlook that generous slathering of caramel icing and count this as a full serving of vegetables.
Ingredients
4 (8-ounce) sweet potatoes
2 3/4 cups all purpose flour
2 teaspoons ground cinnamon
1 1/4 teaspoons ground ginger
1 teaspoon baking powder
1 teaspoon baking soda
1/2 teaspoon salt
2 cups sugar
1 cup vegetable oil
4 eggs
1 teaspoon vanilla
1. Cook sweet potatoes in the microwave, for 16 minutes, turning once at 8 minutes. Cool, peel and mash.
2. Preheat oven to 325 degrees. Spray Bundt pan with nonstick cooking spray.
3. Sift all dry ingredients (except sugar). Measure out 2 cups of sweet potatoes, combine with sugar and oil and beat until smooth.
4. Add eggs, 2 at a time. Add sifted ingredients and beat until blended. Stir in vanilla and pour into Bundt pan.
5. Bake for 1 hour and 5 minutes. Cool in pan on a rack. When completely cool, turn out and drizzle generously with caramel icing. Serves 12 – 16
Caramel Icing
1 cup powdered sugar
3/4 cup packed dark brown sugar
1/2 cup whipping cream
1/4 cup butter
1/4 teaspoon vanilla
Sift powdered sugar into a large bowl. Stir brown sugar, whipping cream and butter over medium low heat until melted. Turn up the heat and bring to a boil for 3 minutes, stirring occasionally. Remove from heat and add vanilla. Pour over powdered sugar and whisk for one minute. Let cool, stirring every once and a while for 15 minutes. Spoon lavishly over cake.
Digging Spuds
Baldwin County farmer Daniel Penry shares a legacy of growing sweet potatoes since 1953. "The changes in farming this much-loved crop have been monumental since those early days last century," Daniel says. Obviously, there have been huge leaps in technology. Tractors are now GPS-driven, spreaders and sprayers consume less resources and 35 horsepower tractors are now up to 335 horsepower. Daniel also hopes that sweet potato farmers are more environmentally-conscious— he certainly is.
"We are always trying to be more efficient and economical without sacrificing yield or quality," Daniel says. "This certainly keeps us on our toes— always listening, learning and adapting to the market quickly."
Like his father Steve, grandfather Bill and great-grandfather W.E. Penry, Daniel is quite proud of the massive impact and scale of the quality and how sweet potatoes are grown in Baldwin County.
He proudly states, "Southern Alabama produces superior sweet potatoes that are internationally desired and sought out by the world's largest grocery dealers. We would love for our own county of chefs, cooks and even home kitchens to embrace the sweet potato as a local product that is unique and valuable."