Everyone could use a vacation right now. Check out these eight safe and convenient spots, perfect for a weekend getaway.
Our contributing food fanatics share the local dishes that made them hungry for more.
What is the history of the state docks?
As part of our series highlighting the History Museum of Mobile's exhibit "A History of Mobile in 22 Objects," take a closer look this month at the story of Mardi Gras, told through Chief Slac's Joe Cain Day costume from the 1970s.
Bay-area natives have stretched across the nation, from sea to shining sea. Meet one from every state!
In honor of MB's 50th anniversary, we dive deep into some old standby recipes — along with the people and ingredients that made them possible.
Sift through the fine details of a photograph from MAMGA's 1975 luncheon.
Writer Audrey McDonald Atkins knows better than most that Valentine's Day can be a real kick in the shin.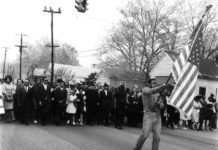 A recently rescued oral history interview helps illuminate the life of an important and dynamic figure in Mobile history.
Find some of the Bay area's best barbecue at a little house on Florida Street in Midtown.