This classic pickled shrimp recipe is the perfect cold appetizer for a hot summer day.
A healthy dose of butter and lemon takes fresh Gulf shrimp to the next level.
In honor of MB's 50th anniversary, we dive deep into some old standby recipes — along with the people and ingredients that made them possible.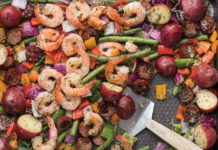 This easy sheet pan dinner brings all the flavor and none of the fuss, perfect for a busy weeknight.