Just like plants, community gardens need the right conditions to grow and produce. In 2011, Matt Armbruster felt led to establish one such plot in West Mobile's low-income Hillsdale neighborhood. The founder of Ransom Ministries follows the mantra: Give a man a fish, you feed him for a day; teach a man to fish, you feed him for a lifetime. Through the community garden, "residents can grow quality, healthful food to eat, instead of junk, and they are doing it themselves, " Matt says. "We're not doing it for them." The idea aligned perfectly with his other outreach project, Ransom Café. In 2010, he and wife Tara started the donation-only eatery that focuses on giving everyone in the Bay area, regardless of their background or income level, a place to belong and to get a good meal. There, patrons are asked to donate what they can or volunteer in exchange for a meal.
Reaping the Rewards
After praying about an opportunity to start a garden, Matt received a call from Habitat for Humanity. They offered to donate two lots in Hillsdale for a community garden for African refugees living in the neighborhood. The organization would provide the land, all the materials and the water, if he would be the garden's administrator.
He began by planting vegetables in the raised beds himself. It took a long time for the community to take ownership of the plot and begin to care for it themselves. "For the first two years, we couldn't get any adults involved, " Matt says. "I was ready to give up, honestly. But one day, we were doing a barbecue, and this little girl came up to us and told us her family needed food. They were struggling. So when they saw we helped them, they started trusting us."
Once trust was rooted, there was still another huge obstacle to overcome: language. Matt says when conflicts arose over the garden and its rules, he had a hard time communicating with many of the women, who only speak Swahili. "I would communicate with their children, and they would translate for me, " he says. "But once I realized you could translate English to Swahili in Microsoft Word, I began printing out Swahili fliers."
Now, members of the Hillsdale community are the ones primarily caring for the garden, and their African heritage has influenced the crops. "When we had our first harvest, it was interesting, " Matt says. "They would take the leaves off the zucchini and eat them. I showed them how to eat the actual zucchini, but they didn't like it. So now, everyone has planted this stuff called enani, which is similar to spinach, but hearty like collard greens. They had the seeds brought in from Africa."
Transplanting
In May, Matt and Pastor Clifton C. Enlers, of St. John's Apostolic Cathedral in Prichard, partnered to start another community garden at the church. Matt used some of the produce from their first harvest season this fall for the café and gave the rest away.
Matt knows it will take a while, as it did in Hillsdale, for members of the Prichard community to care for the garden on their own. Enlers says he is excited about his church's partnership with Ransom Café and the possibilities the garden brings. He's happy to introduce many to the idea of growing their own healthful produce. "We want to get the community involved, but first, we want them to see that we're here to serve them, and then they'll pick up that attitude."
Click here for more information on the Ransom Café.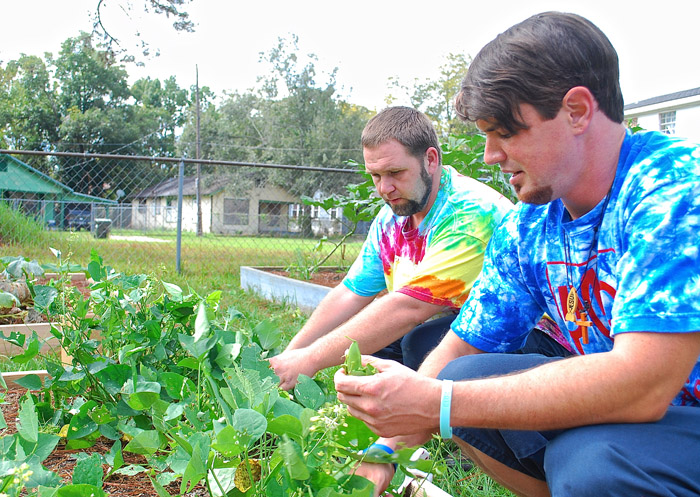 ABOVE AND BELOW The planter box garden yields an array of fruits and vegetables, such as cucumbers and snap peas, as well as traditional African offerings, like enani. James Jimmerson and Aaron Richardson drive daily from City of Refuge in Lucedale, Miss., to volunteer at the garden and café.
 
---
text and photos by Jillian Clair