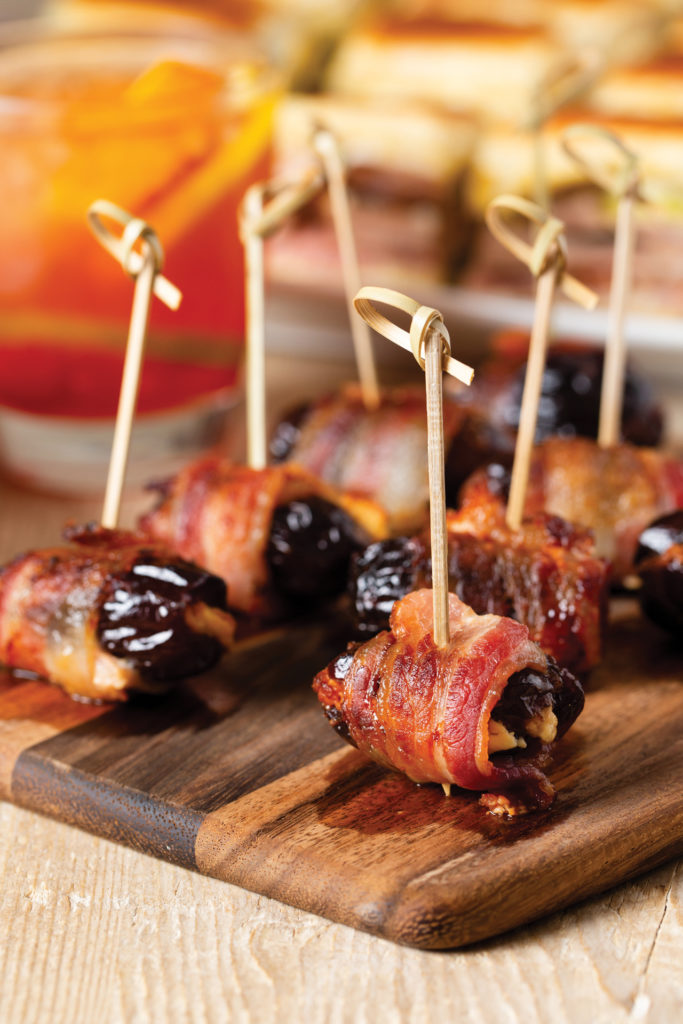 1. Bacon-Wrapped Dates
This recipe from Red or White's executive chef Arwen Rice is a crowd-pleaser.
Originally printed in "6 Game Day Party Recipes", September 2018
12 jumbo pitted Medjool dates
1 4-ounce log blueberry goat cheese
6 slices thick-cut bacon, cut in half
12 toothpicks
Honey, for drizzling
Balsamic vinegar, for drizzling
Toasted chopped almonds, for garnish
1. Preheat oven to 400 degrees. Line a rimmed baking sheet with aluminum foil and set aside. Place 1 teaspoon of goat cheese inside the cavity of each date where the pit formerly was and press to close. Wrap one half-slice of bacon around each date and secure with toothpicks. Place 1 inch apart on prepared baking sheet.
2. Bake dates for 10 minutes, then flip and bake for another 10 to 15 minutes or until bacon is browned. Let cool for 5 minutes on the sheet pan, then remove toothpicks.
3. Place dates on a serving platter and drizzle with honey and balsamic vinegar. Top with chopped toasted almonds. Serve warm. Serves 6
---
2. Black Bean Corn Dip
Recipe courtesy of Megan Gulland Shifflet, owner of The Kiln
Bowl made by Susie Bowman
Originally printed in "Designed to Nourish", September 2019
1/4 cup extra virgin olive oil
1/4 cup apple cider vinegar
1/4 cup sugar
1/4 medium onion, finely chopped
1 can black beans, rinsed
1 can corn, drained
1 4-ounce container crumbled feta cheese
1. Whisk olive oil, vinegar and sugar until sugar is completely dissolved.
2. Add remaining ingredients, stir and refrigerate. Dip is best when made the night before. Serve with scoop tortilla chips or use as a topping on tacos and salads. Serves 10
---
3. Curried Boiled Peanuts
This fun, sweet and savory variation on a deep South favorite is a total nod to fall, with hints of cinnamony cardamom.
Originally printed in "The Gathering Place", October 2019
3 pounds green peanuts
2 cans coconut milk
1/4 cup kosher salt
1 quart water, or enough to cover peanuts
4 tablespoons red curry paste
1 teaspoon fish sauce
1 teaspoon lime zest, grated
2 tablespoons fresh lime juice, plus more for garnish
5 green cardamom pods (optional)
1. Thoroughly rinse peanuts in a colander. Add peanuts, coconut milk and salt to slow cooker, then add enough water to cover the peanuts.
2. Combine curry paste, fish sauce, lime zest and lime juice in small bowl. Mix well.
3. Add curry mixture to slow cooker, toss in cardamom pods and stir well.
4. Cook on high for 4 to 6 hours. Squeeze lime juice over shells before serving. Serves a crowd
---
4. Croydon Road Log
Originally printed in "What's Old is New", April 2018
8 ounces cream cheese, room temperature
1 tablespoon grated onion
1/2 clove garlic, minced
1/2 teaspoon chopped herb such as dill, rosemary or thyme
1/4 cup (1/2 stick) butter
1/4 cup brown sugar
1 teaspoon Worcestershire sauce
1/2 teaspoon Dijon mustard
1 cup pecans, toasted and chopped
1. Combine the first four ingredients in a stand mixer. Spread into a rectangular shape in plastic wrap and roll up into a log. Refrigerate for at least 8 hours for flavors to marry.
2. Melt butter in small saucepan with sugar, Worcestershire sauce and mustard. Once incorporated, add nuts and warm through. Allow to cool for five minutes before pouring over cheese log. Serve with crackers. Serves 8 – 10
---
5. Smoked Wings
Recipe courtesy Bo Hamilton of Ox Kitchen in Fairhope
Originally printed in "Cooking at Home with Chef Bo Hamilton", November 2019
5 pounds wings, cut or whole
2 tablespoons kosher salt
2 tablespoons fresh ground black pepper
2 tablespoons Cajun or Creole seasoning, no salt added
Frank's RedHot Buffalo Wings Sauce, to taste
1. Lay wings out and dry as well as possible — dry chicken equals crispy chicken skin. Toss chicken with seasonings.
2. Put wings in a smoker at 250 degrees, and smoke for 1 1/2 hours.
3. Remove wings from heat and toss with buffalo sauce.
White Sauce
1 cup mayonnaise
2 tablespoons cider vinegar
1 teaspoon Dijon mustard
1 teaspoon salt
2 tablespoons black pepper
1. Whisk all ingredients thoroughly. Serve with wings.
---
6. Beer Cheese Dip
Originally featured in "Gameday Gourmet", September 2014
2 (8-ounce) blocks of cream cheese, softened
1 ounce smoked Gouda cheese, grated
3/4 cup IPA beer of choice
1 tablespoon fresh chopped baby spinach
1/2 medium-sized red bell pepper, diced
1 garlic clove, minced
1 tablespoon Dijon mustard
1 teaspoon Italian seasoning
bread bowl, crostini, toast points, tortilla chips or sliced veggies
1. Preheat oven to 325 degrees.
2. Combine first 8 ingredients thoroughly in a bread bowl or casserole dish.
3. Bake 35 – 40 minutes, stirring halfway through. Serve warm with crostini, toast points, tortilla chips or sliced veggies. Serves 8
---
7. Bacon-Wrapped Chicken-Stuffed Jalapeños
Recipe Courtesy Tiquera Hall
Originally printed in "7 Game Day Dishes from Local Fans", October 2021
12 jalapeño peppers, approximately 3 to 4 inches long
1 10-ounce canned chicken breast, drained
1 8-ounce block cream cheese, softened
1 cup Colby-Jack cheese
1/2 teaspoon garlic powder
1/2 teaspoon Slap Ya Mama Cajun seasoning
1/2 teaspoon Frank's RedHot sauce
1/2 teaspoon black pepper
12 slices thin-cut bacon
1. Preheat oven to 400 degrees. Line a sheet pan with foil and coat it with cooking spray.
2. Cut the jalapeños in half, lengthwise, and use a spoon to scoop out the seeds and ribs.
3. Sautè the chicken in a medium pan greased with cooking spray.
4. In a medium bowl, mix chicken breast with next six ingredients. Fill each jalapeño half with the cheese mixture.
5. Cut the slices of bacon in half, crosswise and wrap each pepper half in a slice of bacon, using a toothpick to secure the bacon.
6. Arrange the peppers on a baking sheet and bake for 20 – 25 minutes, or until bacon is crispy and browned. Serve immediately with your favorite dressing. Makes 12
---
8. Tiger Toast
Recipe Courtesy Danielle Nicholas
Originally printed in "7 Game Day Dishes from Local Fans", October 2021
1 tablespoon butter
1 1/2 mini loaves Arnold thin-sliced bread
1 pound sharp grated cheese
8 slices bacon, fried and crumbled
1 small onion, grated fine
1 package (about 3/4 to 1 cup) grated almonds
1 cup mayonnaise
1 teaspoon Worcestershire sauce
1. Preheat oven to 400 degrees. Spread butter evenly on all slices of bread. Mix remaining ingredients until blended, and then spread on mini bread slices.
2. Put slices on a parchment-lined baking sheet and bake for 10 minutes, until spread is melted and bubbling. Serve hot or room temperature. Serves 15 – 20
Tip: This snack can also be frozen before baking and pulled out as needed (just bake) for a game day-ready appetizer.
---
9. Yellow Hammer
Recipe Courtesy Mary Courtney Cane
Originally printed in "7 Game Day Dishes from Local Fans", October 2021
4 ounces vodka
4 ounces dark rum
4 ounces amaretto
18 ounces pineapple juice
12 ounces orange juice
cherries, for garnish
Mix all ingredients in a pitcher. Serve over ice in glass mugs and garnish with a cherry. Makes 8 – 10
---
10. White Bean Chicken Chili
Recipe Courtesy Courtenay Rocconi
Originally printed in "7 Game Day Dishes from Local Fans", October 2021
3 cups cooked chicken, shredded
3 cans white beans, rinsed and drained
1 onion, diced
2 teaspoons extra-virgin olive oil
2 tablespoons minced garlic
1 (4-ounce) can diced green chile peppers
1 teaspoon chili powder
2 teaspoons cumin
1 teaspoon cayenne pepper
1/2 teaspoon oregano
2 (14.5-ounce) cans reduced-sodium chicken stock
1 package reduced-fat shredded Mexican cheese blend
fresh cilantro, chopped (optional)
reduced-fat sour cream (optional)
corn chips (optional)
1. Add chicken (could use a rotisserie chicken) and white beans to crockpot.
2. Add onion to a large skillet with olive oil over medium-heat. Add minced garlic and chile peppers to the skillet and continue to heat.
3. Add in chili powder, cumin, cayenne pepper and oregano (if ingredients seem to be burning while heating, add a little chicken stock to the skillet). Once this mixture is heated well, pour it into the crockpot and add the rest of chicken stock. Stir ingredients.
4. Cook for 4 hours on high or 6 hours on low. Place chili in a bowl and serve with shredded cheese, cilantro, sour cream and corn chips, if desired. Serves 8
---
11. Game Day Jambalaya
Recipe Courtesy Miller Callaway
Originally printed in "7 Game Day Dishes from Local Fans", October 2021
2 pounds uncooked chicken breast, chopped into bite-sized pieces
1 pound uncooked Conecuh sausage, sliced
1 (10-ounce) can Campbell's French onion soup
1 (10-ounce) can Campbell's beef broth soup
1/2 cup green onions, chopped
1/2 cup white onion, diced
1/2 cup green bell peppers, diced
1 stick butter
2 cups uncooked Uncle Ben's converted rice
Tony Chachere's Creole seasoning, to taste
1. Put all ingredients into a Dutch oven or oven-safe stockpot with lid. Sprinkle Tony Chachere's on top of the ingredients (can add more to taste later).
2. Cover pot and bake at 375 degrees for 30 minutes. Take out of oven, fold rice and ingredients over once, and place back into the oven, covered, for 30 more minutes.
3. Remove pot from oven and let sit for 5 minutes before serving. Season with additional Tony Chachere's, to taste. Serves 10 – 12
---
12. Balsamic Pork & Peach Skewers with Pecan Butter
Recipe Courtesy Brant Richerson
Originally printed in "7 Game Day Dishes from Local Fans", October 2021
2 tablespoons Georgia pecans
1 tablespoon maple syrup
5 tablespoons butter, room temperature
1/2 cup balsamic vinegar
1 lemon, juiced
3 garlic cloves, minced
2 tablespoons olive oil
1 teaspoon kosher salt
1/4 teaspoon red pepper flakes
1 (1- to 1 1/2-pound) pork loin, cut into 1-inch cubes
2 to 3 large Georgia peaches, sliced 1/2-inch thick
2 tablespoons mint, chopped
1. Make the compound butter. Put pecans in a food processor and blend until they're the consistency of dust. Add the maple syrup and the butter. Pulse until it all comes together. Dump the butter mixture onto plastic wrap and form into a log. Wrap it and refrigerate for at least one hour.
2. Whisk the balsamic vinegar, lemon juice, garlic, olive oil, salt and red pepper flakes together in a large bowl. Add the pork and the peaches and press down so they're covered in the liquid. Cover and marinate in the refrigerator for at least one hour.
3. Heat a grill pan or grill to medium-high. Alternately thread the pork and peaches onto the skewers. Each skewer should have roughly three pieces of pork and three peaches. Grill the skewers for about 3 minutes on each side or until pork is cooked.
4. Cut the butter into small pieces and place all over the warm pork and peaches. The heat will melt the butter over the top. Garnish with the chopped mint. Serves 6 – 8
---
13. Crawfish Casserole
Recipe Courtesy Brian and Jennifer Ward
Originally printed in "7 Game Day Dishes from Local Fans", October 2021
1/2 cup butter
1 bunch green onions, chopped
4 garlic cloves, minced
2 tablespoons flour
1 1/2 cups half-and-half
1 teaspoon Tony Chachere's Creole seasoning
1/4 cup white wine
1 teaspoon lemon juice
6-ounce roll jalapeño cheese
1 pound frozen or fresh crawfish tails, cooked and shelled
toast or corn chips, for serving
1. Melt butter, then saute green onions and garlic. Add flour and mix well. Slowly add half-and-half, stirring constantly. Add Creole seasoning, wine and lemon juice. Stir well. Add cheese to mixture and blend well. Cook for 15 minutes.
2. Add crawfish and cook an additional 15 minutes. Serve with toast points or corn chips in a chafing dish. Serves 6 – 8
---
14. Cuban Sliders
Feeding a crowd has never been so easy. No need to fire up the grill this game day — fill up your team with gooey, meaty Cubano sandwiches made by the batch instead!
Originally printed in "6 Game Day Party Recipes", September 2018
24 Hawaiian rolls
1/2 cup Dijon mustard
1/2 cup mayonnaise
16 ounces deli ham
2 pounds sliced or pulled cooked pork shoulder
24 slices Swiss cheese
48 dill pickle slices (or more, to taste)
15. Truffle Parmesan Tots
1. Preheat oven to 400 degrees.
2. Unwrap rolls and use a long serrated knife to slice lengthwise through all the rolls at once, removing the tops. Spread mustard on the top half and mayonnaise on the bottom half. Transfer the bottom half of rolls to a large baking sheet.
3. Arrange ham, pork, cheese and pickles on bottom of rolls. Replace tops. Place a second baking sheet on top of sandwiches to "press them," and top with a heavy skillet or other oven-proof heavy dish. 4. Bake sandwiches for 10 minutes, or until cheese is melted and buns are toasty. Serve warm. The sandwiches can be assembled several hours in advance. Just cover with plastic wrap and refrigerate until ready to bake. Makes 24 sliders.
Just the word "truffle" conjures decadence, but starting with store-bought potato tots keeps it fun and approachable. Warning — truffle tots are addictive.
4 cups frozen potato tots
2 tablespoons truffle oil
pinch of kosher salt
1/2 cup grated Parmesan cheese
3 teaspoons fresh parsley, chopped
1. Place potato tots on baking sheet and bake according to package directions.
2. Drizzle truffle oil over potatoes, sprinkle with salt and toss to mix. Place on a serving platter and top with cheese and parsley. Serve immediately. Serves 6.
---