kathmandu

-

search results

If you're not happy with the results, please do another search
New Year's resolutions don't need to be onerous; they can be educational, even joyful. For example, consider resolving to try new...
The Mobile International Festival introduces a world of culture through music, food, dancing and personal connections.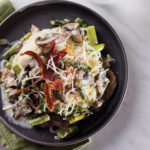 Putting dinner on the table night after night can be a chore. Add to that a demanding work schedule, endless kids' activities and community involvement, and a Tuesday meal can seem overwhelming. For these four bay-area families, a little prep — and the perfect recipe, of course — makes all the difference.
Some of the area's best meals can be found in the middle of a mini mall.
MB's contributing food fanatics share the local dishes that made them hungry for more this month.