You can spot him from across the parking lot. Garrett Smith walks with a long, easy stride, his slightly shaggy hair and strawberry blond beard are the dead giveaway that you've met the man behind Red Beard's Outfitter, Mobile's outdoor adventure supplier. But if that didn't clue you in, the hiking boots, rugged apparel and high-tech backpack would have made it clear. A 2-year-old pops her head around the side of the backpack carrier, thrilled that her dad is taking her for a hike on this crisp, early fall afternoon.
Smith's adventure resume is long and impressive, with extended stints on the Appalachian Trail, in the heart of Alaskan backcountry and down The Long Trail in Vermont, America's oldest long-distance trail. During that trek through Vermont, he tagged along with a hiking buddy one night to a stranger's birthday cookout at the top of Mount Mansfield. He ended up marrying the birthday girl three years later. Turns out he had to go 1,500 miles north to meet a girl from the Gulf Coast.
Now Smith, wife Natalie, daughter Hart and countless friends and customers (who have now become friends) gather on weekends to hike locally. The scenery may be a little flatter and the trails a little shorter, but the experience is just as memorable.
"There is a lot of wild space down here, you just have to change your mindset a little bit," Smith explains as he prepares to light a small camping stove to brew some Carpe Diem coffee for the group of hikers. "Colorado and Alaska have these huge vistas, sure, but here the trail might dump out on a sandbar in the middle of nowhere, and you're the only one on that creek." Sharing the bountiful outdoor opportunities of our area with south Alabama residents is a true passion for him.
Smith spent years exploring Fowl River and its surroundings as a kid. But unlike most nature enthusiasts, he has found a way to make a living at it as a grown-up. His store supplies packs, ropes, shirts and shoes — anything needed to conquer peaks, rappel down canyons or explore the Delta. The store is as much a place to share the anticipation of an adventure or recount the triumphs of the trail as it is a place to make a retail transaction. And that's what pushed Smith to open the store in 2016. This mild-mannered man is a true people person. "I met some of my very best friends on the trail," he says, remembering how he ended up hiking 800 miles of the Appalachian Trail with a guy he met on the second night. The two became lifelong friends. "When you're out there in the woods, sitting around a campfire — it's caveman TV — you just sit around and talk. So in those short periods of trail time, I got to know some people better than others I had known for 10 years."
And when asked if he'd ever like to conquer the A.T. again, he says he's not so sure. "The trail is part of it, but also what creates that experience is the people that you're with. That's what it was all about for me. It was the first time I had really hung out with people from above the Mason-Dixon line, and so it was just a really eye-opening and interesting experience. To go back would just be something completely different." For now, he is content with Hart on his back, hiking the sandy paths along the Gulf of Mexico and making new local friends as he goes.
Hamburger Steak Skillet Casserole
1 tablespoon olive oil
2 pounds lean ground beef
1 (10-ounce) package frozen pearl onions
2 (8-ounce) packages baby portobello mushrooms, quartered
3 cloves garlic, sliced
1/4 cup fresh thyme leaves
2 teaspoons kosher salt
1/2 teaspoon ground black pepper
1/4 cup all-purpose flour
1 (14.5-ounce) can diced tomatoes
1 (10.5-ounce) can condensed French onion soup
1 cup beef broth
1 cup plus 1 tablespoon chopped fresh parsley
1 tablespoon red wine vinegar
1/4 teaspoon garlic powder
2 (24-ounce) bags frozen mashed potatoes, such as Ore-Ida Steam N' Mash
2 cups shredded sharp white cheddar cheese
1 1/2 cups whole milk
4 tablespoons unsalted butter, softened
1. In a 12-inch cast-iron skillet, heat olive oil over medium-high heat. Add beef, onions, mushrooms, garlic, thyme, salt, and pepper, stirring until beef is browned and crumbly and vegetables are tender, approximately 6 minutes. Add flour to skillet. Cook, stirring constantly, 1 minute. Add tomato, soup, broth, 1 cup parsley, vinegar and garlic powder. Bring to a boil, then reduce heat to medium. Cook, stirring occasionally, 10 minutes. Remove from heat.
2. Preheat oven to broil. Prepare potatoes according to package directions. In a large bowl, stir together cooked potatoes, cheese, milk and butter until smooth. Spoon mashed potatoes over ground beef mixture.
3. Broil until topping is golden brown, approximately 5 minutes. Garnish with remaining 1 tablespoon chopped parsley. Makes 6 to 8 servings
Chicken and Rice with Black Beans
3 boneless skinless chicken breasts, cut into 2-inch pieces (about 2 pounds)
2 teaspoons kosher salt
1 teaspoon ground cumin
1 teaspoon smoked paprika
1/2 teaspoon garlic powder
1/2 teaspoon ground black pepper
4 tablespoons olive oil, divided
1 cup chopped red onion
1 cup chopped red bell pepper
4 cloves garlic, smashed
1/2 jalapeño pepper, chopped
1 1/2 cups basmati rice, rinsed
3 cups chicken broth
1 (15-ounce) can black beans, drained and rinsed
1/4 cup chopped fresh cilantro
3 tablespoons fresh lime juice
hot sauce, sliced radish and jalapeño, for garnish
1. In a large bowl, toss chicken with salt, cumin, paprika, garlic powder and black pepper. In a 12-inch cast-iron skillet, heat 2 tablespoons olive oil over medium-high heat. Cook chicken, stirring occasionally, until browned on all sides, approximately 6 minutes. Remove chicken from skillet and wipe skillet clean.
2. Add remaining 2 tablespoons olive oil to skillet and heat over medium-high heat. Add onion, bell pepper, garlic and jalapeño. Cook, stirring occasionally, until tender, approximately 5 minutes. Add rice, stirring to combine. Cook 2 minutes. Add chicken broth and bring to a boil. Reduce heat to low. Cover and simmer until rice is tender, approximately 20 minutes.
3. Stir in beans, cilantro and lime juice. Garnish with hot sauce, radish and jalapeño, if desired. Makes 6 to 8 servings
S'mores Crumble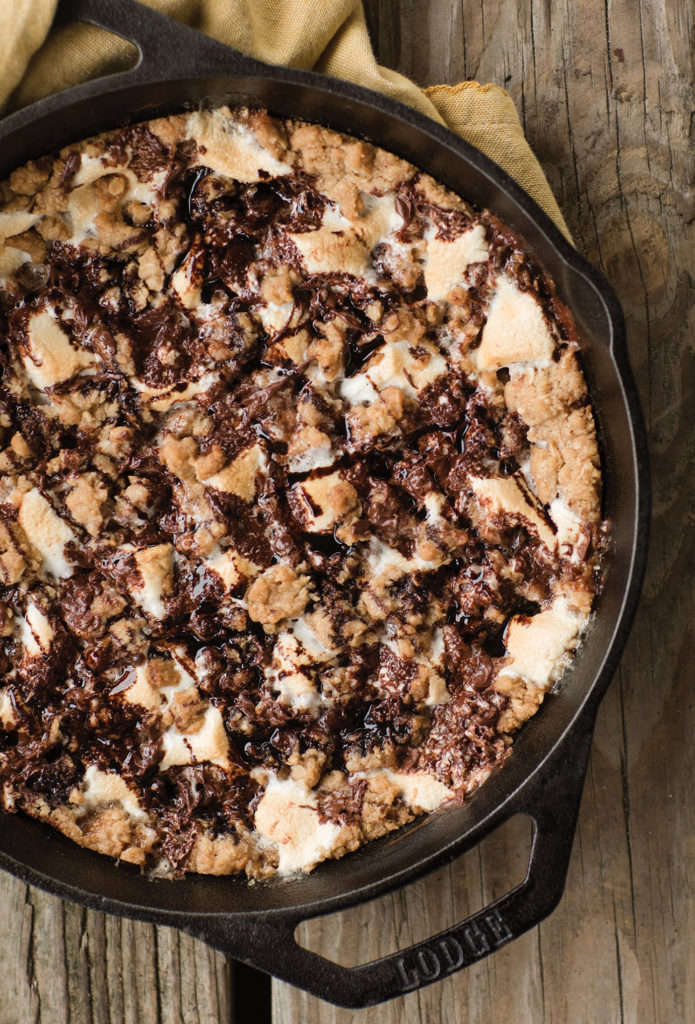 Everybody loves s'mores, but this easy one-pan option is perfect for those times you can't get to a bonafide campfire. All the flavors you love combine into one delicious crumble!
3/4 cup unsalted butter, softened
1 cup firmly packed light brown sugar
1 cup old-fashioned oats
3/4 cup all-purpose flour
3/4 cup graham cracker crumbs
1 teaspoon baking powder
1 teaspoon kosher salt
1 teaspoon ground cinnamon
2 cups marshmallows, halved crosswise
2 (4-ounce) semisweet chocolate bars, coarsely chopped
melted chocolate, for garnish
1. Preheat oven to 350 degrees. Spray a 10-inch cast-iron skillet with cooking spray.
2. In a large bowl, beat butter and sugar at medium speed with a mixer until light and fluffy, 3 to 4 minutes. In a medium bowl, stir together oats, flour, graham cracker crumbs, baking powder, salt and cinnamon. Gradually add oat mixture to butter mixture, beating until combined.
3. Firmly press two-thirds of crumble mixture into bottom of prepared skillet. Top with marshmallows and chocolate. Sprinkle with remaining crumble mixture.
4. Bake until golden brown, 20 to 24 minutes. Let cool 10 minutes before serving. Garnish with melted chocolate, if desired. Makes 6 to 8 servings
Recipe Notes
Garrett and Natalie shared recipes meant to give the feel of a cookout in the great outdoors from the comfort of your backyard. These recipes could be cooked at home and then transported by car to your next outdoor adventure! Just cover with foil and head to your cookout spot, then warm over the campfire. For the more adventurous backcountry cook, all recipes can be prepared al fresco and cooked over the coals with a lid— just refer to online campfire guides for hot coal how-tos with time and temperature advice.