The Pink Pineapple
Featured on the May 2019 cover (recipe from Playa at Sportsman Marina in Orange Beach)
6 ounces Fresh Victor cactus and pomegranate juice*
3/4 ounce silver tequila
3/4 ounce vodka
Add ingredients to blender, adding ice until desired consistency. Garnish with a pineapple slice and serve.
* Fresh Victor is only available direct to bars. Playa says you can substitute equal parts of
Finest Call pomegranate and prickly pear syrups, available online. 
Shrimp Dip 
Featured in "Sunset Potluck on Fairhope's Bluff," May 2019
Old Bay Seasoning
1 1/4 pounds boiled shrimp, chopped
8 ounces cream cheese, softened
2 – 4 tablespoons mayonnaise
Generous sprinkle of garlic salt
Juice and zest from 1/2 lemon
Crystal hot sauce, to taste
1 dash Worcestershire sauce
3 green onions, chopped
1 jalapeño, seeded and finely chopped
1. Boil shrimp in Old Bay Seasoning, according to package directions. Allow to cool slightly, then peel and chop.
2. Combine cream cheese, mayonnaise and seasonings in a food processor until fully blended. Stir in green onions, jalapeños and shrimp by hand. Refrigerate to let flavors meld.
3. Serve with Fritos, Ritz crackers or stuffed in a fresh jalapeño half. Serves 10.
Gluten-Free Cornbread with Collard Green Butter
Featured in "Dining on Dauphin," December 2019 (Recipe from The Noble South)
1 teaspoon baking soda
1/2 cup sugar
2 cups cornmeal
2 cups all-purpose gluten-free flour
1 teaspoon salt
1 teaspoon xanthan gum
2 cups buttermilk
1 cup melted butter
4 eggs
1. In separate bowls, add dry ingredients to one and wet ingredients to the other. Mix both separately. Then combine the wet ingredients into the dry ingredients.
2. Pour batter into a greased pan and bake at 375 degrees for approximately 30 minutes.
3. Remove from oven and let cool for a few minutes. Serve warm with collard green butter. Serves 8
Collard Green Butter:
1 pound butter, softened at room temperature
2 tablespoons powdered collard greens (from dehydrating the leaves)
1 teaspoon Tabasco sauce
1 tablespoon Worcestershire sauce
1 teaspoon onion powder
1 teaspoon garlic powder
pinch salt and pepper
1. Add all ingredients together and mix with a spatula, scraping the sides of the bowl to combine.
2. Serve immediately at room temperature or refrigerate to use at a later date. Makes 2 cups
Seared Scallops with Cajun Marsala Sauce
Featured in "Dining on Dauphin," December 2019 (Recipe from NoJa)

16 U-10 fresh scallops
1 cup sweet Marsala
1/2 cup heavy cream
2 1/2 tablespoons Paul Prudhomme's Seafood Seasoning
1. Sear scallops in a smoking hot pan. Add Marsala wine, burn off the alcohol, then add heavy cream and seasoning. Let reduce to half. When color of sauce becomes dark brown, it's ready to serve. Serves 4
Gulf Shrimp & Corn Chowder
Featured in "Cooking at Home with Chef Bo Hamilton," November 2019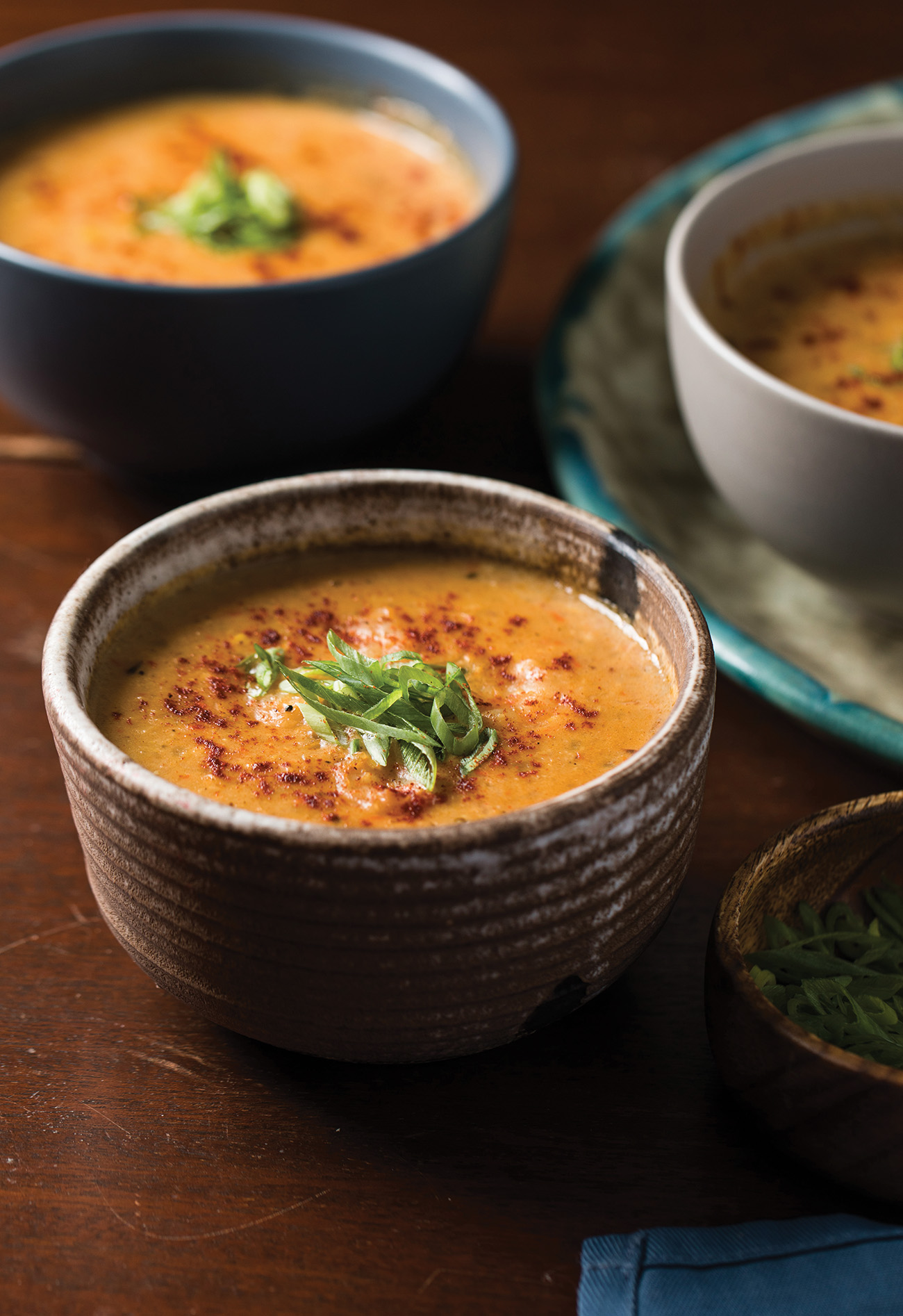 2 tablespoons butter
4 slices raw bacon, chopped
2 1/2 cups onion, diced
2 cups celery, diced
1 cup leeks, diced
1 cup red bell pepper, diced
1/2 cup garlic puree
1/2 cup green onion, chopped; separate white ends from green ends
1 cup all-purpose flour
4 cups chicken stock
1 1/2 cups seafood stock
2 1/2 cups water
4 1/2 cups fresh sweet corn (cut from 4 ears)
4 large red potatoes, skin on, diced
2 sprigs fresh thyme
2 bay leaves
2 tablespoons Old Bay Seasoning
salt and pepper, to taste
1 tablespoon smoked paprika, plus pinch for garnish
2 cups heavy cream
3 pounds fresh shrimp, peeled and deveined
1. In a large pot, add butter and bacon. Cook until bacon is brown, and then add vegetables, including the white part of the green onion, cooking until veggies are soft and translucent. Add flour.
2. Combine chicken and seafood stocks in a container. Add 1 cup at a time to the bacon and vegetable pot, stirring with each added cup until smooth.
3. Cook until thickened, thinning with water as needed.
4. Add corn, potatoes, thyme, bay leaf, Old Bay and paprika. Cook on medium-low for 1 hour, then add salt and pepper, to taste.
5. Add cream and cook for 10 minutes. Turn off heat, add shrimp and cook for 5 minutes.
6. Garnish with tops of green onion and paprika. Serve. 
Pan-Roasted LionFish with Heirloom Grits, Limas and Roasted Tomatoes
Featured in "Cooking Up a Gulf Invader," June 2019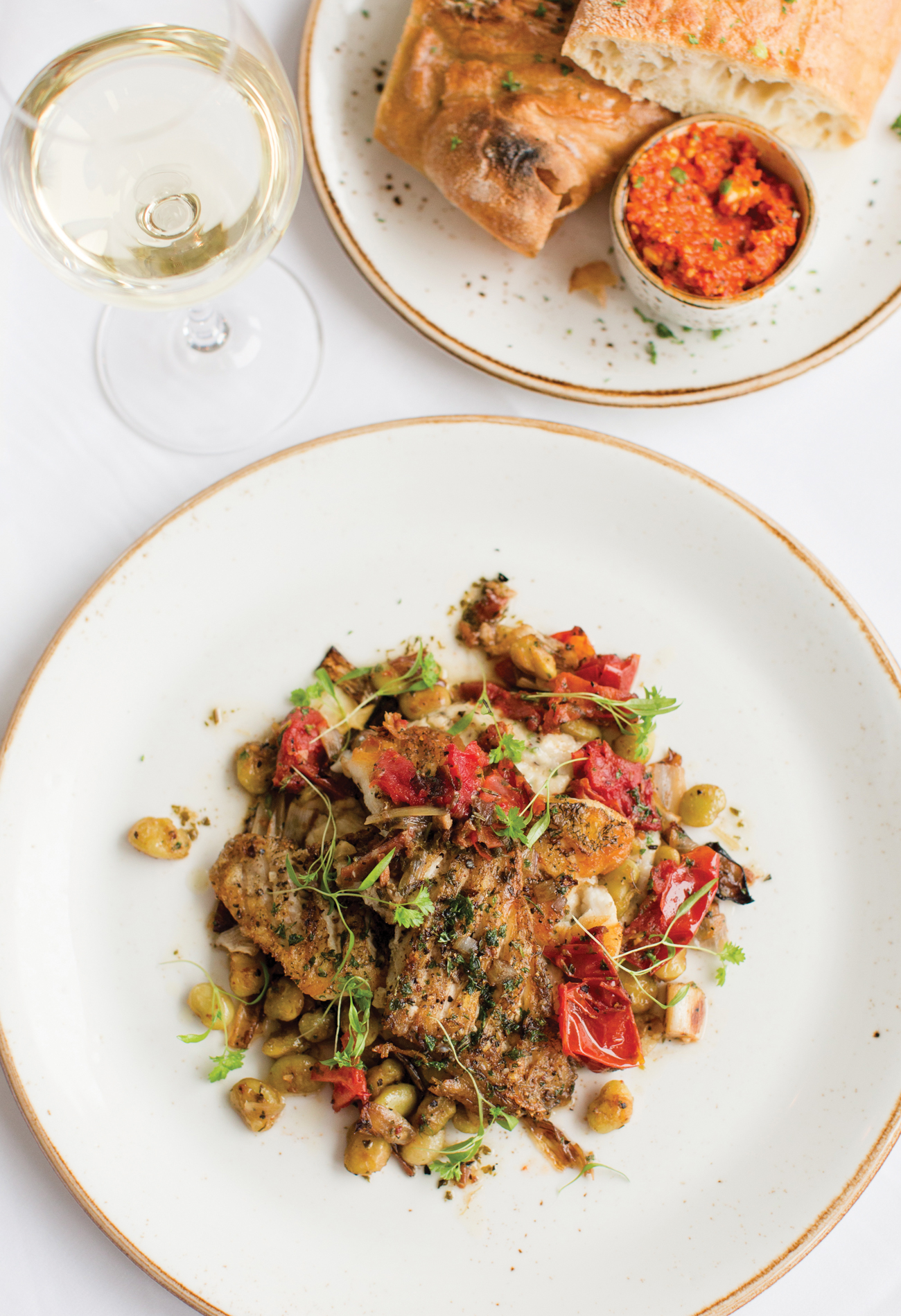 4 lionfish fillets, or any smaller fish such as yellowtail snapper, mangrove snapper, flounder or tripletail
salt and pepper, to taste
4 tablespoons olive oil
1 sprig thyme
1 sprig parsley
1 clove crushed garlic
4 tablespoons butter
1/2 lemon
Lightly season fillets with salt and pepper. Heat cast-iron skillet over medium-high heat and add olive oil. Lay fish fillets flesh side down. Sear for approximately 2 to 3 minutes, depending on thickness of fillets. Flip fillets and turn heat off. Add sprigs of thyme and parsley. Add garlic and butter. Melt butter, then squeeze lemon into pan. With a tablespoon, scoop butter mixture back over fish 3 or 4 times. Serves 4.
Limas and Roasted Tomatoes
1 cup fresh or frozen lima beans
2 cups chicken or vegetable stock
2 tablespoons olive oil
1 spring onion bulb, chopped
4 ounces Divina roasted tomatoes, drained
1 teaspoon chopped garlic
1/4 cup white wine
1/2 ounce aged sherry vinegar
1 tablespoon butter
salt and pepper, to taste
Simmer lima beans in chicken or vegetable stock for 30 minutes or until tender. Drain and set aside. In medium saute pan, add oil. Heat over medium. Saute onion until lightly browned. Add roasted tomatoes, garlic and beans. Add white wine, and simmer for 8
minutes. Add vinegar and butter. Adjust seasoning with salt and pepper.
Heirloom Grits
2 cups water
2 cups heavy cream
1 cup Bayou Cora stone-milled heirloom grits
1 tablespoon kosher salt
1 tablespoon butter
1 tablespoon fresh parsley
pepper, to taste
Bring water and heavy cream to a boil, being careful not to boil over. Whisk in grits. Add 1 tablespoon of kosher salt and reduce heat to low. Simmer grits, stirring occasionally, for 30 to 40 minutes. Add butter, parsley and pepper.
Balsamic Braised Short Ribs
Featuring in "Dining on Dauphin," December 2019 (Recipe from Southern National)
1 tablespoon olive oil
4 6- to 8-ounce pieces of short ribs (usually how they come in the store)
1 teaspoon salt
1 teaspoon black pepper
1 medium onion, diced
1 medium carrot, half-moon cuts
4 garlic cloves, smashed
1/2 cup red wine
2 cups low-sodium beef broth
3 tablespoons balsamic vinegar
3 tablespoons Worcestershire sauce
2 tablespoons brown sugar
3 bay leaves
1. Preheat oven to 325 degrees. In a large Dutch oven, add oil and bring to medium-high heat.
2. Season short ribs with salt and pepper and cook in Dutch oven for about 4 minutes per side, until nicely browned. Work in batches so you don't overcrowd the pot. When ribs are browned set aside. Turn your heat down if it's getting too smoky.
3. Add onion, carrot and garlic, stirring occasionally until carrot slices are soft. Add red wine to the pot and bring to a boil. Reduce heat and simmer for a minute or so before adding beef broth, vinegar, Worcestershire sauce, brown sugar and
bay leaves.
4. Return the ribs to pot and bring to a boil. Cover and place in the oven for 2 1/2 to 3 hours, flipping meat once during cooking. When finished, take meat out of pot, strain the braising liquid and discard the vegetables. Then place the ribs and sauce back into the pot and serve. Serves 4
Late Summer Salad
Featured in "Cooking at Home with Chef Bo Hamilton," November 2019
SALAD:
2 cups summer peas, pink eyes or similar
2 cups sweet corn, freshly removed from the cob
2 large zucchini, sliced about 1/8-inch and grilled with olive oil, salt and pepper
4 cups heirloom, cherry or grape tomatoes, halved
1 cup crumbled feta cheese
1/2 cup cooked bacon, crumbled
1 tablespoon fresh thyme
DRESSING:
2 tablespoons wine vinegar
1 tablespoon Dijon mustard
4 tablespoons olive oil
salt and pepper, to taste
Toss salad ingredients in a large bowl. In a separate bowl, whisk dressing ingredients. Add dressing to salad when ready to serve.
Quadruple Chocolate Sourdough
Featured in "The Perfect Loaf," November 2019
3/4 cup active starter
2 1/2 cups water
1/4 cup sugar
1 teaspoon vanilla extract
4 cups plus 2 tablespoons bread flour
1/4 cup black cocoa powder
1 1/2 teaspoons fine sea salt
1/2 cup each white chocolate, milk chocolate, and semi-sweet chocolate chips
rice flour, for dusting
1. In a large bowl combine the starter, water, sugar and vanilla. Stir with a fork. Sift the bread flour and cocoa powder together and then add to the bowl. Squish everything together with your hands until all of the flour is absorbed. Cover with plastic wrap and let it rest for 1 hour.
2. Add the salt and chocolate chips to the dough. Lift and fold the dough over itself several times and squish with your hands to incorporate. The dough will tear slightly as you fold, and the salt will not fully dissolve. This is normal. Work the dough as best you can until it comes back together into a rough ball. Cover bowl with plastic wrap and a clean kitchen towel. Leave it in a warm, sunny spot to rise. The dough is ready when it no longer looks dense and has increased in volume about 1 1/2 to 2 times its original size, from 3 to 12 hours.
3. Divide your work surface in half; lightly flour one side (for cutting) and leave the other half clean (for shaping). Remove the dough from the bowl and place onto the floured section. You do not need to 'punch down' the dough; it will gently deflate as you fold and shape it. Cut the dough in half to make 2 loaves or leave it whole for a single loaf. To shape, use a bench scraper to move your dough to the non-floured section. Gather the dough, one side at a time, and fold it into the center. Flip the dough over and place it seam-side down. Using your hands, gently cup the sides of the dough and rotate it using quarter turns in a circular motion. You can also pull it towards you to even out its shape. Repeat this process until you are happy with its appearance. Place dough into a cloth-lined 8-inch bowl proofing basket. It will need to rise again, about 45 minutes to 1 hour. It is ready when the dough is slightly puffy.
4. Preheat oven to 400 degrees. Line the bottom of a 6-quart Dutch oven with parchment paper. Carefully invert the dough into the pot. Make a shallow slash about 2 inches long in the center of the dough. Place Dutch oven with dough inside into the preheated oven, lid on. Bake 20 minutes. Remove lid and continue to bake uncovered for 40 minutes. During the last 10 minutes of baking, crack open the oven door. This allows the moisture to escape, leaving your bread with a crisp crust. Remove from oven and cool on a wire rack for at least 1 hour before slicing. Dust with rice flour before serving. Makes 1 loaf
Strawberry Crostata
Featured in "Fruits of their Labor," July 2019
1 cup all-purpose flour
2 tablespoons granulated sugar
1/4 teaspoon kosher salt
1 stick cold unsalted butter, diced
1/2 cup ice water
4 cups strawberries, rinsed, hulled and halved
1/4 cup sugar
2 tablespoons strawberry jam
3 tablespoons cornstarch
1 tablespoon orange zest
1 tablespoon freshly squeezed orange juice
1 extra-large egg beaten with 1 tablespoon water, for egg wash
turbinado sugar, to taste
vanilla ice cream or whipped cream for serving
1. Place the flour, sugar and salt in the bowl of a food processor fitted with the steel blade. Pulse a few times to combine. Add the butter and toss into the flour with your fingers to coat. Pulse again until the butter is the size of peas. With the motor running, add the ice water through the feed tube. Continue pulsing until the dough comes together.
2. Turn dough onto a well-floured board and form into a disk. Wrap in plastic wrap and refrigerate for at least an hour.
3. In a large bowl, combine strawberries and next 5 ingredients until well combined.
4. Preheat oven to 425 degrees. Line a sheet pan with parchment paper. Roll the pastry on a lightly floured surface until it forms a 12-inch circle and transfer to the parchment-lined pan. Pile the strawberries in the middle of the pastry, leaving a 1 1/2 inch border of pastry. Fold the excess pastry up over the filling, pleating where necessary. Brush the pastry edges with the egg wash and sprinkle with turbinado sugar to taste. Bake for 35 minutes, until the pastry is browned and the filling is bubbly. Allow to cool for 30 minutes.
5. Top with ice cream or whipped cream and serve warm or at room temperature. Serves 8