The phrase "too many cooks in the kitchen" feels especially relevant as the holidays approach and generations of family prepare to cook in a single kitchen. But gather three top chefs who are used to being the masters of their own domain and have never worked together before into one kitchen to prepare an al fresco wine dinner for 175 people, and you'd expect to find a scenario about which that phrase was invented. Not so with Duane Nutter of Southern National, Chris Rainosek of The Noble South and Kevin Powell of NoJa. Three of Mobile's top restaurateurs gathered for one night to present a feast for local foodies under the stars in the middle of Dauphin Street and, remarkably, any and all ego was left at the curb.
Marvin Middleton, general manager of Mobile mainstay NoJa, came up with the idea to get to know his fellow fine-dining restaurateurs and promote the burgeoning Downtown food scene with some sort of event. Southern National and The Noble South were obvious partners, and over the span of several months, the chefs and their teams met to hash out a plan.
"All I've been really doing is cooking and going to sleep," laughs Chef Nutter. "I just don't get a lot of time to go to other restaurants." The opportunity to work alongside his fellow chefs appealed to Nutter and the rest. "We were forced to talk to each other," he jokes. Having the opportunity to raise money for Barton Academy was the cherry on top for these three champions of Downtown.
Each kitchen brought its own unique contribution to the night. The Noble South, for example, has relationships with numerous local farms, and was therefore tapped to craft a fresh salad course. NoJa created appetizers with their signature Mediterranean flair for an exclusive VIP party and Southern National brought in high-quality meat suppliers from across the Southeast to round out the evening's menu.
And the competitiveness? Chef Rainosek simply says, "If Downtown succeeds, we all succeed."
Baked Clams
Recipe from The Noble South
24 Clams
1 Small Yellow Onion (Diced)
4 cloves Garlic (Minced)
1 stalk Celery (Diced)
1 cup Panko Breadcrumbs
2 tbsp Fish Sauce
2 Limes
4 tbsp Parsley (Chopped)
1/4 cup Extra Virgin Olive Oil
pinch Salt & Pepper
Clean clams and add to a pan with 2 cups of water. Turn pan on medium heat and cover. Check every 3 minutes to see if the clams have opened. When open, discard liquid and pull meat from the shells. Break apart the shells and save the 24 best-looking. Clean shells under warm running water.

To make filling, roughly chop the clam meat. Add to a bowl.

Cook the onion, garlic and celery in a saute pan until soft, about 5 minutes. Add the vegetable mixture to the clams.

Add all the other ingredients and stir to combine. Season to taste with salt and pepper.

Stuff the filling back into the clean shells and bake at 400 degrees until golden brown, about 8 – 10 minutes. Serve warm.
---
Gluten-Free Cornbread with Collard Green Butter
Recipe from The Noble South
1 teaspoon baking soda
1/2 cup sugar
2 cups cornmeal
2 cups all-purpose gluten-free flour
1 teaspoon salt
1 teaspoon xanthan gum
2 cups buttermilk
1 cup melted butter
4 eggs
1. In separate bowls, add dry ingredients to one and wet ingredients to the other. Mix both separately. Then combine the wet ingredients into the dry ingredients.
2. Pour batter into a greased pan and bake at 375 degrees for approximately 30 minutes.
3. Remove from oven and let cool for a few minutes. Serve warm with collard green butter. Serves 8
Collard Green Butter:
1 pound butter, softened at room temperature
2 tablespoons powdered collard greens (from dehydrating the leaves)
1 teaspoon Tabasco sauce
1 tablespoon Worcestershire sauce
1 teaspoon onion powder
1 teaspoon garlic powder
pinch salt and pepper
1. Add all ingredients together and mix with a spatula, scraping the sides of the bowl to combine.
2. Serve immediately at room temperature or refrigerate to use at a later date. Makes 2 cups
Balsamic Braised Short Ribs
Recipe from Southern National
1 tablespoon olive oil
4 6- to 8-ounce pieces of short ribs (usually how they come in the store)
1 teaspoon salt
1 teaspoon black pepper
1 medium onion, diced
1 medium carrot, half-moon cuts
4 garlic cloves, smashed
1/2 cup red wine
2 cups low-sodium beef broth
3 tablespoons balsamic vinegar
3 tablespoons Worcestershire sauce
2 tablespoons brown sugar
3 bay leaves
1. Preheat oven to 325 degrees. In a large Dutch oven, add oil and bring to medium-high heat.
2. Season short ribs with salt and pepper and cook in Dutch oven for about 4 minutes per side, until nicely browned. Work in batches so you don't overcrowd the pot. When ribs are browned set aside. Turn your heat down if it's getting too smoky.
3. Add onion, carrot and garlic, stirring occasionally until carrot slices are soft. Add red wine to the pot and bring to a boil. Reduce heat and simmer for a minute or so before adding beef broth, vinegar, Worcestershire sauce, brown sugar and
bay leaves.
4. Return the ribs to pot and bring to a boil. Cover and place in the oven for 2 1/2 to 3 hours, flipping meat once during cooking. When finished, take meat out of pot, strain the braising liquid and discard the vegetables. Then place the ribs and sauce back into the pot and serve. Serves 4
Mustard Green Chimichurri
Recipe from Southern National
2 cups Italian parsley
2 cups mustard greens
1 cup cilantro
1 shallot
1 cup olive oil
2 tablespoons red wine vinegar
4 cloves garlic
1/2 teaspoon salt
1/2 teaspoon black pepper
1/2 teaspoon crushed red pepper
juice and zest one lime
1. Using a blender or food processor, combine all ingredients except lime zest, and blend until chopped. Add a touch more oil if needed. Pour into a bowl, add zest and adjust seasoning to taste. Makes 2 cups
Seared Scallops with Cajun Marsala Sauce
Recipe from NoJa

16 U-10 fresh scallops
1 cup sweet Marsala
1/2 cup heavy cream
2 1/2 tablespoons Paul Prudhomme's Seafood Seasoning
1. Sear scallops in a smoking hot pan. Add Marsala wine, burn off the alcohol, then add heavy cream and seasoning. Let reduce to half. When color of sauce becomes dark brown, it's ready to serve. Serves 4
Roasted Celery Root Puree
Recipe from NoJa
2 large celery roots
1 Idaho potato
1 clove garlic
1 ounce fresh thyme
1/2 ounce fresh basil
1/4 ounce scallions
white pepper and salt, to taste
1. Roast celery root, potato and garlic until soft. Puree (adding vegetable stock to thin out if too thick), then season with herbs, white pepper and salt to taste. Serves 8
Mizuna Salad with Pumpkin Puree and Sorghum Vinaigrette
Recipe from The Noble South
Pumpkin Puree:
1 small pumpkin, split and cleaned of seeds
2 cups apple juice
1 teaspoon cayenne pepper
1 teaspoon ground allspice
salt and pepper, to taste
1. Roast the split and cleaned pumpkin at 350 degrees until tender. Cool and remove pumpkin from the skin.
2. Combine pumpkin and all other ingredients in a pot. Cook until liquid is gone, stirring constantly to prevent sticking to the bottom. Puree mixture in a blender and set aside. Makes 8 cups
Sorghum Vinaigrette:
1/4 cup sorghum molasses
1/4 cup apple cider vinegar
pinch salt and pepper
1 cup olive oil
1. In a mixing bowl, combine the sorghum, apple cider vinegar, salt and pepper. Whisk together.
2. Slowly add the olive oil to the bowl. Whisk briskly to combine. Makes 1 1/2 cups
Salad:
1/4 cup pumpkin puree
3 pieces shaved ham
3 pieces shaved candy roaster squash
2 cups mizuna
1 tablespoon sorghum vinaigrette
1 tablespoon pumpkin seeds
1 tablespoon crumbled cheese
1. Smear the pumpkin puree on the bottom of a plate. Surround the puree with pieces of shaved country ham and shaved candy roaster squash.
2. Lightly dress the mizuna with the sorghum vinaigrette and place on top of the puree. Top the greens with pumpkin seeds and crumbled cheese. Serve immediately. Makes 1 salad
Southern National's Sheet Pan Biscuits
2 1/2 cups all-purpose flour
2 tablespoons baking powder
1 teaspoon salt
1/2 cup butter, frozen and grated
1 cup cold buttermilk
For Brushing:
2 tablespoons honey
1/2 cup buttermilk
1. Preheat oven to 450 degrees. In a large mixing bowl, whisk together flour, baking powder and salt. Add butter and mix until evenly distributed.
2. Pour buttermilk into the mixture and gently work until the dough starts to come together. Add dough to a standard half-sheet pan (no grease, flour or spray needed on pan). However, sprinkle some extra flour over dough to keep it from sticking to your hands as you work it into the pan. Using your hands or a rolling pin, spread dough into an even layer all the way to the edges of the pan. (Work quickly so dough doesn't get too warm.)
3. Mix honey and buttermilk together to brush on top of biscuits before they go into the oven. Bake for approximately 20 minutes. Makes 24 3-inch square biscuits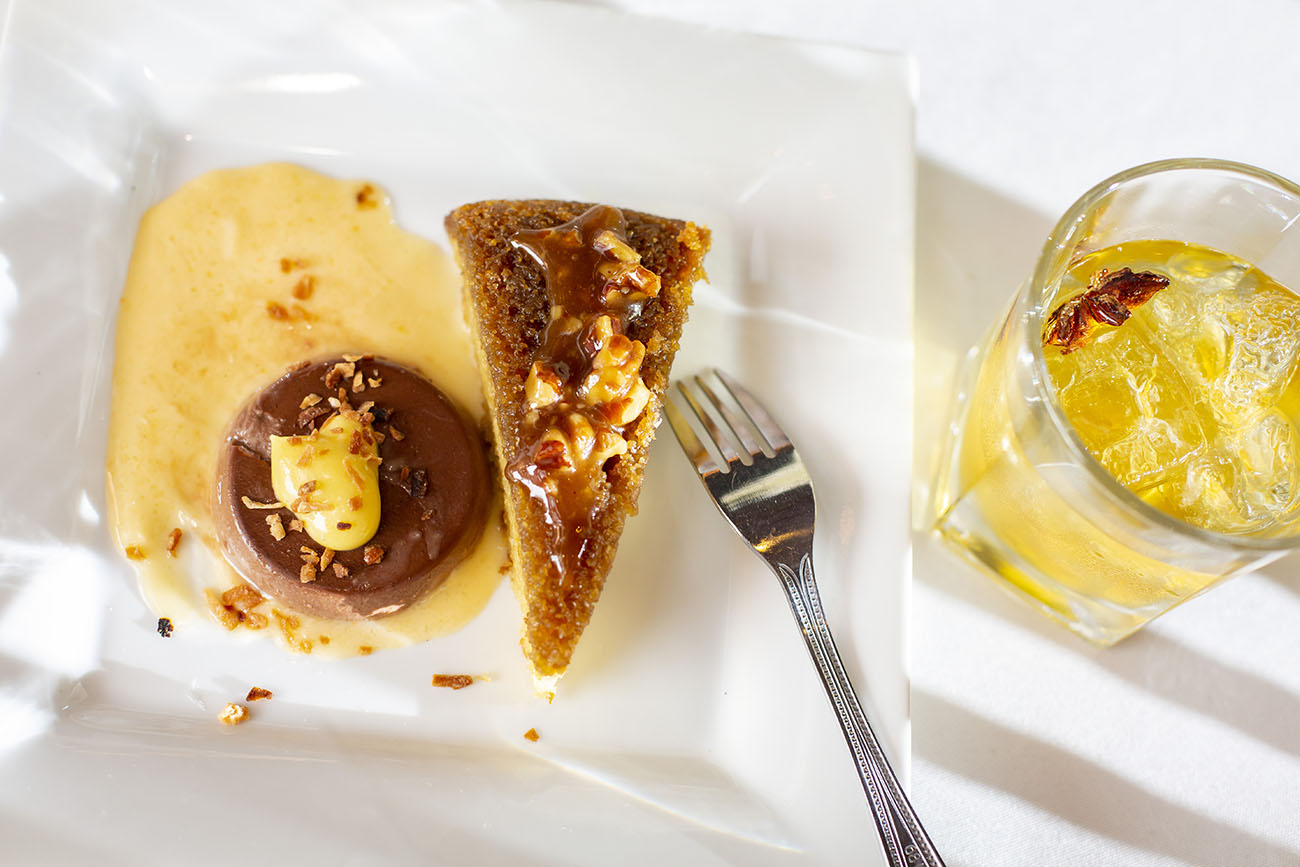 Chocolate Panna Cotta with Bourbon Sabayon
Recipe from The Noble South
2 teaspoons unflavored gelatin
2 3/4 cups cream, divided
3/4 cup sugar
pinch salt
6 ounces bittersweet chocolate
1. In a small bowl, sprinkle the powdered gelatin over 1/4 cup of the cream until it blooms. Combine the remaining cream with the sugar and salt in a medium saucepan. Bring to a simmer.
2. Remove from heat and add the bloomed gelatin, whisking until dissolved. Add the chocolate to the hot cream mixture and stir to melt.
3. Once melted, pour through a sieve into a large pourable cup. Fill ramekins with the chocolate mixture and refrigerate until set, about 3 hours. Serves 10
Bourbon Sabayon:
8 egg yolks
3/4 cup sugar
1/4 cup bourbon
1 teaspoon vanilla
pinch salt
1. Set up a double boiler by placing a mixing bowl on top of a saucepan over medium-high heat. Add all ingredients to the mixing bowl.
2. As the water in the double boiler heats up, whisk vigorously. Whisk until the mixture is thick enough to coat the back of a spoon. When thick, remove from heat and spoon over top of the chocolate panna cotta.
Pecan Upside Downtown Cake
Recipe from Southern National
Topping:
1 cup roughly chopped pecans
1/2 cup butter
1/4 cup Steen's cane syrup
1/2 cup brown sugar
3 tablespoons bourbon
1/4 teaspoon salt
Baker's Joy
1. Spray 10-inch cast-iron pan with Baker's Joy. Add all ingredients. Cook over medium heat, stirring occasionally for 3 – 4 minutes until smooth. Remove from heat.
Cake:
1 cup all-purpose flour
1/2 cup toasted cornmeal
3/4 cup sugar
1 tablespoon baking powder
1/2 teaspoon baking soda
1/2 teaspoon salt
1 cup buttermilk
1 teaspoon vanilla
1/2 cup melted butter
3 tablespoons bourbon
2 eggs
3 tablespoons orange zest
1. Preheat oven to 350 degrees. In a medium bowl, whisk together all dry ingredients. In a small bowl, whisk together buttermilk, vanilla, butter, bourbon, eggs and orange zest. Add buttermilk mixture to flour mixture, stirring until smooth.
2. Gently spoon batter over pecan mixture in the skillet. (Do not stir!) Bake until golden brown, about 25 to 30 minutes. Insert toothpick in center of cake, and if it comes out clean, it's done. Serves 12