From the Eggs Cathedral at Spot of Tea to the Conecuh Sausage Donut at Sugar Rush, here's what our food contributors are raving about this month.
Trinity is the second oldest Episcopal church in Mobile, and the only one to have the distinction of having been consecrated twice by two different bishops. Much of its long history, however, did not take place at its present location.
From the Southwest Protein Bowl at Ox Kitchen to the Donkey on Crack Roll at Chuck's Fish, here's what our food contributors are raving about this month.
Deeply traditional and delightfully calorific, the meat and three reflects the resourcefulness and creativity of Southern cooks during hard times.
The search to uncover her great-grandmother's past led Rhoda Melendez to uncover the history of the Protestant Orphans' Asylum in Mobile and ignited her first novel.
That designated district, located south of Government Street, is named for the historic public school located on Church Street.
The Insider Food Hall brings a big-city concept to Dauphin Street.
Girls' Preparatory School would probably have enjoyed a long run, but the stock market crash and untimely death of the school's founder caused the institution to close its doors.
Louisiana meets lower Dauphin at Downtown Mobile's newest spot, Debris Po Boys & Drinks.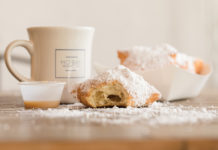 Cozy up with coffee, fried dough and a pile of powdered sugar at Mo'Bay Beignet.