Deeply traditional and delightfully calorific, the meat and three reflects the resourcefulness and creativity of Southern cooks during hard times.
The search to uncover her great-grandmother's past led Rhoda Melendez to uncover the history of the Protestant Orphans' Asylum in Mobile and ignited her first novel.
That designated district, located south of Government Street, is named for the historic public school located on Church Street.
The Insider Food Hall brings a big-city concept to Dauphin Street.
Girls' Preparatory School would probably have enjoyed a long run, but the stock market crash and untimely death of the school's founder caused the institution to close its doors.
Louisiana meets lower Dauphin at Downtown Mobile's newest spot, Debris Po Boys & Drinks.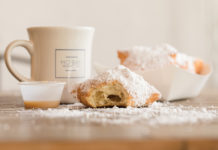 Cozy up with coffee, fried dough and a pile of powdered sugar at Mo'Bay Beignet.
Three Downtown eateries come together in one kitchen to craft an unforgettable meal for a good cause.
LoDa's new gastropub offers a nod to Mobile's historic food culture.
Robert O. Harris poses before his grocery shop which, today, is the location of another Mobile staple.