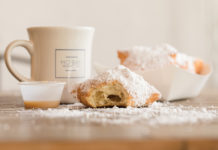 Cozy up with coffee, fried dough and a pile of powdered sugar at Mo'Bay Beignet.
Three Downtown eateries come together in one kitchen to craft an unforgettable meal for a good cause.
LoDa's new gastropub offers a nod to Mobile's historic food culture.
Robert O. Harris poses before his grocery shop which, today, is the location of another Mobile staple.
Photo by Elise Poché It is not just sandwiches that keep food fans coming back to the Mediterranean Sandwich Co. — it's also...