S'mores Crumble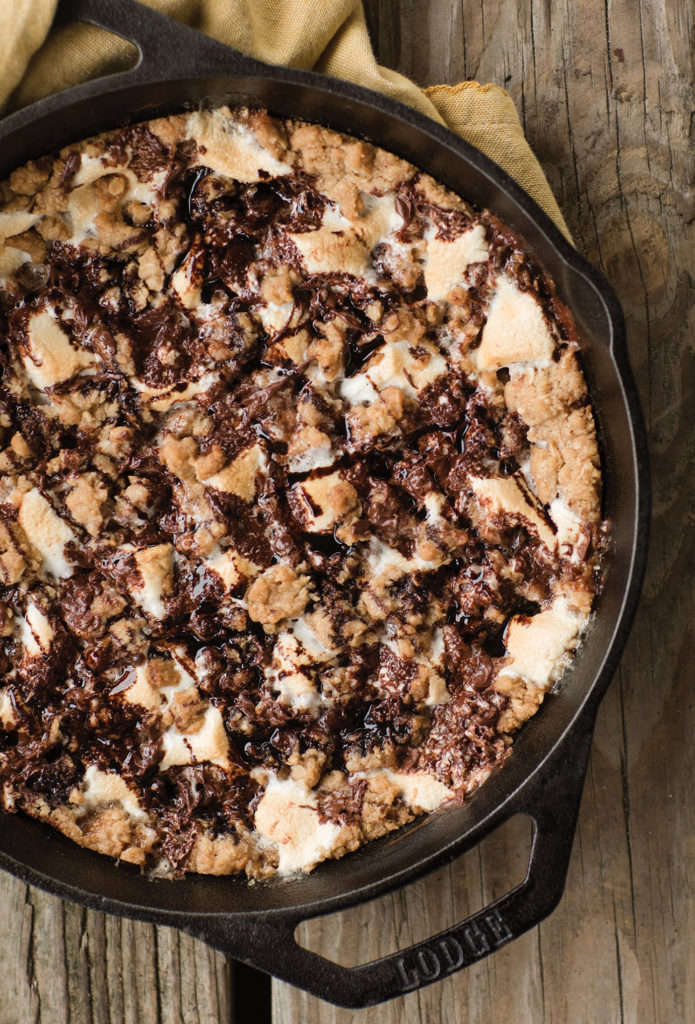 Everybody loves s'mores, but this easy one-pan option is perfect for those times you can't get to a bonafide campfire. All the flavors you love combine into one delicious crumble!
3/4 cup unsalted butter, softened
1 cup firmly packed light brown sugar
1 cup old-fashioned oats
3/4 cup all-purpose flour
3/4 cup graham cracker crumbs
1 teaspoon baking powder
1 teaspoon kosher salt
1 teaspoon ground cinnamon
2 cups marshmallows, halved crosswise
2 (4-ounce) semisweet chocolate bars, coarsely chopped
melted chocolate, for garnish
1. Preheat oven to 350 degrees. Spray a 10-inch cast-iron skillet with cooking spray.
2. In a large bowl, beat butter and sugar at medium speed with a mixer until light and fluffy, 3 to 4 minutes. In a medium bowl, stir together oats, flour, graham cracker crumbs, baking powder, salt and cinnamon. Gradually add oat mixture to butter mixture, beating until combined.
3. Firmly press two-thirds of crumble mixture into bottom of prepared skillet. Top with marshmallows and chocolate. Sprinkle with remaining crumble mixture.
4. Bake until golden brown, 20 to 24 minutes. Let cool 10 minutes before serving. Garnish with melted chocolate, if desired. Makes 6 to 8 servings