What an Alabama Christmas lacks in snow it makes up for in boozy treats galore.
As a mom to young children, Kathleen Galloway Collins is looking to pass her childhood traditions on to her own family. She's starting in the kitchen with her favorite: her family's peppermint layer cake.
Deck the halls and swag the tree with local designer Matthew Metcalfe-Bees
MB makes local holiday shopping easier with dozens of unique ideas for everyone on your list.
These quick and easy treats will become instant holiday staples. Perfect for gift giving or enjoying at home!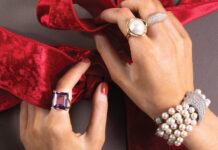 Whether Santa baby will be putting a perfectly wrapped little gift box under your tree this year or not, it's impossible not to swoon over these gorgeous gems from local jewelers.
This Holiday Gin & Tonic puts a festive Christmas spin on the traditional cocktail.
A historic two-story gem in midtown Mobile gets the lavish holiday treatment with stunning traditional decoration dreamed up by an owner with a flair for design.
Fairhope's Maggie Weir brings friends together for a fun holiday fete — making handmade garland to fragrantly deck the halls.
Local holiday shopping is a breeze with these unique ideas for everyone on your list.