According to the analytics, these are the stories Mobile Bay readers couldn't get enough of this year.
Our contributing food fanatics share the local dishes that made them hungry for more.
Peri and Brad Summersell undertake a renovation combining modern taste and traditional style atop the Fairhope bluff.
There's yet another reason to visit Gulf State Park – beachside dining at Perch.
World-renowned naturalist Archie Carr left an impressive legacy on America's southeastern coastal environment, particularly in restoring sea turtle populations.
Four chefs bring the heat to Gulf Shores to compete for a spot as state seafood representative—and bring their prized recipes right to your kitchen.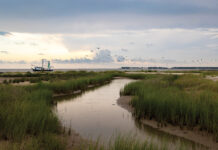 How local homeowners and communities are working to combat shoreline erosion