According to the analytics, these are the stories Mobile Bay readers couldn't get enough of this year.
22 activities to add to your summer must list
Some of the world's best seafood comes through Lower Alabama — let us help you find it.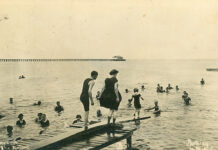 Inspect an early 1900s photograph of summer swimmers enjoying a forgotten Fairhope pier.
A gripping duel and scandalous love affair in 19th-century Mobile set the stage for a drama that sparked interest across the entire country.
From the Vietnamese Pho at Pho 88 to the Schnitzel at Osman's, here's what our food contributors are raving about this month.
Meet two outdoorsmen who have found a way to turn their fishing obsessions into thousands of followers, millions of views and a career doing what they love.
One Baldwin County master gardener has become the caretaker of a tomato variety with a very special history.
Spread your wings with these tips for attracting those elusive butterflies to your summer garden.
Across the state, mysterious concrete trenches sit as silent evidence of a bygone rural practice — cattle dipping.