Whether being thrown from a float, caught mid-air or dropped from a building, no town does MoonPies like Mobile.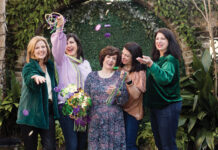 With family history in the venue and family staples on the menu, the Namans know how to let the good times roll.
Although Mobile's First National Bank will long be identified with the skyscraper which is now home to the New Year's MoonPie, the bank had a few former homes.
All the chocolaty goodness of a MoonPie in one cool cocktail. Laissez les bons temps rouler!
MoonPies on pancakes? There are no rules during Mardi Gras. Laissez les bons temps rouler!