Laughter reverberates inside the carriage house. It makes its way past the doors adorned with tricolor-beaded wreaths and echoes through the chilly air in the Ezell House courtyard to be heard by passersby on Conti Street. Inside, the aroma of shrimp Creole and red beans and rice surrounds plates of MoonPie balls, mini muffulettas and French bread stacked next to crawfish dip. Convivial chatter is dappled by the clink of ice cubes into lowball glasses, signaling the promise of old fashioneds soon to come. The good times are ready to roll, thanks to sisters Gina, Marcia and DeeDee, mom Marsha and sister-in-law Marcelle. Welcome to a Mardi Gras party with the Naman family.
A Family History
From the moment the first string of serpentine winds its way from a reveler's hand, Mobile becomes a whirl of activity. The Ezell House, an archetype of Port City entertaining and host to many a Mobile celebration, is nestled in the center of the action, making it a quintessential party venue come Carnival. For the Naman family, the once-residential home's generational history makes it particularly fitting for their own festivities.
"Members of our family lived in this house from the 1920s until the mid '70s," says Marcia. "We have attended many family functions here throughout the years." An immigrant from Lebanon, Kaleel Zoghby moved to Mobile with his daughter Helen. Eventually, the whole family joined them in the Port City, where they put down roots. When she grew up, Helen married George Elias Naman, another Mobile-based Lebanese immigrant, and they had 11 children together, running a small food store at 505 Dauphin Street.
Every Mardi Gras, Louis, George's youngest son, would sell peanuts on the street during the parades in front of the Athelstan Club. "The club was a symbol to him of beauty, success and achievement, and he dreamed of one day watching the parade with his own family from that very spot," says Louis' son, Judge Edmond Naman. He would join the Athelstan Club years later; one of his granddaughters would be leading lady of the club's Domino Ball and other grandchildren would serve in the court. Today, many of the Namans are involved in mystic societies, making their balls and parades a part of their yearly tradition — and continuing to make Louis' Mardi Gras dreams a reality.
Living in the Ezell House was another dream-to-reality moment for the family. "They worked hard to bring their family to the United States to live the American Dream," says Marcelle. "The Ezell House represents the fruits of their labor. It is a beautiful story of perseverance and faith." Though no longer a residential home, its legacy has stretched to the present day, where descendants gather in celebration. "Mardi Gras in Mobile is special because of its family fun and rich history of pageantry and frivolity," says DeeDee. "There is truly something for everyone young and old alike."
From left to right, Gina and Marsha share a laugh. The party spread includes Red Beans and Rice, Shrimp Creole, Crawfish Dip, MoonPie Balls and Mini Muffulettas.
"I have learned the key to entertaining for Mardi Gras is to keep it simple and fun, make food that you can pick up and eat easily."

Marcia Naman Luckie
Good Food and Good Times
The 19th-century-era home also has a history of notable food and drink, having played host to Bernard's Restaurant, the younger cousin of Antione's Restaurant in New Orleans, for a decade beginning in 1978. In the years since, its carriage house and inside kitchen have seen more toasts made, parties thrown and families enjoying good times together. History repeats itself, after all, and a little revelry and a good meal is to be expected.
"I have learned the key to entertaining for Mardi Gras is to keep it simple and fun," says Marcia. "Make food that you can pick up and eat easily." Many of the dishes brought by the Namans are family staples; all are homemade. DeeDee serves mini muffuletta sliders as family members rotate in and out of the celebration. Behind the bar, Marcia's husband Stuart, the designated bartender for the day, makes his signature old fashioned, complete with a garnish of skewered oranges and cherries, while maintaining a steady flow of conversation with each new member who drops in. Gina, Marcia and Marcelle keep the tray of French bread and bowls of red beans and rice filled, seeing to it that neither guest nor family member leaves with an empty stomach.
From left to right, Marcelle and Marcia enjoy food and drink inside the carriage house. Stuart Luckie, whose law office is on the second floor of the Ezell House, mixes up an old fashioned.
"Mardi Gras in Mobile is special because of its family fun and rich history of pageantry and frivolity, there is truly something for everyone young and old alike."

DeeDee Naman Hand
From left to right, beads strung from iron gates are a common sight in Mobile during Mardi Gras and beyond. Gina, Marcelle, Marcia and DeeDee outside the Ezell House.
A Connection to the Past
"One of my favorite things about Mardi Gras is its connection to the past," says Marcia. "Some of the parading societies are over 100 years old. People have been watching these parades on the same streets for generations." The culmination of our past and present defines Mobile's Mardi Gras, both steeped in tradition and alive in the here and now.
Jubilant chaos encircles the Ezell House, where the family dances on the patio, drinks in hand. The house's original driveway, once marked by horse hooves plodding up and down, is now scattered with doubloons and beads, the result of a second line. The energy is as infectious as that of the crowds lining Government Street on Fat Tuesday. There's no other way to put it: Everyone is having a ball. However, today, the Krewe of Naman has traded in the tails and tableau in favor of one rule: "Don't worry about being too formal," explains Marcelle. "Let the good times roll as they will!"
---
Marcia's MoonPie Balls
1 box vanilla MoonPies
4 ounces cream cheese
1 bag of white chocolate chips
Yellow, purple and green sprinkles for garnish
1. Place MoonPies in a food processor and pulse until they resemble breadcrumbs.
2. Mix in cream cheese and pulse until it forms a dough.
3. Form dough into balls.
4. Place in the refrigerator for at least 4 hours, or overnight.
5. Melt white chocolate chips in a bowl over medium heat. Dip cake balls in the chocolate and place on a cookie rack.
6. While the chocolate is still wet, top with sprinkles.
7. Allow to dry before serving. Makes about 16 balls
---
Stuart's Old Fashioned
3 ounces bourbon (this recipe used Woodford Reserve, but you can use your favorite)
1 tablespoon Luxardo, or a few bourbon cherries
1 1/2 ounces simple syrup
8 shakes Peychaud's bitters
8 shakes Angostura bitters
Cocktail ice, ice cubes or ice balls
Orange peel twists and cherries, for garnish
1. Pour simple syrup into a lowball glass.
2. Add in Luxardo or bourbon cherries and muddle.
3. Add both bitters to muddled mixture.
4. Stir for about 30 seconds to help break down sugars.
5. Add your favorite cocktail ice, large cubes or balls. Fresh Market has large round ice perfect for this drink.
6. Pour over bourbon.
7. Stir and garnish with orange and cherries. Makes 1 cocktail
---
DeeDee's Mini Muffuletta Sliders
2 cups prepared olive salad (I buy the 32-ounce jar)
12 Hawaiian bread rolls
6 ounces sliced salami
6 ounces soppressata
6 ounces prosciutto
6 ounces sliced mortadella
6 ounces thin-sliced deli roast beef
6 ounces provolone, sliced
1. Without separating, slice the entire top off the set of Hawaiian rolls. Place the bottom halves on a baking sheet.
2. Spread the olive salad on the bottom half of the rolls, then layer the meats and cheese.
3. Spread a little olive oil from the olive salad on the top layer of the buns. Place the top half of the buns back on the bottom halves.
4. Wrap with plastic wrap and refrigerate for at least two hours, or up to 24 hours.
5. Place on a cutting board, then slice the rolls and serve. You may use a decorative toothpick for a festive look. Makes 12 mini sandwiches (1 to 2 per person)
Notes: You can substitute savory butter rolls if you prefer. You may substitute meats and cheese to your liking, such as Swiss, mozzarella, ham or turkey.
---
Gina's Crawfish Dip
1/2 cup butter
1 bunch green onions, sliced
1 bell pepper, diced
1 pound cooked crawfish*
2 garlic cloves, minced
1 4-ounce jar diced pimiento, drained
2 – 3 teaspoons Creole seasoning
1 8-ounce package cream cheese, softened
French bread baguette slices
Sliced green onion, chopped flat-leaf parsley for garnish
1. Melt butter in a Dutch oven over medium heat.
2. Add green onions and bell pepper. Cook for 5-8 minutes or until bell peppers are tender.
3. Stir in crawfish, garlic, pimentos and creole seasoning, stirring occasionally. Cook an additional 8-10 minutes.
4. Reduce heat to low and stir in cream cheese. Stir until cheese melts and is smooth and bubbly.
5. Serve with toasted French bread slices. Serves 8-10
* You can either use package frozen cooked, peeled crawfish tails, thawed and undrained or 5 pounds of leftover crawfish from a crawfish boil. You can also substitute shrimp or use 1/2 crawfish and 1/2 shrimp.
---
Sitty's Shrimp Creole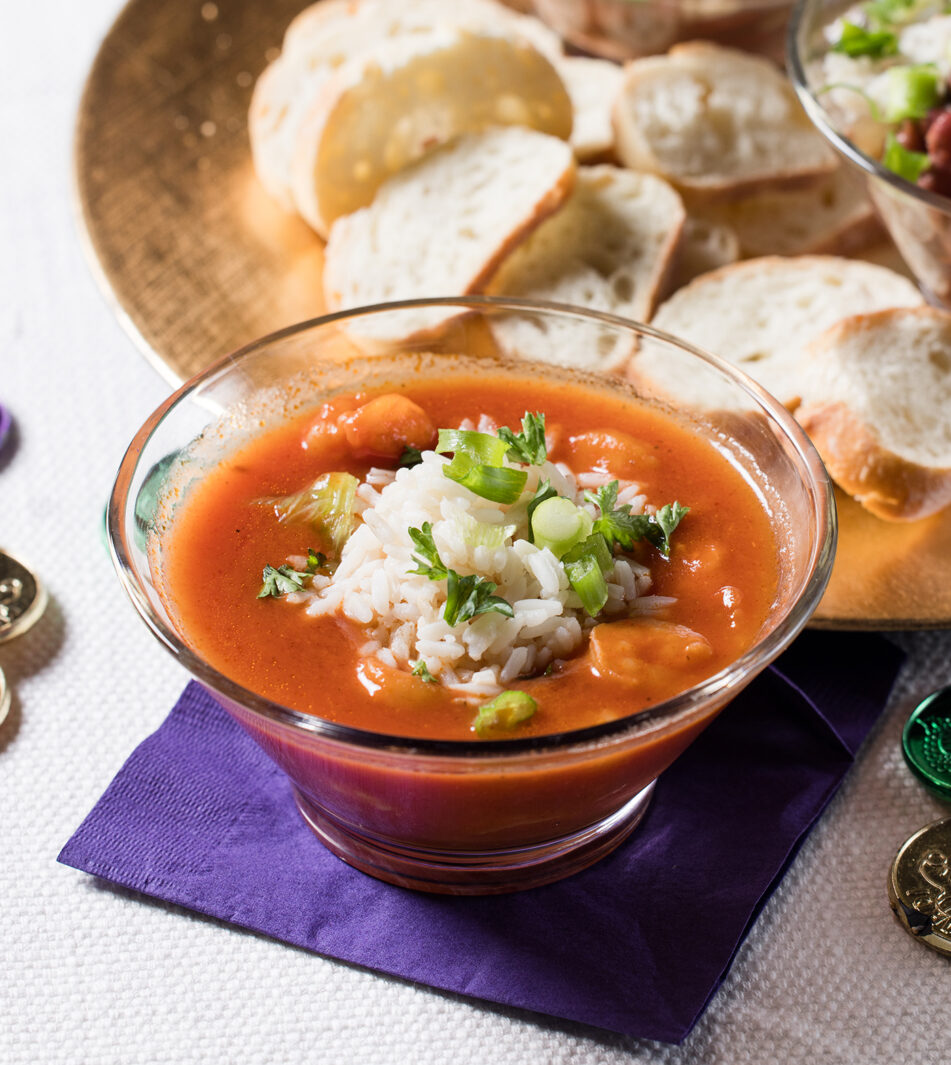 Marsha is lovingly called Sitty, the Lebanese word for "grandmother," by her grandchildren.

1 tablespoon olive oil
1 green bell pepper, diced
1/2 cup onion, diced
2 celery stalks, diced
3 garlic cloves, minced
1 14.5-ounce can stewed tomatoes
1 8-ounce can tomato sauce
1 32-ounce carton chicken broth
1 cup water
1 pound large shrimp, peeled and deveined
1 tablespoon cornstarch
1 tablespoon water
1. Add olive oil in a medium-sized pot over medium-high heat. Add in bell pepper, onion and celery, and cook until tender.
2. Add in stewed tomatoes, tomato sauce, chicken broth and water. Add shrimp and cover and let simmer for about 5-7 minutes until the shrimp are cooked through.
3. Mix together the cornstarch and water and stir into the sauce. Cook for an additional 1-2 minutes to let the sauce thicken.
4. Serve over rice. Serves 8
---
Marcelle's Red Beans and Rice
1 pound dry red beans, soaked overnight
1 white onion, diced
2 – 3 celery sticks, diced
1 stick butter
1 carton chicken broth
1 pound Conecuh sausage, sliced
1 tablespoon minced garlic
1 tablespoon sugar
1 tablespoon Tony Chachere's Original Creole Seasoning seasoning
Salt and pepper to taste
Diced green or white onion, for garnish
6 cups cooked rice
White vinegar, to taste
1. Sauté onion and celery in butter.
2. in a slow cooker set to low, combine drained beans, sauteed vegetables, broth, sausage and seasonings. Cook for 8 hours.
3. Divide cooked rice into serving bowls. Ladle red beans over and top with diced onion and a dash of vinegar, to taste. Serves 10-12
---
Ezell House History
The Ezell House was commissioned by Martin Horst in 1863. A grocer who served as mayor in 1871, he lived in the house until his death in 1878. His family maintained ownership of the house until 1923, at which time the Zoghby family moved in. It was added to the National Register of Historic Places in 1971, and switched hands in 1978, becoming home to Bernard's Restaurant, which remained open for a decade. In 1993, it was saved from demolition by Mark and Patricia Watters Ezell, and was restored. The house is now available to rent as a venue for parties, weddings and receptions in downtown Mobile.