Nationally renowned designer Matthew Metcalfe-Bees brings his impeccable knack for mixing classic antiques back home to Alabama.
From the Berkshire pork chop at The Fairhope Inn to the Midtown Dip Sandwich at Nixon's, here's what our food contributors are raving about this month.
OSO at Bear Point Harbor serves up coastal fare with good music and a great view.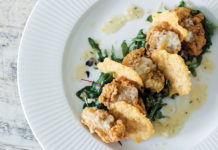 With new ownership and a fresh new look, The Fairhope Inn is ready to welcome another generation of diners.