Tag: The Wacked Out Weiner
Urban streets and music festivals were once the exclusive hosts for food trucks. The pandemic, however, pushed them into suburban enclaves.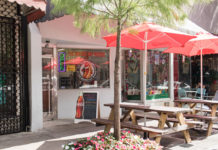 Downtown Mobile's coolest summer spot for tasty, creative hot dogs.
The historic heritage of Foley is ever-present, but new developments and community initiatives are transforming the drive-through town into a destination all its own.