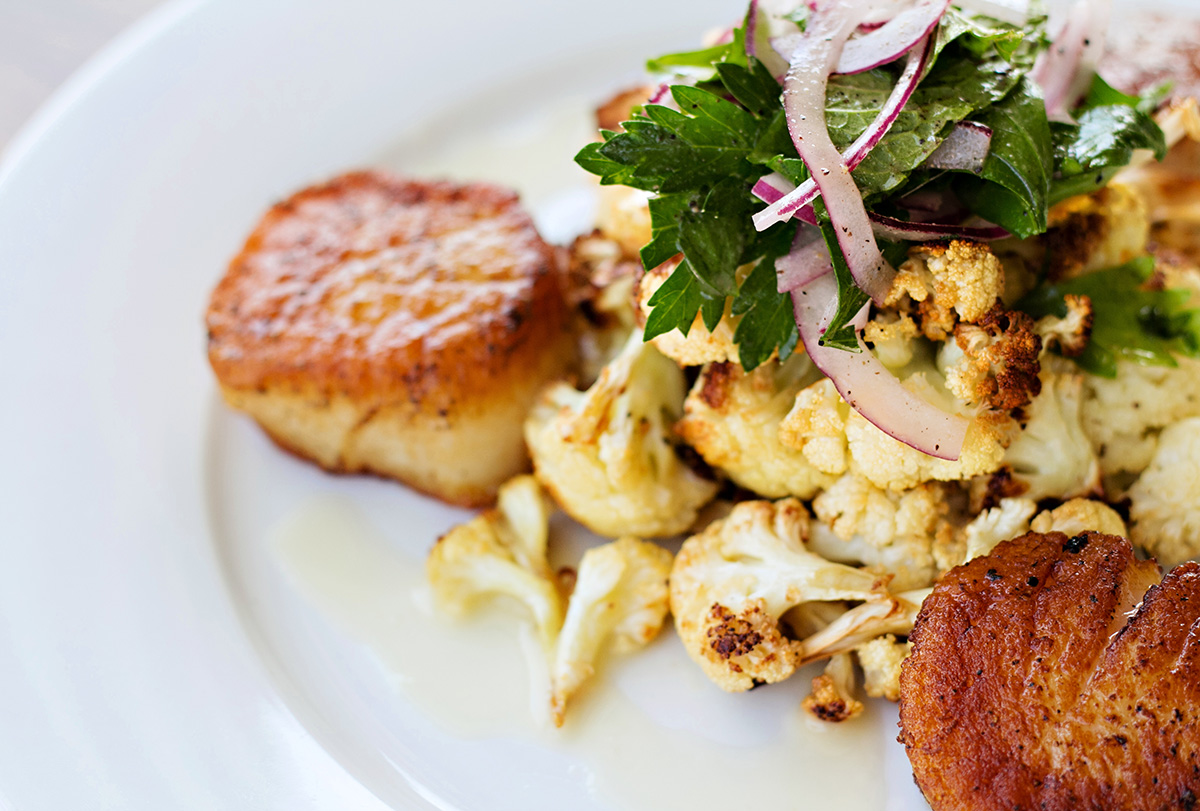 Fisher's is an ultra-chic addition to the cuisine scene at Orange Beach, dishing up two delectably different dining experiences under one roof. The tony upstairs opened Memorial Day weekend, followed by the debut of the downstairs, dockside eatery in mid-June. (You can also eat alfresco on the deck or by the bar overlooking the marina.) It offers a little something for everyone. Owner Johnny Fisher says, "Upstairs is more upscale, a complete dining experience with tablecloths, fine wine, incredible decor. Dockside has a more casual feel, perfect for kids, flip-flops and bathing suits."
The menus follow suit. Upstairs items range from tuna tartare and crawfish beignets to filet mignon and smothered duck, with desserts including chocolate soufflé and crème brûlée. Downstairs has simple, fresh, family-friendly fare, such as burgers, sandwiches and salads. The executive chef overseeing the two kitchens is Bill Briand, a New Orleans native whose culinary skills were honed during lengthy stints in several of the Crescent City's renowned restaurants including Emeril's, Cochon and Herbsaint.
At Fisher's, each of the eateries has a crisp, cosmopolitan edge with a decidedly different feel, featuring nautical notes and splashes of bright white. Downstairs is casual and stylish, with its open garage doors, stainless steel bar and white retro chairs. Upstairs is posh, appointed with pale seafoam, linen-covered chairs, a luminous onyx bar and stunning polished wood, and perfect for date night or an elegant evening.
Be sure to sample the sexy signature cocktails – both The Sea Spray, a refreshing rosemary and citrus-tinged gin libation, and The Necessity, akin to a Bellini martini, are splendid summer sips. For folks who fish, "Hook and Cook" is a festive option where with, a bit of advance notice, the kitchen can serve your own fresh catch in an array of ways. Creative house-made ice creams and sherbets, in flavors such as strawberry sour cream and salted caramel banana, are another cool highlight. 
On the Menu
The Necessity
A splash of Champagne adds effervescence to this classy cocktail of citrus infused vodka and peach Schnapps, embellished with pretty pink pearls of fruit caviar. (The drink is named for the Orange Beach charter boat captained by local legend Ben Fairey.)
Caprese Salad
A classic combination of fresh mozzarella, made in-house, and colorful heirloom tomatoes bathed in tangy balsamic reduction is sprinkled with flash-fried basil leaves, left.
Seared Scallops
Golden, lightly crisp seared jumbo scallops are paired with tasty roasted cauliflower and shards of red onion in a satiny browned butter with a delightful lick of freshness from a mint- and parsley-laced ginger herb salad.
Lemon Buttermilk Pie
Creamy, sweet and slightly tart custard in a flaky, old-fashioned-style crust capped with real whipped cream and a scattering of blackberries with a drizzle of berry coulis.
Fisher's at Orange Beach Marina • 27075 Marina Road, Orange Beach. 981-7305. fishersobm.com