native americans

-

search results

If you're not happy with the results, please do another search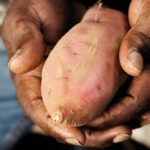 The story of Baldwin County's simple superfood is a winding, complex journey that spans from planters to harvesters, scientists to chefs. In honor of the peak of their harvest in the month of September, MB takes a deep dive into all facets of this amazing tuber.
You're on your own, kid! Standouts and superstars, these 12 exceptional Bay-area kids reach for the sky while making our local area proud.
A rediscovered Native American canoe canal sheds light on the history of ancient inhabitants in the local area.
In honor of our first-ever history-themed issue, MB asked Mobile Bay-area historians and researchers to share unusual, amazing or almost-forgotten stories that make up our rich history.
Robert Talon could boast an extraordinary life lived amidst three distinct Gulf Coast cultures in his 37 years.
How six cultures influenced Mobile's culinary traditions, shaping the unique cuisine we enjoy today.
Thankgiving and its traditional dishes may be widely accepted today, but Southerners haven't always welcomed the New England holiday with its cranberry recipes.
Meet the midwife who battled Bienville when Mobile was the capital of French Louisiana.
Learn about the 1950s initiative to boost the development of Alabama's barrier island and the swashbuckling street names it produced.
History buff, craftsman and collector Steve Boyleston of Fairhope has spent five decades cultivating his passion for rare antiques of American history, and he has the collection to prove it.