1. Chef Arwen's Artichoke Dip
This recipe originated from Chef Arwen Rice's uncle in New Mexico. When she moved to Mobile 12 years ago, food was one thing that kept her connected to her family and her hometown. Now she serves this dip to her husband's family in Mobile at annual holiday gatherings. Rice suggests Abbazia di Novacella Kerner, an organically farmed aromatic white wine from Northern Italy, as an accompaniment. Featured in "3 Top Female Chefs You Should Know," November 2020
1 pound cream cheese
1/2 cup half and half
1/2 cup Parmesan
3 green onions, roughly chopped
4 chipotle peppers, canned (more if you like it spicy!)
3 cloves garlic
2 eggs
1 1/2 tablespoons lemon juice
2 teaspoons salt
black pepper, to taste
2 (8.5-ounce) cans artichokes, drained
6 ounces pepper jack cheese (Tillamook is the best)
1. Preheat oven to 350 degrees and grease a casserole dish.
2. Combine everything, except the artichokes and pepper jack cheese, in a food processor. Blend until smooth.
3. Add artichokes and pulse until slightly chunky but not smooth.
4. Pour mixture into casserole dish and top with pepper jack cheese.
5. Bake 50 minutes until the top is golden brown. Serves 8 – 10
2. Leslie's Go-To Salad
Leslie Dunlap's inspiration for this recipe came from the "Fabulous Salad" served at Central Market in Austin, Texas. Featured in "Food for the Soul," September 2020
1 6-ounce jar marinated artichoke hearts
1 1/2 pounds spring mix salad
1 cup Caesar dressing
1 can sliced black olives, drained
1 can baby corn
1 can hearts of palm, drained and sliced
1/4 pound Parmigiana-Reggiano, grated
1 bunch basil, chopped
4 sprigs Italian parsley, chopped
1 pint grape tomatoes
salt and pepper, to taste
Drain artichoke hearts and place in bowl. In a large separate bowl, combine remaining ingredients. Add artichoke hearts to salad mixture and toss well. Season, to taste, with salt and pepper. Serve in chilled bowls. Serves 10
3. Texas Corn Dip Recipe
The Aranses make sure to bring a little bit of the Lone Star State to every gathering. Featured in "Porch Party," July 2020
6 ears corn
2 bunches green onions, finely chopped, reserving a little for garnish
1/2 cup chopped cilantro, reserving a little for garnish
1 cup sour cream
1 cup mayonnaise
1/3 jar pickled jalapeños, finely chopped
8 ounces chopped pimentos
4 cups Mexican shredded cheese
1 cup Mexican Cotija cheese, crumbled, reserving a little for garnish
juice of 2 limes
1 teaspoon cumin
1 teaspoon chili powder
pinch of cayenne pepper (optional)
bag of tortilla or corn chips, for serving
1. Place corn in a large pot of water and bring to a boil, cooking 5 minutes. Remove from water and allow corn to cool. Cut corn kernels off the cob, reserving a little for garnish.
2. Mix corn with remaining ingredients in a large mixing bowl and refrigerate for at least 2 hours.
3. Before serving, top with reserved green onions, cilantro, corn and cheese. Serve with chips. Serves 12
4. Roasted Oysters with Butternut Squash and Conecuh Sausage
There will be extra stuffing, which can be frozen for later use. Recipe by Chef Jeremiah Matthews, owner of Daphne's Southwood Kitchen. Featured in "Wild Cuisine," February 2020
3 cups butternut squash, small diced
olive oil
salt and pepper, to taste
1 1/2 cups Conecuh sausage, diced as small as you can
1/2 cup onion, small diced
1/2 cup red bell pepper, very small dice
1 teaspoon garlic, minced
4 leaves fresh sage, rolled and shaved thin
2 tablespoons chive, thin sliced
1/4 cup grated Parmesan
2 dozen oysters in shell, opened
1. Preheat oven to 400 degrees. In a bowl, toss squash with a small amount of olive oil, salt and pepper. Place in glass Pyrex sprayed with cooking spray. Roast until soft, 6 – 10 minutes. Allow to cool.
2. Heat a 10-inch saute pan over medium-high heat. Add Conecuh and saute 1 minute, then add onion, red pepper and garlic and continue to saute until onions are translucent and the garlic aroma begins to soften. Toss in sage and chive, stir and remove from heat.
3. Place squash in the same bowl it was tossed in and mash with a fork (doesn't have to be mashed until smooth, it can be lumpy). Add sausage and onion mixture along with any rendered fat to the squash. Add Parmesan and season with salt and pepper, to taste.
4. Bump the oven up to broil. Place the opened oysters on an oven-proof pan and top with 1 tablespoon of squash mixture (if the oysters are small use less and vice versa — the oyster is the star here). Broil 3 – 5 minutes until the topping begins to take color. Be careful to not overcook the oysters. Serve immediately. Makes 2 dozen
5. Corn and Zucchini Orzo
This pasta salad makes a great vegetarian lunch, or pair with oven-roasted salmon for a perfect hot-weather dinner. It would also be wonderful topped with grilled shrimp! Featured in "6 Fresh Summer Produce Recipes," June 2020
3 ears corn, shucked
1 large zucchini, quartered lengthwise, or several smaller zucchini, halved lengthwise
4 tablespoons extra-virgin olive oil, divided
kosher salt, to taste
pepper, to taste
1/2 pound orzo
1/4 cup tahini
3 tablespoons fresh lime juice
1/2 teaspoon chili powder
1 1/2 cups coarsely chopped cilantro, divided
1 tablespoon red onion, thinly sliced
2 ounces feta, crumbled
1. Light the grill. Place corn and zucchini pieces on a large plate and brush with 1 tablespoon olive oil. Season with salt and pepper. Grill over medium heat until charred, about 10 minutes. Transfer to a cutting board and let cool. Remove the kernels from the corncobs and chop the zucchini. Transfer to a large bowl.
2. Boil the orzo in salted water until it is al dente, according to package instructions. Drain and rinse under cold running water. Remove to a tray lined with paper towels to dry completely.
3. In a large bowl, whisk the remaining 3 tablespoons of olive oil with the tahini, lime juice, chili powder and 1/2 cup of the cilantro. Season with salt and pepper, to taste. Add the orzo, corn, zucchini, red onion and the remaining chopped cilantro and mix well. Transfer to a platter and top with crumbled feta, for serving. Serves 6
6. Barbecue Shrimp on the Grill
Featured in "Sunset Supper," April 2020
juice of 2 lemons
1/2 cup Worcestershire sauce
1/2 teaspoon kosher salt
2 teaspoons cracked black pepper
2 teaspoons Creole seasoning
1 tablespoon minced garlic
3 sticks cold unsalted butter, cubed
1 lemon, sliced into 1/2-inch rounds
3 bay leaves
2 pounds jumbo head-on shrimp, unpeeled
French bread, for serving
1. Light a charcoal fire in an outdoor grill and let cool to medium heat.
2. In a large cast-iron Dutch oven, combine lemon juice, Worcestershire, salt, pepper, Creole seasoning and garlic, stirring to combine. Add butter, lemon slices and bay leaves to the pot and set over a medium fire. Bring to a boil and add shrimp, tossing occasionally until the shrimp are pink and cooked through.
3. Remove from heat and place shrimp in serving bowls, then top with juice from Dutch oven. Serve immediately with a hunk of French bread for dipping. Serves 4
7. Chef Erica's Chicken & Shrimp Skillet Pot Pie
There's no complicated crust required for this down-home pot pie. The filling is developed in a skillet in 20 minutes or less, and after topping it with simply baked biscuits, that same skillet can go directly to the table for a beautifully rustic presentation. The addition of shrimp puts a Gulf Coast spin on this comfort food classic. Featured in "3 Top Female Chefs You Should Know," November 2020
1 tablespoon olive oil
2 boneless, skinless chicken breasts, diced
kosher salt and ground black pepper, to taste
1/2 pound large shrimp, peeled and deveined
1/2 onion, chopped
2 medium carrots, peeled and chopped
2 stalks celery, chopped
1 large potato, diced
3 tablespoons flour
1/2 cup chicken broth
1 1/2 cups heavy cream
1 1/2 cups frozen peas
6 Petit Biscuits (recipe below)
1. Heat oil in a large skillet over medium heat. Add chicken and season with salt and pepper. Cook until browned on all sides and remove from skillet.
2. Add shrimp and season with salt and pepper. Cook for 3 minutes and set aside.
3. Add onion, carrots, celery and potato and cook until vegetables are soft, 6 to 8 minutes.
4. Sprinkle flour over vegetables and cook 2 to 3 minutes more.
5. Add chicken broth and bring to a simmer. Cook 8 to 10 minutes more until slightly thickened.
6. Stir in cream, peas, chicken and shrimp. Cook 3 to 4 minutes until cream has thickened.
7. Top with 6 biscuits and serve. Serves 4 – 6
PETIT BISCUITS
2 cups unbleached, all-purpose flour
1 tablespoon baking powder
1 teaspoon baking soda
1/4 teaspoon kosher salt
1 tablespoon sugar
6 tablespoons butter, cold
1 1/2 cups buttermilk or 3/4 cups whole milk
1. Preheat oven to 400 degrees.
2. Combine flour, baking powder, baking soda, salt and sugar in a large bowl.
3. Dice cold butter into small chunks. Place butter into dry mixture and incorporate into flour until it resembles coarse crumbs.
4. Add buttermilk or whole milk to dry mixture. Stir just until combined. Batter should appear wet; if dry, add more milk.
5. To prepare drop biscuits, scoop batter onto a greased baking sheet with a tablespoon or an ice cream scoop. For traditional Southern biscuits, turn the dough onto a lightly floured surface. Fold the dough 10 times, then gently roll or pat the dough to 1-inch thickness. Cut biscuits with a biscuit cutter and place on a greased baking sheet. Bake 10 to 15 minutes until golden brown.
8. Roasted Garlic-Parmesan Veggies with Turkey Sausage and Shrimp
Portia Green follows a pescatarian diet, so local shrimp make frequent appearances on her family table. Featured in "Family Dinner," August 2020
5 small red potatoes
1 pound fresh green beans
1 large head broccoli
1 large bell pepper
7 – 8 sweet peppers
6 tablespoons grapeseed oil
12 ounces smoked turkey sausage
2 pounds shrimp, peeled and deveined
1 teaspoon paprika
1/2 teaspoon garlic powder
1 tablespoon dried oregano
1 tablespoon dried parsley
1/4 teaspoon sea salt or pink Himalayan salt
1/4 teaspoon black pepper
2 cups cooked quinoa, cooked according to package directions
fresh parsley, to taste
Parmesan, to taste
1. Preheat oven to 400 degrees.
2. Chop potatoes, green beans, broccoli, bell pepper and sweet peppers to roughly the same size. Toss in grapeseed oil and arrange on a large baking sheet.
3. Add sausage and shrimp. Coat with paprika, garlic powder, oregano, parsley, salt and pepper.
4. Roast for 35 minutes until vegetables are toasted and meat is cooked through.
5. Divide quinoa into bowls and cover with roasted vegetables, shrimp and sausage. Top with parsley and Parmesan. Serve with dinner rolls. Serves 6
9. Pear-Blueberry Crumb Tartlets
Perfect for late summer and early fall evenings, these scrumptious tartlets can be frozen after completely cooling. To defrost, place in 375-degree oven for 45 to 50 minutes. Featured in "Food for the Soul," September 2020
1 1/2 cups graham cracker crumbs
1/4 teaspoon cinnamon
6 tablespoons butter, melted
1 cup fresh blueberries
1 1/2 cups fresh pears, sliced
1/2 teaspoon lemon zest
1 teaspoon lemon juice
1/2 cup granulated sugar
1 tablespoon cornstarch
vanilla ice cream or whipped cream for serving
CRUMB TOPPING:
1/2 cup rolled oats
1/4 cup flour
1/4 cup brown sugar
1/4 teaspoon cinnamon
4 tablespoons cold butter
1. Preheat oven to 375 degrees.
2. In a small bowl, add graham cracker crumbs, cinnamon and melted butter. Using a fork, mix until combined to a sand-like consistency. Divide the crumb mixture into four 5-inch mini pie tins (or one 9-inch pie pan). Gently press to create a crust.
3. In a medium bowl, add fruit, lemon zest and juice, sugar and cornstarch. Mix until blueberries are coated. Divide the fruit mixture evenly into the pie tins.
4. In a separate bowl, combine all crumb topping ingredients. Spoon topping over fruit mixture, dividing it evenly among the tins.
5. Place pie tins on foil-lined baking sheet. Bake for 35 minutes or until brown and bubbly.
6. Let cool 10 minutes. Serve with a scoop of vanilla ice cream or whipped cream, if desired. Yields 4, 5-inch tarts OR 1, 9-inch pie
10. S'mores Crumble
Everybody loves s'mores, but this easy one-pan option is perfect for those times you can't get to a bonafide campfire. All the flavors you love combine into one delicious crumble! Featured in "Finding the Backcountry in our Backyard," October 2020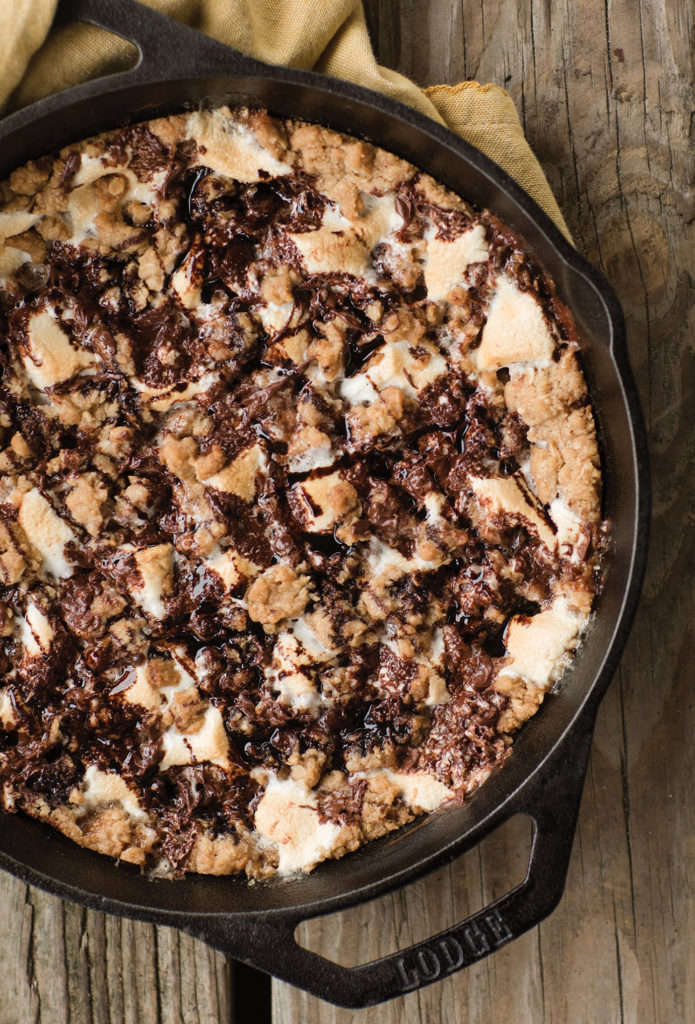 3/4 cup unsalted butter, softened
1 cup firmly packed light brown sugar
1 cup old-fashioned oats
3/4 cup all-purpose flour
3/4 cup graham cracker crumbs
1 teaspoon baking powder
1 teaspoon kosher salt
1 teaspoon ground cinnamon
2 cups marshmallows, halved crosswise
2 (4-ounce) semisweet chocolate bars, coarsely chopped
melted chocolate, for garnish
1. Preheat oven to 350 degrees. Spray a 10-inch cast-iron skillet with cooking spray.
2. In a large bowl, beat butter and sugar at medium speed with a mixer until light and fluffy, 3 to 4 minutes. In a medium bowl, stir together oats, flour, graham cracker crumbs, baking powder, salt and cinnamon. Gradually add oat mixture to butter mixture, beating until combined.
3. Firmly press two-thirds of crumble mixture into bottom of prepared skillet. Top with marshmallows and chocolate. Sprinkle with remaining crumble mixture.
4. Bake until golden brown, 20 to 24 minutes. Let cool 10 minutes before serving. Garnish with melted chocolate, if desired. Makes 6 to 8 servings