With the arrival of March come the ruby-throated hummingbirds, just having crossed the Gulf of Mexico after leaving their winter habitats in northern Panama and southern Mexico. The weather here is favorable and the food plentiful, making the long trip worthwhile. Likewise, south Alabama residents are crossing the Bayway and migrating down Dauphin Street to find the sweet nectar being served up at The Hummingbird Way, the new brainchild of Alabama's former executive chef, Jim Smith, in the Oakleigh Garden Historic District.
For those who make the journey, a modern Southern menu awaits: comforting chicken pot pie, a generously portioned steak and piping hot biscuits served in cast-iron skillets that will convert any carb-loather in mere seconds.
But the heart and soul of the menu is the seafood, influenced by Smith's role as the chairman of the Alabama Seafood Marketing Commission. Whole grilled fish, fresh Alabama boutique oysters and marinated crab claws are standout seafood dishes. Smith points out that he also has a traditional fried seafood platter for the old-school diner, as well, served with top-notch fries and cole slaw. The sleeper on the menu is the chicken livers, a throwback recipe to Smith's time on Bravo TV's "Top Chef" in 2017. Smith was a top-10 finisher whose Southern style and charm made him a household name and fan favorite.
Mobilians may also be well familiar with the old Kitchen on George location, but Smith has given the restaurant a slick new do with green tile behind the bar, a terrazzo countertop and quartz tabletops. Gold-framed vintage sketches of hummingbirds flit across the walls of the bar and dining room while waiters bustle to and fro delivering tropical cocktails with eco-conscious paper straws. Chef Smith is nothing if not known for his attention to detail. And while new in town, The Hummingbird Way has no plans to migrate with the seasons, and neither do the fans who have discovered its lure.
On the Menu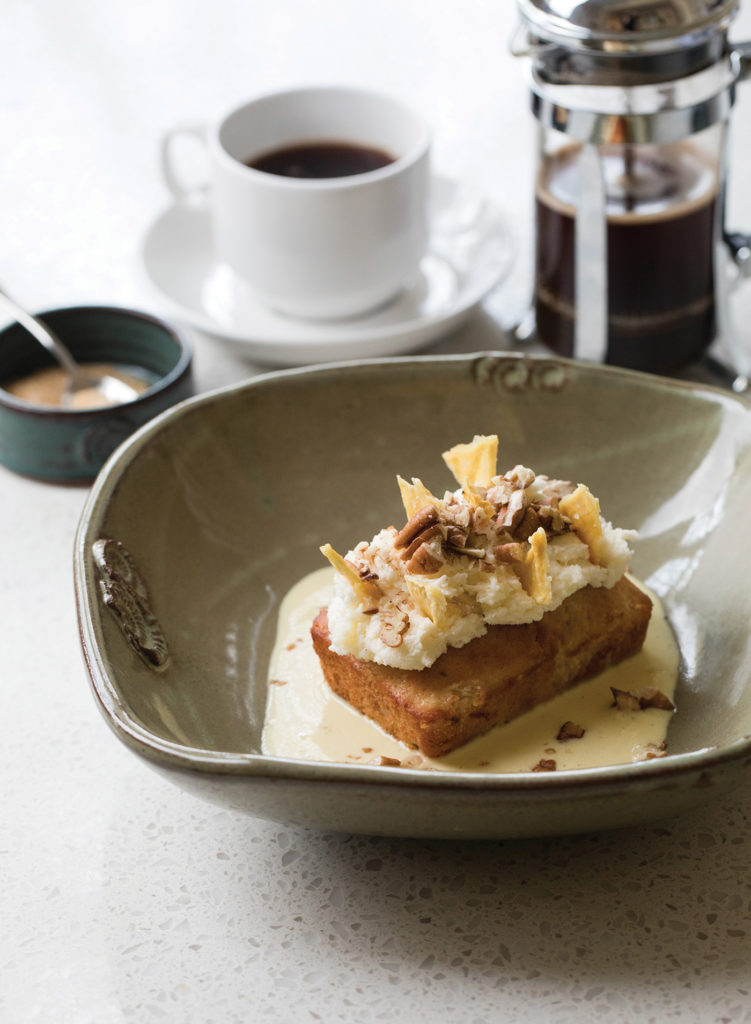 Whole Grilled Fish
The fish changes with the season, but this snapper was simply grilled and served with sliced satsuma, Castelvetrano olives, Kalamata olives, caper berries and watercress in a cane sugar vinaigrette.
Biscuit Service
Mini cast-iron skillets hold warm buttermilk biscuits meant for sharing, topped with the perfect trio of whipped butter, a crunch of smoked flake salt and rich, dark cane syrup.
Marinated Crab Claws
A Vietnamese marinade coats blue crabs picked in Coden. Lime juice, palm sugar, Thai chile, a dash of fish sauce for umami and a bright punch of mint freshen up a local staple.
Hummingbird Cake
The once state cake of Alabama boasts banana, pineapple and pecans and is topped with cream cheese icing, candied pineapple and a delicate pool of crème anglaise.
The Hummingbird Way • 351 George St. • 408-9562
5 – 10 p.m. Tuesday through Saturday, 11 a.m. – 3 p.m. Sunday, closed Monday