A Daphne man's passion for carving has created a collection of creatures, big and small.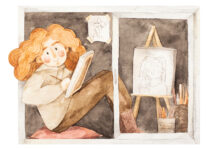 After discouraging experiences in her younger years and subsequent self-doubt, one author rediscovers her passion for visual media.
John Augustus Walker changed the world of float design and made Mobile's Mardi Gras a sight to behold.
In all its gaudy grandeur, Carnival utilizes — and manifests itself in — every form of art.
A Mobile native talks deep sea fishing, artistic inspiration and the decision to go from prescription pad to paint palette.
Artistic photographer Pinky Bass takes viewers through the pinhole and beyond, into a world of constant exploration and creativity.
The story behind Sarah Otts' new book for children
Explore 10 of the most unique and impressive local murals that give color and character to buildings around town.
An artist passionate about woodfiring creates a sense of camaraderie in Fairhope.
Colleen Comer asks Mobile native and Los Angeles-based Kathryn Andrews to demystify the contemporary art world, from one artist to another.