Gathering over a shared meal creates a sense of inclusion and camaraderie for the Bay-area's deaf community.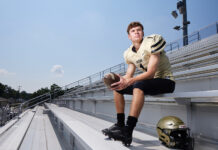 You're on your own, kid! Standouts and superstars, these 12 exceptional Bay-area kids reach for the sky while making our local area proud.
From the Margherita Pizza at Red or White to the Filet Mignon at Bistro Saint Emanuel, here's what our food contributors are raving about this month.