Two young publishers print a newspaper just outside the Port City as the United States attempts to claim Mobile from Spain.
Two early twentieth-century modes of transportation collide on a 1920's street.
Exterior Designer Catherine Arensberg shares her advice for transforming your home to reflect your style and lifestyle.
In honor of the first-ever Mobile Brick Convention, MB takes a deep dive into the toy phenomenon known around the world as Lego.
Coach Brown's BBQ is changing the game in West Mobile.
The resurgence of tiki culture in the Port City evokes nostalgic memories of an iconic Mobile bar in all its incarnations.
As the first day of school approaches, one local author explores the difference between scholarly and smart.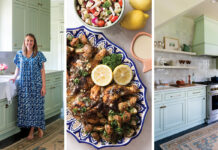 With the help of a stellar design team, new parents Kelly and Philip Ison hatched the centerpiece of their Ashland Place home — a stunning kitchen perfect for their growing family.
While protecting Mobile Bay may seem like a HUGE task for grown ups, let alone our youngest readers, there are some amazingly simple things kids can do to save our most precious natural resource.
The Waterman Building was built in 1947 as a home for the largest privately owned shipping company in the world.