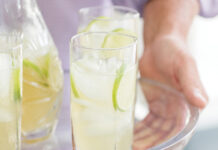 This refreshing Texas-style cocktail recipe can be easily multiplied to make by the batch. Salud!
Spice up your week with festive cocktails and easy entrees, perfect for Cinco de Mayo.
Celebrate Cinco de Mayo with a refreshing cocktail. A little mezcal keeps it interesante.
Add a little spice to your weeknight dinner routine.
'Cause a Cinco de Mayo without tequila is like a beach without sand. Playa at Sportsman's Marina has the recipe for success.
It's time for summer entertaining, and these fruity cocktails are a surefire way to get the party hopping. Each one is made by the batch with unique ingredients and fun infusions of flavor.
Tequila Lime Flank Steak Tostadas with Avocado Crema Flavorful and tender beef strips are piled atop crispy corn tortillas and crunchy purple cabbage with the finishing touch, a tangy,...