From his home in New York, Mobile native John D. McCown Jr. discusses his mentor, shipping titan Malcom McLean, and the book that their relationship inspired.
Pull up a chair at Local and Company, Foley's newest dining destination.
Writer, naturalist and documentary filmmaker Ben Raines shares the details behind some of his favorite photographs captured during the creation of his celebrated book, "Saving America's Amazon."
Local historian Tom McGehee gives the full story behind the explosion that took place at Mobile Electric Lighting Company in February 1919.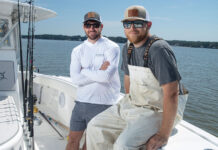 Two coastal entrepreneurs connect locals to fresh, local seafood through their business, Fairhope Fish House.