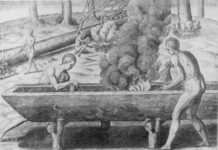 A rediscovered Native American canoe canal sheds light on the history of ancient inhabitants in the local area.
Beating the heat gets a lot easier with an idiom or two in hand.
Humble pieces of wood and metal speak volumes in a new exhibition about the slave ship Clotilda.
With over 50 years of dedicated research, the Dauphin Island Sea Lab is still expanding horizons. They're just getting their feet wet with their new multi-stressor wet lab.
Explore the Alabama Deep Sea Fishing Rodeo during the 1960s.
Every major American city was once defined by its fine department stores.  Mobile originally had two: Gayfer's and Hammel's.
Mobile Bay's Annual Honor recognizes the environmental guardians of our communities
Mary Sullivan's desire for a beach house resulted in an annual celebration and a place where she will always be remembered.
In honor of Mobile's rum-running history, MB shares a refreshing cocktail recipe that was made for sipping beside the shores of the Gulf of Mexico all summer long.
Like most Mobile Bay boys, Ben Cummings grew up loving the water. Unlike most Mobile Bay boys, he turned his love into a business: Tensaw Boatworks.