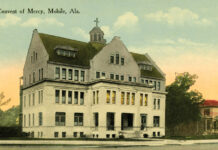 The historic building, which has housed luxurious condominiums for well over 20 years, got its start in 1908 as the Convent of Mercy.
Wedding flowers find a new purpose after the ceremony is over, thanks to Mobile native Debbie Richards.
St. Joseph's Church was dedicated in 1908 and has been vacant since 2018. The parish itself has a much longer history, however.
Is it true that one of NASA's first astronauts was from Mobile?
Dig into Mobile's connection to "The Queen's Gambit" through the story of legendary player Paul Morphy.