Enjoy Elizabeth Damrich's refreshing summer mocktail or give it a twist with your favorite bubbly.
In honor of Mobile's rum-running history, MB shares a refreshing cocktail recipe that was made for sipping beside the shores of the Gulf of Mexico all summer long.
In honor of our September Arts Issue, we have crafted a list of 17 masterpieces created by local mixologists.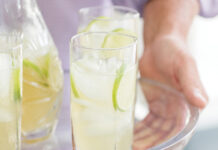 This refreshing Texas-style cocktail recipe can be easily multiplied to make by the batch. Salud!
Hostess Beverly Smith shares tips for setting up your home bar — the foundation for perfectly memorable gatherings.
This creamy cocktail is a Lower Alabama favorite you can, and should, serve all year round. Pirate's Cove shares their take on the classic.
It's time for summer entertaining, and these fruity cocktails are a surefire way to get the party hopping. Each one is made by the batch with unique ingredients and fun infusions of flavor.