Meet Cynthia Tucker, University of South Alabama's journalist-in-residence, and get her summer reading recommendations for the curious mind.
22 activities to add to your summer must list
Your grill can dominate more than just burgers and steaks. Give these unexpected grilling ideas a try this weekend.
Lucy Lott shares her secrets for easy weekends on the water.
The only thing that can improve a gorgeous day at our beaches is the right stuff! This round up of the cutest beach duds and best gear from local shops will guarantee a sandy good time.
Local book fanatics share their must-read summer selections.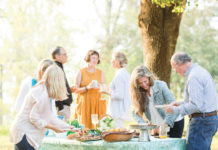 Residents of a small neighborhood, perched on a cliff overlooking Mobile Bay, gather for sunsets, snacks and a sense of community.