John Augustus Walker changed the world of float design and made Mobile's Mardi Gras a sight to behold.
Mobile teacher Carey Arensberg uses frank talk about trauma, combined with her fun-loving nature, to make mental wellness attainable for all. Her message of hope has attracted national attention.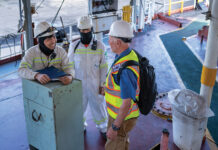 The Catholic Maritime Ministry of Mobile reaches out to seafarers, providing comfort, connection and fellowship.