Mobile's mid-century traditionalist extraordinaire remained true to the architecture of the past as it was being destroyed all around the city.
A decade ago, MB asked historian John Sledge to share his personal restoration wish list. Happily, the intervening decade has been a strong one for historic preservation in Mobile. Allow us as a brief review of the successes of the past 10 years and a look at what remains in peril.
A Baldwin County landmark with deep community roots finally gets a chance to shine again.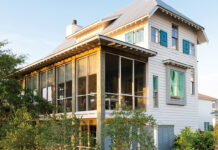 Local architect enjoys the fruit of his labor for the first time as he designs his own simplistic Orange Beach dream home.
Take a walk in Sydney Betbeze's shoes as she fights to preserve the historic districts of Mobile.