Humble pieces of wood and metal speak volumes in a new exhibition about the slave ship Clotilda.
Mobile Bay's Annual Honor recognizes the environmental guardians of our communities
How six cultures influenced Mobile's culinary traditions, shaping the unique cuisine we enjoy today.
The Sundance award-winning documentary releasing to international audiences this October captures Africatown's complicated history and hope for the future.
Cleon Jones' champion mindset not only helped on the field but with revitalizing his hometown, Africatown, as well.
Emma Langdon Roche (1878 - 1945) once described herself as an "artist, writer, housekeeper and farmer." In retrospect, she could well be termed Mobile's "Renaissance Woman."
Take a dive into a 1921 class photo from the Mobile County Training School in Plateau.
Dive into the history of Three Mile Creek with this early 1900s photograph, and find out how the body of water got its name.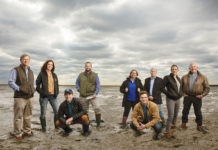 Mobile Bay's annual Watershed Awards recognize the environmental guardians of our communities.
The historic community of Africatown proves its future is as rich as its soil.