Take a dive into a 1921 class photo from the Mobile County Training School in Plateau.
Dive into the history of Three Mile Creek with this early 1900s photograph, and find out how the body of water got its name.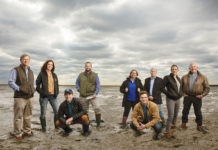 Mobile Bay's annual Watershed Awards recognize the environmental guardians of our communities.
The historic community of Africatown proves its future is as rich as its soil.
Officials of the Alabama Historical Commission say they feel sure that they have discovered in the Mobile River the remains of the last ship to bring slaves into the U.S.